Parke-Davis Pharmaceutical Company
Once called "the largest pharmaceutical company in the world," Parke-Davis had its origins in 1866 as a partnership between a doctor and a businessman. Dr. Samuel Duffield owned a drugstore on the corner of Gratiot and Woodward avenues and after the Civil War, began producing elixirs and ointments in a laboratory behind his business. Realizing that his market was limited, he partnered with Hervey C. Parke, a manager of several businesses in Michigan's Upper Peninsula, who moved back to Detroit, seeking other business opportunities. Their partnership began on October 26, 1866.
Realizing they needed to promote and distribute their products, in 1867 they brought onboard wholesale drug salesman, George S. Davis. When Duffield left the company because of poor health and the desire to practice medicine again, the company became Parke-Davis & Company in 1871, incorporating in 1875.
With the goal of manufacturing high quality drugs, and producing new products, the company sent botanists around the world to research healing plants used by indigenous people and to discover new plants that could be used for medicinal purposes. The result was that over 20 years, 50 new drugs were developed. Parke-Davis's notable contributions to the field of medicine include Adrenalin, Benadryl - the first antihistamine, Chloromycetin, and drugs instrumental in treating epilepsy and tuberculosis.
The company moved its manufacturing operation from a downtown location to Joseph Campau Street at the Detroit River in 1873. Buildings for plant extraction and rolling pills were joined in 1902 by the first industrial laboratory for pharmacological research, designed by architects Donaldson & Meier. Much later Albert Kahn and the firm of Smith, Hinchman & Grylls contributed to the architectural elegance of the site.
The success of the company made pharmaceutical drugs Detroit's largest industry, behind stove manufacturing. Parke-Davis led the way in standardizing drug formularies and also initiated the concept of quality control. An early, machine-made gelatin capsule was invented by a Parke-Davis pharmacist. By 1890 the company had opened another manufacturing facility in Walkerville, Ontario, and a branch in London, England. The business also expanded to a farm named Parkdale in Rochester, Michigan when the riverfront became an unviable location for the horses who produced serums used for diphtheria, tetanus and gangrene. Plants for use in medicines were also grown there.
As the company grew, George Davis was forced to leave in 1896, after drawing on company money to pay off debts. Hervey Parke remained as president until his death on February 8, 1899. George Davis died in 1930. 
In 1970 Parke-Davis was bought by Warner-Lambert, the merger completed in 1974. It is now a subsidiary of Pfizer, which acquired Warner-Lambert in 2000. 
Parke-Davis sold its riverfront properties, some 26 structures on 14 ½ acres, to the Stroh family in 1979, after which various buildings became residential, office and retail spaces, including the famous Rattlesnake Club restaurant, and were placed on the National Register of Historic Places in 1985. The 1902 research laboratory, additionally designated a National Historic Landmark in 1976, is now Roberts Riverwalk Hotel. The former Parke-Davis campus is alternately known as Stroh River Place and River Place.
---
RELATED ITEMS IN THE COLLECTION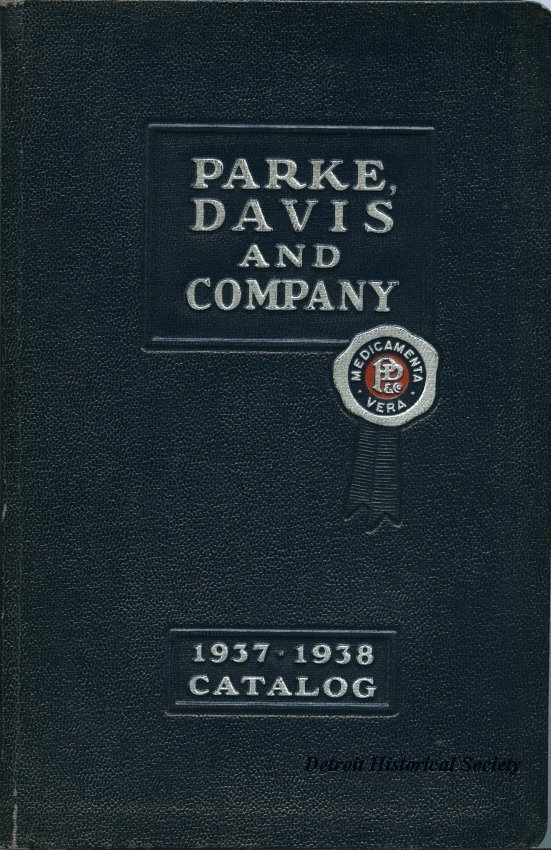 View all items related to Parke-Davis Pharmaceutical Company