Remembering Marlowe Stoudamire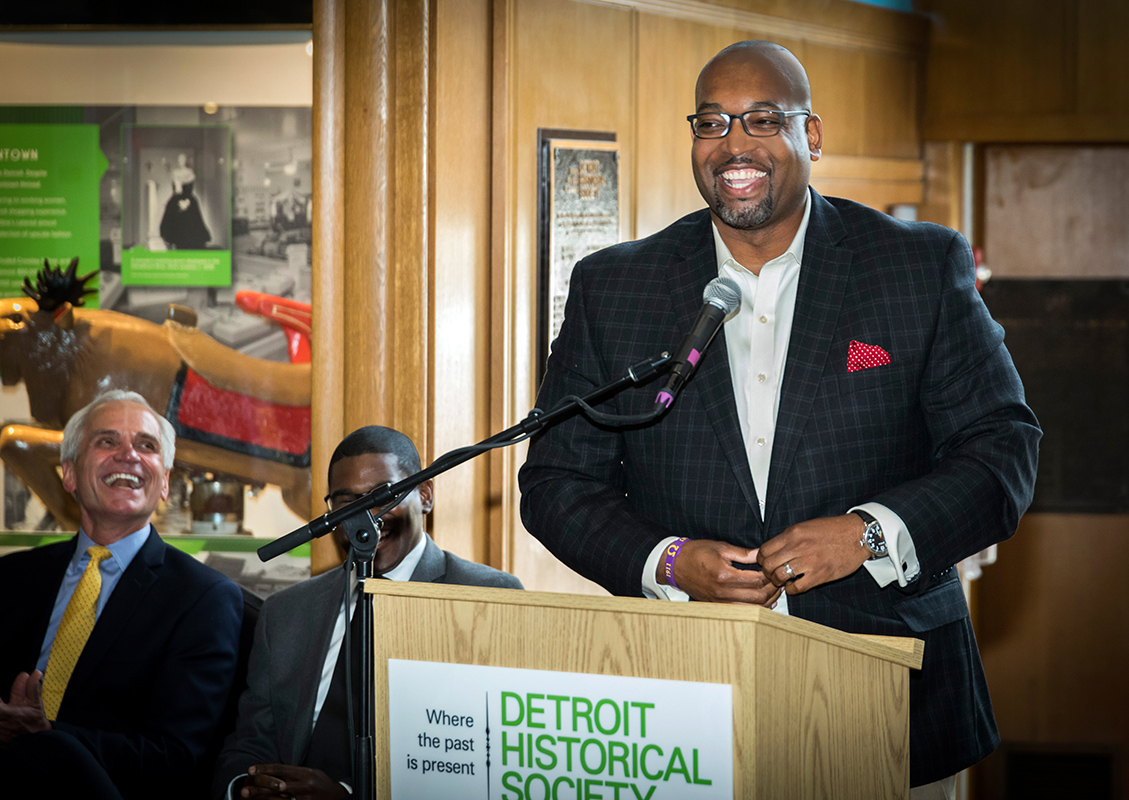 The Detroit Historical Society is honored that we have been selected by Marlowe's family to receive memorial gifts in his honor. To make a gift in memory of Marlowe, click here.
Detroit, January 24, 2021 - At its Boom Town Ball on Saturday, January 23, 2021, the Detroit Historical Society announced its plans to honor Marlowe Stoudamire by dedicating its award-winning Detroit 67 exhibition in his honor. 
          Speaking at the event, Society President and CEO, Elana Rugh said, "Marlowe was incredibly proud of his role in bringing the award-winning Detroit 67 project to fruition. His influence runs strong throughout the project and his recorded voice is present in many of the audio features in the exhibition. The history shared by Detroit 67: Looking Back to Move Forward has become increasingly important in the four years since it debuted. We simply can no longer imagine the Detroit Historical Museum without Marlowe's voice and this important story. Recognizing this, I would like to take the opportunity to announce our plans to make the exhibition part of our permanent display. To celebrate Marlowe, who in many ways set the Detroit Historical Society on its path toward the next 100 years, we will dedicate the permanent exhibition in his honor.  A tribute to Marlowe's Legacy will be placed in the original exhibition as the permanent exhibit is planned. In this way we can be sure that Marlowe's voice will always be a part of the Detroit Historical Museum."
          The original Detroit 67 exhibition is on display now at the Detroit Historical Museum. It will remain in place until a new, permanent exhibition is designed.
Detroit, March 24, 2020 - The staff and Board of Trustees of the Detroit Historical Society join our community in mourning the devastating loss of our friend and colleague, Marlowe Stoudamire. Marlowe served as the Project Director for the transformational Detroit 67: Looking Back to Move Forward project at the Detroit Historical Museum and was a true catalyst for change for our organization.
            "Marlowe was a member of our family, and we feel his loss deeply," said Elana Rugh, Detroit Historical Society President and CEO. "Marlowe has left an indelible legacy here in the museum and throughout the city of Detroit. His passion for Detroit and its history made him a remarkable leader, connector and advocate – throughout the local community and ultimately the world."
            Society Board of Trustees Chairman John Decker added "Marlowe was a man who led with his heart and touched and connected us all. We will miss Marlowe and honor his memory in a way that gives tribute to an inspirational life cut far too short. My prayers to his family and to all of us as we navigate this difficult time."
            Launched in 2015, the internationally award-winning project Detroit 67: Looking Back to Move Forward brought together hundreds of organizations and individuals in partnership to commemorate the 50th anniversary of Detroit's 1967 civil unrest. In joining this project and the Detroit Historical Society team, Marlowe showed the kind of leadership and outright bravery that was his hallmark. He navigated questions of motive, agency and ability from throughout the community with an open heart, creating authentic relationships and inclusive processes that forever changed the way we do our work. In many ways, Marlowe initiated the Society's newly central commitment to creating museums that are inclusive and equitable at their hearts.
            Marlowe remained engaged with the Detroit Historical Society and our mission to tell Detroit's stories and why they matter throughout the rest of his life. He was our very first "Detroiter" member when we launched our new membership program last November, and he had just agreed to continue his professional relationship with the Society by becoming our inaugural Entrepreneur in Residence, propelling us once again into innovative new spaces that he was uniquely qualified to help us envision and implement. Detroit and the Detroit Historical Society are immeasurably better for having been blessed with Marlowe's talent, energy and love. We are incredibly sad to have lost our Detroiter so soon. 
Read more from the Detroit News.
Watch Tracy Irwin and Marlowe Stoudamire's Detroit 67 presentation from the 2019 Best in Heritage Conference, where they were awarded 2nd place honors.

Make a gift in Marlowe's honor