Speakers Bureau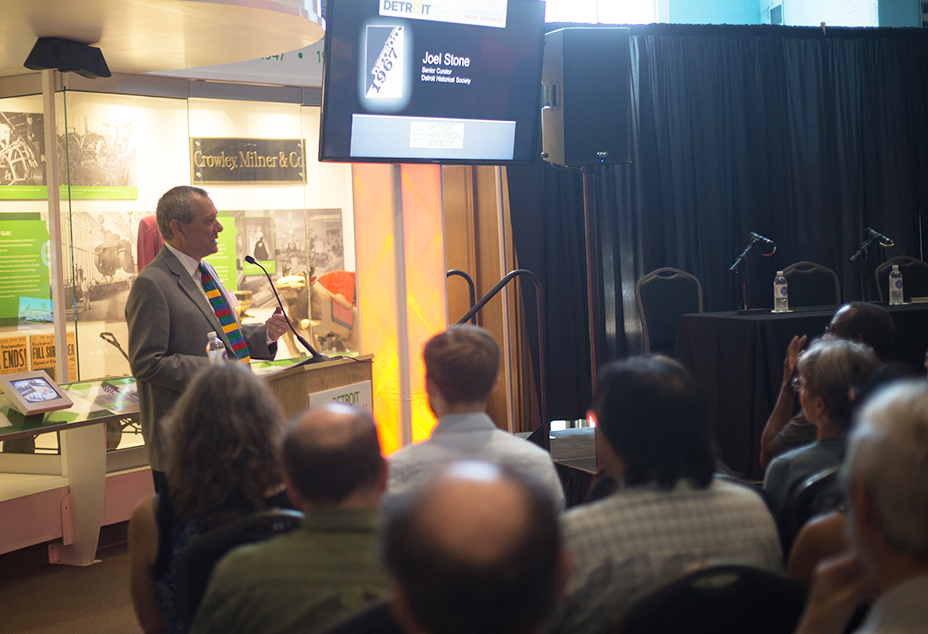 The Detroit Historical Society's Speakers Bureau connects corporate, non-profit, community and affinity groups to Detroit's story and why it matters. Our speakers are local experts and scholars with deep knowledge of Detroit and regional history. To keep our offerings relevant and exciting, we've launched our new "Featured Topics" series, which include speaker bureau experiences that highlight topics related to the Society's current suite of changing and award-winning exhibits and programs. Presentations can run from 30-50 minutes in length and feature an array of historic images. Q&A afterward is encouraged.
2023-2024 Season of "Featured Topics"
VIRTUAL PRESENTATIONS AVAILABLE
• The Detroit Lions and the Early NFL– Jeremy Dimmick, Manager of Collections. The story of the Lions catching on in Detroit doubles as the story of professional football finding its place in American popular culture.  Before the Portsmouth Spartans relocated to Detroit and donned the Honolulu Blue in 1934, several pro football teams tried and failed to gain a foothold in the city. What made the Lions different?
This presentation examines the instability of the infant NFL, and how the Lions (and professional football) won the hearts of Detroiters to become the institution they are today tracking the team from its small town roots, through its golden age in the 1950's, and into the present.
Complementing our Detroit 67: Perspectives exhibition:
• "Detroit 67: Looking Back to Move Forward" – Billy Wall-Winkel, Assistant Curator. Events that took place in the summer of 1967 had a significant impact on the people of Detroit and southeast Michigan.  This presentation looks at the events of 1967 in their historical context and discusses how an extensive community engagement project was developed to address this important anniversary, and includes an award-winning exhibition and publication, successful oral history project, and over 180 partner programs.
• "Myth of the Model City" – Billy Winkel, Assistant Curator. This presentation explores both the causes and events of the 1967 uprising. Understanding what led to the riot/rebellion is imperative to understanding the unrest. Additionally, this lecture will seek to dispel many myths that surround '67.
• "Negro Motorist Green Book and Black Bottom Detroit" - Kimmie Dobos-Wolfe, Manager of Education and Programs. Join us as we "walk" through Midtown and downtown Detroit and discover the safe havens, swinging spots and surprising stories that helped African Americans from Detroit and all over the country navigate the city. This tour is virtual and can be enjoyed from the comfort of your own home!
Complementing  our Doorway to Freedom exhibition:
• "Midnight: Detroit & the Underground Railroad" - Billy Winkel, Assistant Curator. Codenamed Midnight, Detroit was a vital station on the Undergrounds Railroad. Thousands crossed the river to freedom in Canada from Detroit. Detroit abolitionists helped freedom seekers from the south evade slave catchers and local law enforcement on their way to Canada. Detroit's abolitionist community were fierce in their support of runaways in the face of severe local opposition. Despite this opposition, Detroit's abolitionists persisted.
Complementing our America's Motor City exhibition:
• "Cool Cars: Unique Automobiles of the Detroit Historical Society Collection" – Jeremy Dimmick, Manager of Collections. The Detroit Historical Society is caretaker of sixty automobiles. Most are rare – many are one-of-a-kind vehicles that exist in no other collection. These include the first closed salon Cadillac, the Scripps-Booth Bi-AutoGo, and a pre-production Mustang prototype. Several were the personal cars of the Auto Barons, and some came to the Society with original engineering drawings. This presentation takes a tour of a very unique automobile collection. 
Complementing our Built by the River exhibition:
• "Our Island Jewel: Detroit's Belle Isle Park" – Brendan Roney, Manager of Digital Projects. Often called the crowning jewel of Detroit's riverfront, Belle Isle has a long and storied history. The park has hosted world class sporting events, musical performances and family parties. It has also witnessed massacre, riot and military incursion. But for a few twists of fate, this beloved island might have been a much different place.
Speaking engagements are available Monday through Thursday for daytime and evening presentations or Friday during the day only. 
Detroit Historical Society presentations are available to corporations and businesses for $400, and to non-profit organizations and libraries for $250. If a Detroit Historical Society member is associated with the event, a $50 discount is available. All Speakers Bureau presentations that take place offsite at your institution will be charged a $25 travel fee.
(Please note that if you booked a presentation prior to this updated Speakers Bureau format, we will fulfill that obligation according to that agreement.)
To book a speaker for your group, you can fill out and submit our online speaker request form below or call 313.833.1801. Please be aware of our refund policy.