School Tours & Programs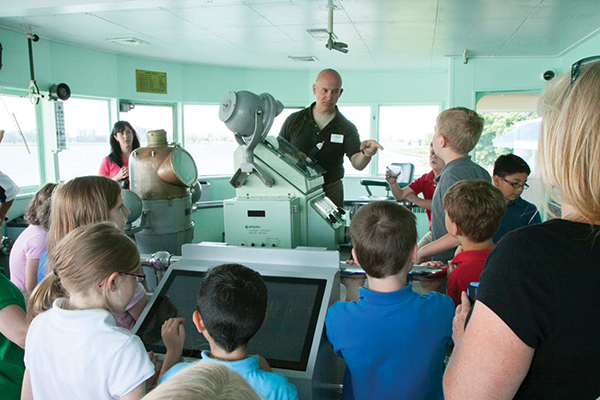 The Dossin Great Lakes Museum provides engaging field trip experiences for students. Aligned with state standards, our tours and programs will enhance any curriculum. Please fill out the Register for a Tour form at the bottom of this page. 
School Tour Policies:
There must be one chaperone for every 10 students; these tickets are free. 

Please let the Sales Coordinator know how many chaperones will be attending.

Should you need to reschedule or cancel your reservation, please contact our education team as soon as possible (313.833.1801), so we can accommodate your reservation changes.

We ask that self-led groups of more than 15 call to make a group booking. This allows us to plan staffing accordingly. 

Groups without a reservation may not be granted access to the museum.

Guided tours and programs must be scheduled 

at least

 four weeks in advance; self-led tours must be scheduled 

at least

 two weeks in advance.

Guided tours are for grades 3 through college.

Payment can be made over the phone with a credit card, via Venmo, or via check according to your institution's payment procedures.

 Download our 2022-23 School Programs Planning Guide 
On-Site Prices (includes general admission):
Self-Led Experience for 15 or more students: $5 per student
Use of museum spaces on Mondays or after hours is an additional $150.00
Virtual options may be available. Please contact the Education Department at 313.833.1801.
Funding the Fun is available for Title 1 Schools
The Funding the Fun Program provides qualifying schools with a free field trip (onsite or virtual) and bus reimbursement up to $250 for the Detroit Historical Museum or Dossin Great Lakes Museum. If your school's free and reduced lunch price numbers are greater than 65%, your school is eligible for this program. Program funds are available at the beginning of each school year on a first come first serve basis.

Learn more on how to apply!
Self-Led Experiences
We offer educators the opportunity to guide students as they explore our exhibits, examine artifacts and uncover Detroit's history on their own. In our self-led experiences, teachers and chaperones work with small groups of students to facilitate activities provided by the museums.
Scavenger Hunt
Our Education Team has curated a self-led Scavenger Hunt experience.  Students can work independently or in small groups to complete the scavenger hunt and uncover Detroit's history on their own. Teachers and chaperones facilitate completion of the Scavenger Hunt. 
GUIDED TOURS
Museum educators lead students through an interactive tour of key museum exhibits. The tours have been designed to meet Grade Level Content Expectations and Common Core Standards for grades 3 – 8, but our tour guides can accommodate students in grades 3 through college.
Maritime History Tour
Recommended for 3rd - 12th grade 
Whether by birch bark canoe, sailing ship, steamboat, hydroplane or giant freighter, Detroiters have used the Great Lakes to build their city, their fortunes and their lives. On this tour, students will discover Detroit's connection to the Great Lakes from the building of Fort Pontchartrain du Detroit to the sinking of The Edmund Fitzgerald.
Capacity:

 60

Tour times: Fridays starting at 10:30 a.m. and every 30 minutes after until 3:30 p.m

Length:

 estimated 60 minutes


Cost:

 $6 students, $8 additional chaperones 

*Note: For every 10 students, one teacher/chaperone is free!

Virtual Tours: 60 minute virtual tours are available for $250 for up to 60 students
 Download our Maritime History Field Trip Guide for more information and pre-visit lesson plans.
WORKSHOPS
Our workshops are an in-depth exploration of key historical themes and concepts. Students interact with history through a combination of inquiry-based learning games and activities.
Gettin' Around the Great Lakes
Recommended for 3rd - 5th grade
All Aboard for the Gettin' around the Great Lakes program! In this fun and interactive experience, students learn all about how we used our inland seas as America's first superhighway. They will explore the diverse geography of the Great Lakes region, navigate the waters using only the sound of buoys and communicate using the language of the lakes, all from the comfort of your classroom. 
Maximum 30 students

Tour times:

 Fridays starting at 10:30 a.m. and every 30 minutes after until 3:30 p.m.

Cost:

 $200 per group

 
How to Book a Field Trip
Please fill out the form below. If you have further questions, email education@detroithistorical.org or call 313.833.1801