School Tours & Programs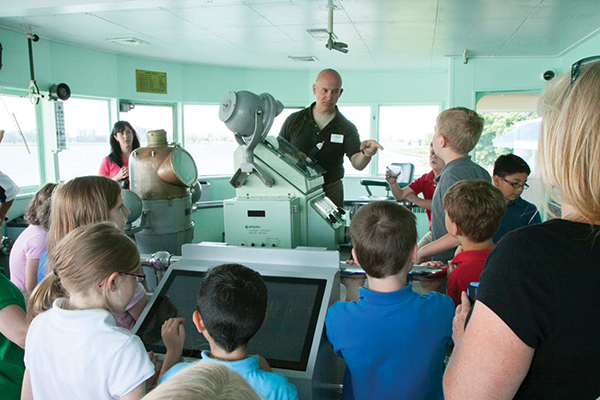 The Dossin Great Lakes Museum provides engaging field trip experiences for students. Aligned with state standards, our tours and programs will enhance any curriculum.
Tours, programs and workshops must be booked a minimum of one month in advance. Upon registration, you will receive a confirmation letter with an invoice and other important information. Full payment is due two weeks prior to the program date. Your field trip is subject to cancellation if your payment is late.
There must be one chaperone for every 10 students. Please note, due to space constraints, we cannot accommodate additional chaperones that were not included in your reservation.

 Download our 2021-22 School Programs Planning Guide

Please note
The Dossin Great Lakes Museum does not allow self-guided groups of more than 30 people without a reservation. If self-guided groups are not booked in advance, they may not be granted access to the museum.
If your group cancels in less than 48 hrs, or does not show up for your reservation time, a $50.00 cancellation fee will be applied to your school or group account. 
Should you need to reschedule or cancel your reservation, please contact our education team as soon as possible (313.833.1801), so that we can accommodate your reservation changes. 
 On-site Prices (includes general admission):
Self-Guided Experience for 15 or more students: $5 per student
Scavenger Hunt Experience for 15 or more students: $5 per student
Reservation of lunchroom/meeting space is an additional $50.00 
Use of museum spaces on Mondays or after hours is an additional $150.00
Virtual options may be available. Please contact the Education Department at 313.833.1801.
Funding the Fun

 is available for Title 1 Schools.
The Funding the Fun Program provides qualifying schools with a free field trip (onsite or virtual), bus reimbursement up to $250, for the Detroit Historical Museum or Dossin Great Lakes Museum.  If your school's free and reduced lunch price numbers are greater than 65%, your school is eligible for this program. Program funds are available at the beginning of each school year on a first come first serve basis.

Learn more on how to apply here!
Self-Guided Experiences
We offer educators the opportunity to guide students as they explore our exhibits, examine artifacts and uncover Detroit's history on their own. In our self-guided experiences, teachers and chaperones work with small groups of students to facilitate activities provided by the museums.
Scavenger Hunt
Our Education Team has curated a self-guided Scavenger Hunt experience.  Students can work independently or in small groups to complete the scavenger hunt and uncover Detroit's history on their own. Teachers and chaperones facilitate completion of the Scavenger Hunt.
How to Book a Field Trip
Call our Education Team at 313.833.1801 or complete the short form below.