General Information

The Dossin Great Lakes Museum is located on the shores of Detroit's historic Belle Isle, just east of downtown Detroit.
100 Strand Drive, Belle Isle, Detroit, MI 48207  CLICK HERE for a Google map and directions
Phone: 313.833.1805  |  Museum front desk: 313.821.2661

Follow the Dossin Great Lakes Museum
on Facebook!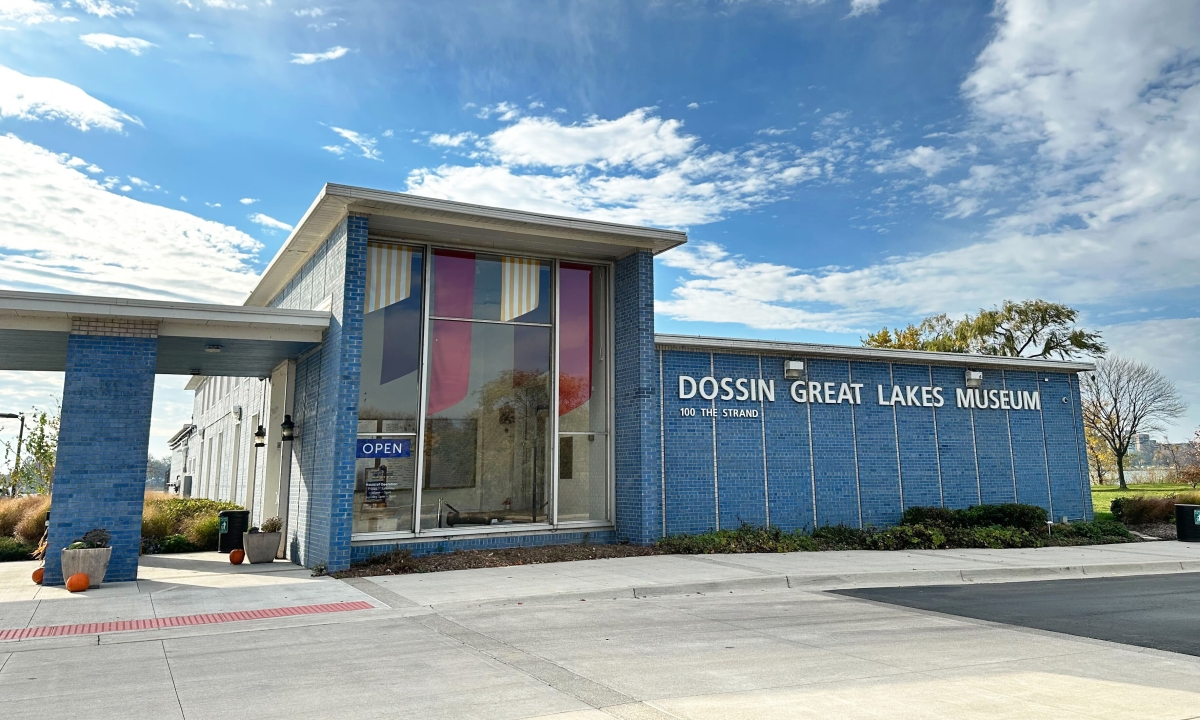 We are OPEN:
YEAR-ROUND HOURS:
Friday – Saturday: 10 a.m. – 5 p.m. 
Sunday: 1 – 5 p.m.
OPEN WITH FREE ADMISSION on Sundays in December! (12/3, 12/10, and 12/17).
CLOSED on Sunday, December 24.
OPEN with Holiday Week Hours 12/27-12/30, 10 a.m. - 5 p.m. daily. Admission prices in effect.   
CLOSED on Sunday, December 31.
$

5 

for adults

 and children

 

$20 for a household 

(up to 6 adults and children with the same address)

 

FREE for 

Detroit Historical Society members

 & 

children

 under 6 years old

 
The Detroit Historical Society is constantly working behind the scenes to repair and maintain its immense collection of Detroit's artifacts, including our world-class collection of more than 200 Great Lakes ship models. Admission fees collected during the special exhibition will go directly to support the conservation and continued care of these models. 
Walk-in visitors are welcome, but advance tickets may be purchased below.
Self-Led Touring Policy
Teachers and educators can utilize the Dossin Great Lakes Museum as a teaching space by planning a self-led tour. 
To ensure a quality museum experience for all visitors, the Dossin Great Lakes Museum requests that groups contact education staff in advance to schedule their visiting time at 313.833.1801 or heatherf@detroithistorical.org. Requests are scheduled on a first come, first served basis. 
The Dossin Great Lakes Museum reserves the right to refuse unscheduled self-guided groups larger than 30, based on daily tour capacity.
Price (includes general admission):
Self-Led Experience: $5 per person
Accessibility
The Detroit Historical Society is committed to ensuring our museums are accessible and enjoyable for all visitors. Find complete accessibility information for the Dossin Great Lakes Museum here. 
*Please note that the Willam Clay Ford Pilot House area is not accessible for persons with physical disabilities. 
Admission to Belle Isle Park
A Recreation Passport is required for vehicles entering Belle Isle Park.  If you are planning to visit the Dossin Great Lakes Museum or attend an event and do not have a Passport, you can purchase one on the island.
Pricing is as follows:
Michigan registered vehicles - $12
Out of state vehicles - $10 for a day pass or $36 for an annual pass
Commercial vehicles - $18 for an annual pass, including buses and limos
More information on the Recreation Passport can be found online at www.michigan.gov/recreationpassport, however, only out-of-state residents can purchase Passports online. Residents can purchase the Passport at any State Park or when renewing their license tabs annually.   
*Please be aware that the Michigan DNR temporarily restricts vehicle entry onto Belle Isle when capacity is reached. Summer afternoons are particularly busy times; early visits are encouraged. Pedestrian traffic and those entering on bikes are not  impacted. For updates, visit https://www.facebook.com/MiBelleIsle
Parking
Parking is free for vehicles with a valid State of Michigan Recreation Passport or a Day Pass. A parking lot is located adjacent to the museum off of The Strand.
For more information on Belle Isle park, visit the Michigan Department of Natural Resources online.
Transit
A DDOT bus stop is located on Loiter Way, about a five minute walk from the museum. Plan your route via detroitmi.gov/ddot (within the city) or smartbus.org (from the suburbs).