About Our Members
New membership benefits! 
• MEMBERSHIP PLUS! Gives you DHS Member Discounts at a growing list of restaurants and businesses in the Midtown Detroit area. 
• ONLINE MEMBER PORTAL lets you view yourmembership information online, access exclusively curated content, and receive special money-saving offers. 
• FREE PARKING for MORE MEMBERS means all members at the Friends & Family level and above enjoy complimentary parking in our lot while visiting our museum.  
About the membership program:
1. A Detroit Historical Society membership has value.
Free admission is just the beginning! Detroit Historical Society membership is your ticket to Detroit's past, present and future. Experience special VIP access to top exhibitions, curator-led discussions, exclusive member events, museum shop discounts, and other exciting members-only opportunities.
2. Upgrade for more!
Upgrade your membership and enjoy more great benefits like priority ticketing for our most popular events and reciprocal membership at over 200 history museums nationwide through the Time Travelers program. Plus, you'll have the satisfaction of knowing you're an active participant in the preservation of Detroit's important history. 
3. Detroiter Membership.
Many other museums, including the Los Angeles County Museum of Art, the Art Institute of Chicago and the Detroit Institute of Arts, offer discounted admissions to local residents in recognition of their special relationship with these public institutions. To that end, the Society has created a Detroiter membership, available at no cost to residents of Detroit, Hamtramck and Highland Park, recognizing the relationship that residents of the city have to the stories we tell and the artifacts that we safeguard on their behalf.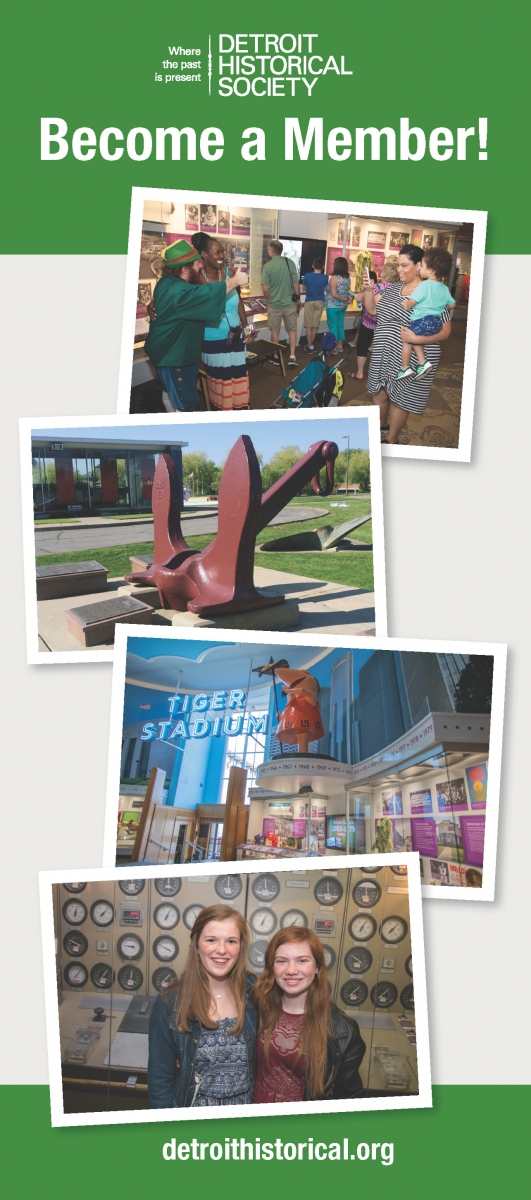 Click here for a complete summary of our membership program. Join today and experience all we have to offer!
Gift Memberships
A Detroit Historical Society gift membership wraps more than 300 years of Detroit's legends and lore, stories and symbols, and tragedies and triumphs into a package Detroit enthusiasts and local history lovers will cherish all year. Purchase a gift membership for your family and friends today!
Questions?
If you have any questions about the Society or your membership, please contact our membership department at 313.833.0242 or membership@detroithistorical.org.