School Tours & Programs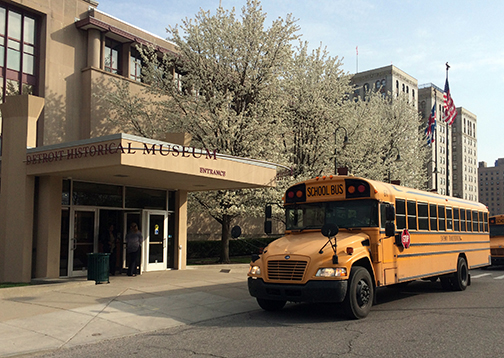 The Detroit Historical Museum provides engaging field trip experiences for students in grades 3 through 12. Aligned with state social studies standards, our tours and programs will enhance any curriculum.
Tours, programs and workshops must be booked a minimum of one month in advance. Upon registration, you will receive a confirmation letter with an invoice and other important information. Full payment is due two weeks prior to the program date. Your field trip is subject to cancellation if your payment is late.
Parking in our lot is $9 per car and based on availability. 
Please note
There must be one chaperone for every 10 students. Please note, due to space constraints, we cannot accommodate additional chaperones that were not included in your reservation.
The Detroit Historical Museum does not allow self-guided groups of more than 30 people. If self-guided groups are not booked in advance, they may not be granted access to the museum, please call 

313.833.1801 

to reserve.
If your group cancels in less than 48 hrs, or does not show up for your reservation time, a $50.00 cancellation fee will be applied to your school or group account. 
Should you need to reschedule or cancel your reservation, please contact our education team as soon as possible (313.833.1801), so we can accommodate your reservation changes.
 On-site Prices (includes general admission):
Self-Guided Experience for 15 or more students: $5 per student
Scavenger Hunt Experience for 15 or more students: $5 per student
Guided Tour Experience: $5 per student   *Note: For every 10 students, 1 teacher/chaperone is free!
StoryLiving Program (at museum): $400 - flat rate for up to 120 students
StoryLiving Program (at your school): $450 - flat rate for up to 120 students
*Mileage fee of $50.00 will be charged for venues located more than 30 miles from the Detroit Historical Museum.
Workshops: $250 flat rate for up to 30 students. Reservation of lunchroom/meeting space is an additional $50.00Use of museum spaces on Mondays or after hours is an additional $150.00.
Virtual Pricing:
Virtual Guided Tour Experience: $250.00 per virtual experience for up to 60 students.
StoryLiving Program: $400 - flat rate for up to 100 students.

 Download our 2020-21 School Programs Planning Guide

 Download our Pre-visit Museum Guide 
Funding the Fun is available for Title 1 Schools.
The Funding the Fun Program provides qualifying schools with a free field trip (onsite or virtual), bus reimbursement up to $250, for the Detroit Historical Museum or Dossin Great Lakes Museum.  If your school's free and reduced lunch price numbers are greater than 65%, your school is eligible for this program. Program funds are available at the beginning of each school year on a first come first serve basis.

Learn more on how to apply here!
Self-Guided Experiences
We offer educators the opportunity to guide students as they explore our exhibits, examine artifacts and uncover Detroit's history on their own. In our self-guided experiences, teachers and chaperones work with small groups of students to facilitate activities provided by the museums.
Maximum 120 students
Times: Tuesday - Friday, 10:00 - 11:30 a.m. or 12:30 - 2:00 p.m.
Group prices: $50 for up to 30 students
$100 for 31 – 60 students
$150 for 61 – 90 students
$200 for 91 – 120 students
Passport to Learning
Recommended for 2nd - 5th grade
Students become history travelers as they explore museum exhibits and answer questions using our Passport to Learning booklet. Each student will receive a booklet with questions and activities that encourage interaction with the exhibits. Chaperones and teachers help facilitate discussions, and "stamp" student passports as they complete activities.
Changemakers Scavenger Hunt
Recommended for 6th - 12th grade
A scavenger hunt is a fun addition to a day at the museum! Students will discover Detroit's movers and shakers from the last century as they explore the museums permanent exhibits. Working together in teams the first group to complete the hunt, wins a prize! As always, chaperones and teachers are encouraged to help facilitate discussions and assist student groups with completion.
Guided Tours
Museum educators lead students through an interactive tour of key museum exhibits. The tours have been designed to meet Grade Level Content Expectations and Common Core Standards for grades 3 – 8, but our tour guides can accommodate students at all grade levels.
Historical Perspectives Tour
Recommended for 3rd - 12th grade
Native American footpaths started us on a journey that led to major industries (not just cars!) which brought the city of Detroit tremendous growth and waves of new immigrants. Students will explore over 300 years of the city's development while immersing themselves in the understanding of the city's landscape, the people who built it, and the growth we continue to see today.
Tour times: Tuesday - Friday, 10:00 - 11:30

a.m.

 or 12:30 - 2:00 

p.m.

Max capacity: 120 participants
Cost: $5 per participant 
VIRTUAL TOUR
Tour times: Mondays - Wednesdays,

10 a.m. or 12:30 p.m.

Tour length:

60 minutes

Cost:$250 per virtual experience for up to 60 students.
Detroit Treblemakers
Recommended for 9th - 12th grade
From ragtime to rap, from McKinney to Motown, students will listen and dance their way through the social, economic and political history of Detroit and the United States while meeting the figures who shaped the soundscape of our country. They will learn not only the history that created Detroit's music but also how Detroit music changed history
Tour times: Tuesday - Friday, 10:00 - 11:30 a.m. or 12:30 - 2:00 p.m.
Max capacity: 60 participants

 
Detroit 67: Perspectives Facilitated Group Experience
Recommended for 9th - 12th grade
During this 90-minute facilitated experience of the Detroit 67: Perspectives exhibition, students will take part in discussions surrounding the significant economic, social and cultural factors that led to the turbulent summer of 1967. This experience allows students to fully engage, think through and draw conclusions about this tumultuous summer and its wider ramifications for Detroit.
Tour times: 

Tuesday - Friday, 10:00 - 11:30 

a.m.

 or 12:30 - 2:00 

p.m.

Cost: $10 per participant
VIRTUAL TOUR
Tour times: Mondays - Wednesdays, 10 a.m. or 12:30 p.m.
Tour length: 60 minutes
Cost:$250.00 per virtual experience for up to 60 students.
A note to our visitors:
The Detroit 67: Perspectives facilitated experience is not a typical museum tour! (Typically, a museum guide will lead you through a space and talk to you about the information and objects you see.)
Because the Detroit 67: Perspectives exhibition is about events, people and social change, your facilitator will provide some key information regarding this history, but will then ask questions to generate dialogue and conversation about the topics in the exhibition. 

Audience participation is a key part of this experience

.
Detroit 67: Perspectives highlights events and ideas that have the potential to be sensitive and personal. Issues of race, social unrest and economic injustice are all a part of what led to this period of civil unrest. 
As an institution, the Detroit Historical Society is not taking a position regarding these events, nor are we judging them. Our commitment is to present as many perspectives as possible from those who experienced the events first hand. 

 Download our Detroit 67: Perspectives Educator Resource Packet
Programs
Our programs include hands-on educational fun through music, dance, storytelling, role playing and artifact exploration.
StoryLiving
Virtual StoryLiving Experience is available January 2021!
Bring history to life by booking a StoryLiving program. In these interactive programs, a professional storyteller shares Detroit history with your students using drama, group pantomime, role playing, songs and creative problem-solving. These programs can be performed at the Detroit Historical Museum or in the comfort of your classroom. 
Mileage fee of $50.00 will be charged for venues located more than 30 miles from the Detroit Historical Museum.
Maximum 120 students
Cost: $400
The Underground Railroad
Recommended for 3rd grade
In the mid 1800s, thousands of African Americans escaped through Detroit on their way to freedom in Canada. Students will discover more about the Underground Railroad and the role Detroit played in it.
Block by Block
Recommended for 1st - 3rd grade
It's been over 200 years since the Great Fire set the city of Detroit ablaze displacing over 700 residents. After the destruction, Detroiters did not abandon their city. Through strength and determination they set to work to rebuild Detroit, leaving the legacy of the city we see today. Students will become firefighters who must work together to save the community.
The Great Migration
Recommended for 4th & 5th grade
Over the course of six decades, nearly six million black southerners left the South and fanned out across the United States transforming urban America. Join us as we highlight three Detroit women and how the circumstances of their family's migration and their experiences shaped who they were and defined the course of their lives in the 1920s, 1940s and the 1960s.
Workshops
Our workshops are an in-depth exploration of key historical themes and concepts. Students interact with history through a combination of inquiry-based learning games and activities.

Maximum 30 students
Workshop times: Tuesday - Friday, 10:00 - 11:30 a.m. or 12:30 - 2:00 p.m.
Cost: $200 per group
Trading Post Workshop
Recommended for 3rd - 5th grade
Dive deep into the world of Native Americans, Voyageurs, Trappers, and Traders on the Great Lakes with this interactive combination tour and workshop. Students receive a hands-on experience, learning about the first 200 years of Native-French relations in our Frontiers to Factories: Detroiters at Work gallery. Following the tour, students are led through a facilitated game of trading and bartering, just as the first Detroiters did over 300 years ago.
Innovator's Alley
Recommended for 3rd - 5th grade
Detroit is a city of innovators and pioneers; explore innovators of the past and become the innovators of the future with this hands-on tour and workshop combination. Join us in our Streets of Old Detroit gallery, as we examine the inventions and innovations that changed people's lives at the dawn of the 20th century and then, in the following workshop, create the inventions that will shape the 22nd century!
History Detectives
Recommended for 6th - 12th grade
Middle and High School students are invited to become "History Detectives" as they explore the Detroit Historical Museum's Streets of Old Detroit exhibit. Students discover Detroit in the 1840s, 1870s and 1900s as they seek answers to questions in storefronts and decipher clues to find their next stop. Played in teams of up to five students, the activity engages students in their local history, helps them understand its change over time and encourages them to make connections to the present day.
For more information on our programs or to book a field trip, please call us at 313.833.1801 or complete the short form below.
Add a lunchroom to your reservation for an additional $50.