Outdoor Enhancement Project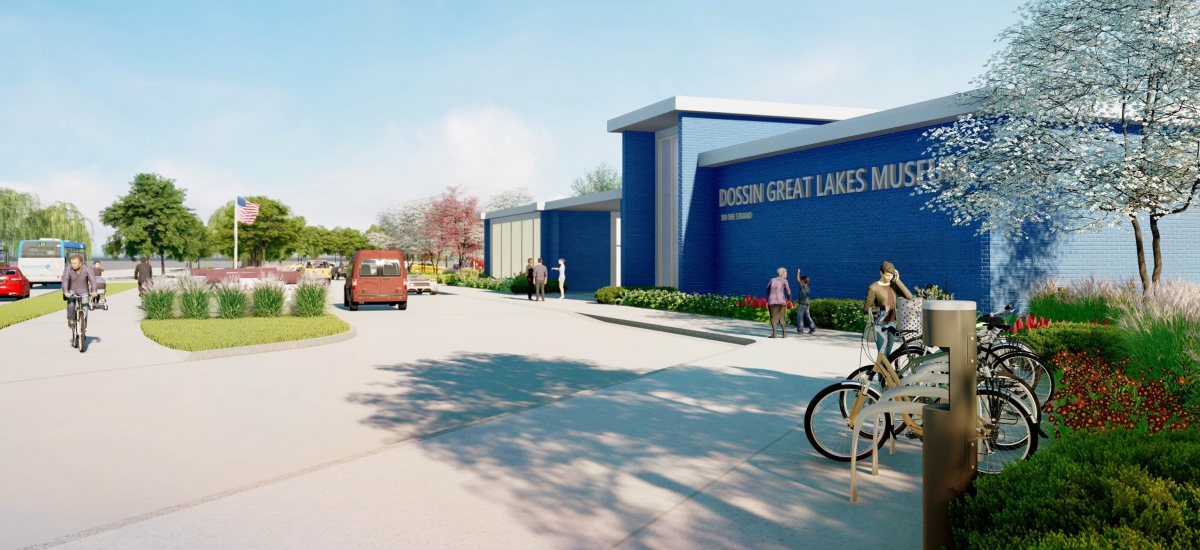 On July 1, 2019, the Detroit Historical Society broke ground on the first part of a four-phase, $4.9 million outdoor enhancement project at the Dossin Great Lakes Museum. A favorite destination for maritime enthusiasts, history buffs and nature lovers, the museum has occupied its riverfront Belle Isle site since 1960 and has more than doubled its attendance over the last five years. While it underwent significant renovations in 2013 as part of the Society's Past>Forward campaign, this new project marks the first time that the museum's entire campus will be activated for historical interpretation and recreation.
VISITOR AMENITIES PHASE - complete!
The first phase of construction, a $2.4 million upgrade focusing on visitor amenities, was completed in 2020 and offers exciting enhancements for museumgoers and island visitors of all types.
• The museum's outdoor maritime artifact displays are upgraded with improved signage and placement, including the revered anchor from the freighter Edmund Fitzgerald, which is highlighted in a beautiful Lost Mariners Memorial with a garden, custom lighting and seating areas.
• The museum also gained a riverwalk and observation telescope, a riverfront event patio and an upgraded central lawn area, providing highly desirable spaces for both public and private events.
In addition, amenities have been added for active users of the museum's site:
• New pedestrian lighting, bike racks, benches, a cycle service station and a canine refresh station for pets to coincide with the construction of the Belle Isle section of the Iron Belle Trail, which passes by the museum entrance.
• A new kayak launch with a soft shoreline for those interested in non-motorized recreational water activity. For the first time in its nearly 60-year history, the Detroit River is accessible from the museum for recreational and educational opportunities!
FUTURE PHASES
Three additional phases of the Outdoor Enhancement Project are set to include:
• A riverfront connector trail similar in design to the Detroit Riverwalk.
• Construction of a historic landscape that would approximate the natural setting of Belle Isle before it was developed as a recreational space and complement the nearby Piet Oudolf garden presently under construction.
• Improved access to the museum from The Strand and parking lot from Inselruhe Avenue.
The Society has raised $1.9 million of the $4.9 million total budget and is currently seeking gifts to ensure the seamless completion of the project.
Outdoor Enhancement Campaign Sponsors
Miss Pepsi Pavilion
Douglas and Diane Dossin
Del and Dianne Dossin Ruth Riverwalk
Del and Dianne Dossin Ruth
Telescopes and Canine Stations
Dr. Kevin and Marlena Hanlon
The Lost Mariners Memorial Sponsored by Karen and Drew Peslar
Karen and Drew Peslar
Aaron and Helen L. DeRoy Patio
DeRoy Testamentary Foundation
Soft Shore River Access
Sidonie Dossin Brown
George Johnson
Outdoor Signage and Wayfinding
A. Paul and Carol Schaap
Outdoor Garden and Bicycle Station
Chip and Sarah McClure
Flagpole and Observation Area
DaVille Consortium
Overall Project Support
Stephen and Bobbi Polk
Richard Dossin
Dr. Kevin and Marlena Hanlon
The Nicholson Family
Bill and Happy Rands
Joe and Maureen Kaiser
Motor City Chapter, Jack and Jill of America Inc.