Volunteering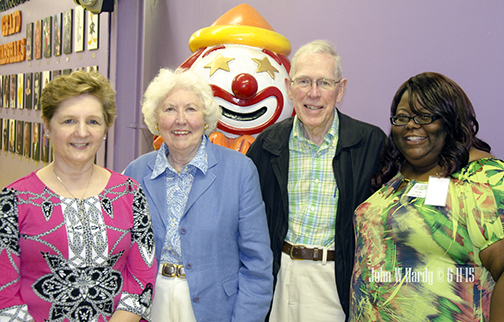 The Detroit Historical Society is a great place to enhance your love for Detroit's history by assisting us in our mission to share Detroit's stories and why they matter. Our volunteer program consists of more than 150 docents, interns and volunteers who donate their time in a variety of exciting ways by engaging Society patrons, not only within our galleries but throughout Metro Detroit. Society volunteers provide strategic placement as ambassadors where staff capacity ends by leading our guided tours, hosting special events programs on and off-site, conducting historical research and aiding Society staff with administrative support.
The Detroit Historical Society has volunteer application open enrollment annually in the spring and fall for available positions other than Society Docents. Please visit our Volunteer Information page to view our current opportunities!
In order to begin the application process, all potential volunteers must submit an application for the volunteer position that best fits their interest. We also ask that volunteers become members of the Society during their first year in the program. Many exciting benefits await volunteers after actively completing their first year of service. Some of our volunteer benefits include:
Rewarding and interesting opportunities

Full training and support

Access to a free Detroit and Michigan history lending library

Free membership to the museum after 50 hours of service in a fiscal year
The Detroit Historical Society is always looking for dedicated volunteers to assist with our programs and events, so during our closed enrollment period all applicants interested in volunteer placement may contact the Volunteer Manager at volunteer@detroithistorical.org. 
Ready to get started?  Head over to our Volunteer Information page to view our current opportunities!
Already a volunteer?  Check out the Volunteer Resource Center for up-to-date scheduling of current and future events!