Vernors 150th Anniversary Party
June 11 2016 | 10:00am

to

June 12 2016 | 4:55pm
Celebrate the 150th Anniversary of Vernors with a week of events, June 5-11, 2016!
Restaurant Specials and Downtown Building Lighting

Look for unique menu items made with Detroit's favorite ginger ale at downtown dining destinations, including:
Batch Brewing Co. / The Block / Broderick Grille / Cass Cafe / Chartreuse / Coach Insignia / Huron Room / Iridescence / La Feria Spanish Tapas / Mercury Burger Bar / Mudgie's / Ottava Via / Parks and Rec / Republic / State Bar / Terry's Casablanca Lounge / Top of the Pontch, Crowne Plaza / Union Street
Detroit is showing its colors for Vernors! Watch downtown buildings for green and yellow lighting, including the Cobo Center and Detroit Opera House marquees.
Vernors Exhibition
Tuesday, June 7 - Sunday June 12, 2016
All week long, the Detroit Historical Museum will present a display of rarely seen Vernors artifacts! Look for this special exhibition outside of the Louise C. Booth Auditorium on the museum's lower level. Museum admission is always free.
Vernors Bus Tour and Ginger Beer Crawl
Friday, June 10
Join the Detroit Experience Factory for a ginger beer crawl! SOLD OUT!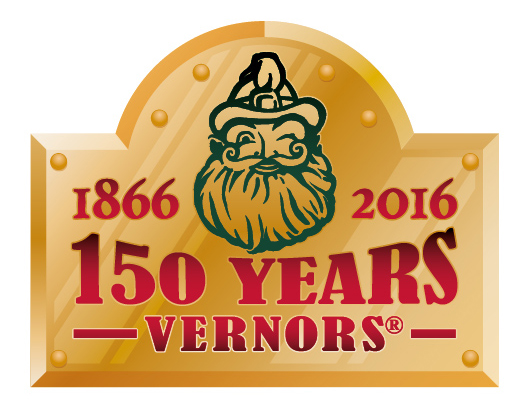 Vernors 150th Anniversary Party
Saturday, June 11
Join us for the main event: the Vernors 150th Anniversary Party at the Detroit Historical Museum!
Activities will include:
• A Vernors-themed poker run from 11 a.m. to 1 p.m. 
• A screening of Detroit Remember When: Made in the Motor City at 11 a.m. A chat with filmmaker Bill Kubota will follow the film. (Please note time change!)
• The Vernors Gnome live and in-person, signing autographs from noon to 5 p.m. 
• A Vernors history presentation from 1 to 2 p.m.
• A book signing for Vernor's Ginger Ale by author Keith Wunderlich at 2 p.m.
• A presentation on James Vernor in MOLLUS (Civil War Legion) from 2:15 to 2:45 p.m. 
• A toast by James Vernor V and James Vernor VI, great-great-grandson and great-great-great grandson of James Vernor at 4 p.m.
• A world record attempt for the most Vernors drinkers at 4:30 p.m.
Vernors floats, cream ales and Boston Coolers will be for sale at the museum from noon to 4 p.m. Proceeds will go toward the purchase of a historic marker to commemorate the oldest soda pop in America: Vernors!
Learn more about the history of Vernors.
Events sponsored by:

Thank you to our Vernors 150th Anniversary Party supporters: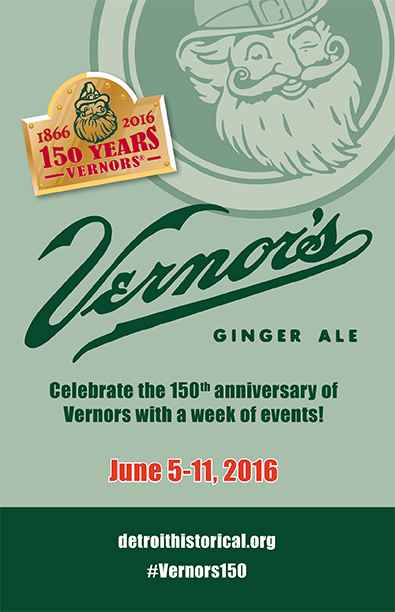 Download the 150th Vernors Anniversary brochure!