St. Matthew's & St. Joseph's Episcopal Church
In 1846, William Lambert and several former members of Second Baptist Church founded St. Matthew's Mission. The Mission built their first church at the corner of St. Antoine and Congress Streets in 1851. However, the enactment of the Fugitive Slave Act of 1850 prompted an out-migration of blacks from Detroit to Canada and significantly reduced the membership, causing the church's assets to be liquidated in 1864. In 1880, the Mission was revived, and formal ties were established with the Michigan Diocese of the Protestant Episcopal Church. Services were first held in a rented hall. In 1883, the congregation erected a church building at the corner of St. Antoine and Elizabeth Streets. Freeway construction displaced Detroit's Paradise Valley and church membership dwindled. In 1971, St. Matthew's merged with St. Joseph's Episcopal Church and moved to St. Joseph's church facility.
The origins of St. Joseph's Episcopal Church can be traced to a commemorative chapel which Mrs. Lucetta Medbury gifted to the Episcopal Church in 1883. St. Joseph's, as the mission and eventually the church came to be known, was built at the corner of Woodward Avenue and the present Edsel Ford Expressway. In 1926, the parish was relocated at the present corner of Holbrook Street and Woodward.
Architect James Nettleton, of the firm Nettleton and Weaver designed the building in the English Gothic style. The interior contains a carved oak reredos and wainscoting around the sanctuary showing twenty scenes depicting the life of Christ. The carved oak pulpit, litany desk and lectern came from St. Matthew's church. Birone Rogers decorated the paneled ceiling and sanctuary walls with symbols representing the entire history of the Christian Church. The floor of the church is of Pewabic tile. The lower nave windows were designed by Mary Giovann and executed by Andrew Maglia. There are also five memorial stained glass windows by J. Whippell and Co., Ltd. of England, and three jeweled Tiffany windows on the stairway from the narthex to the balcony. A four manual Skinner organ was installed in the chancel in 1927.
---
RELATED ITEMS IN THE COLLECTION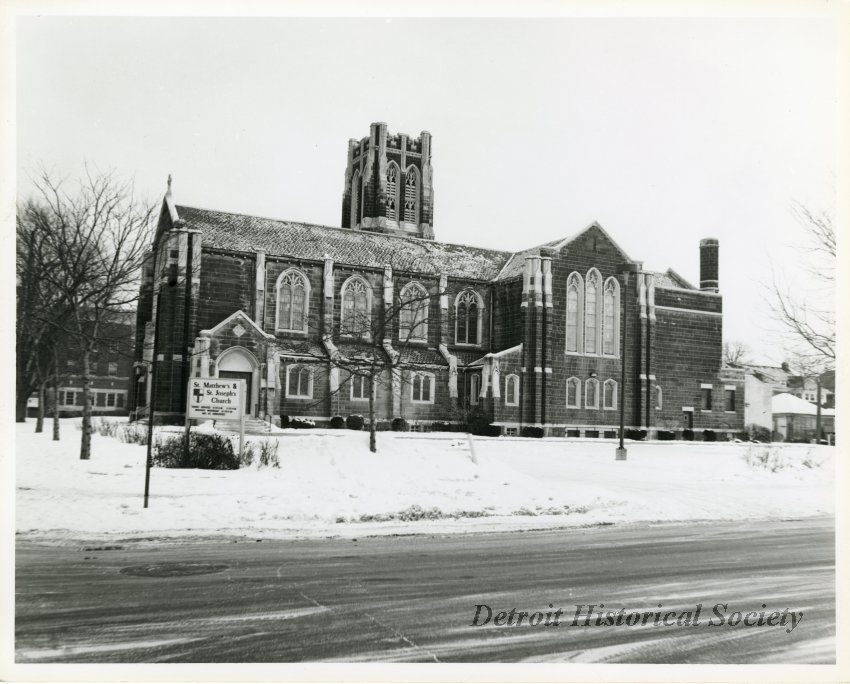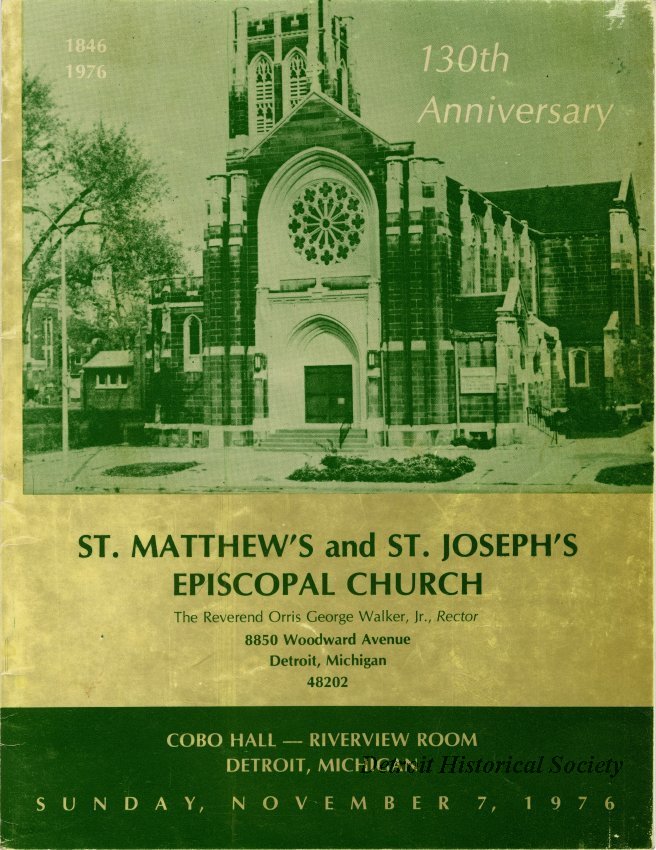 View all items related to St. Matthew's & St. Joseph's Episcopal Church