Cathedral of the Most Blessed Sacrament
In 1905, Detroit Bishop John Foley authorized the establishment of a parish, named Most Blessed Sacrament, to serve the Catholic community in the newly developed Woodward Avenue-Boston Boulevard residential areas. The first service of the parish was held in an old shoe factory in August of 1905. Initially plagued with financial problems, construction of the church began in 1913 with Henry A. Walsh as the architect.
The exterior of the church was completed in 1915, minus the twin spires on the Woodward facade. Work on the interior lagged due to lack of funds. Father John Connolly, the founding pastor, offered the first Mass on August 13, 1916, in the bare building that was still under construction. The interior was finished in 1930, with the dedication of the interior on Thanksgiving of that year.
On May 22, 1937, the Diocese of Detroit was elevated to an Archdiocese and Most Blessed Sacrament was chosen to be the Cathedral church, replacing St. Patrick, which had served as the Cathedral since 1877. Finances were more secure after the end of World War II and George Diehl was selected as Walsh's successor to finish the church exterior. With the completion of the exterior, consecration of the Cathedral church took place on November 17, 1951. By the end of the 20th century, the Cathedral needed modernization and plans were drawn for a total renovation of the interior, guided by Gunnar Birkerts. On March 25, 2003, the Archdiocese of Detroit celebrated the Rededication of the Cathedral.
The Cathedral is built in the Norman Gothic style and made of Ohio sandstone with Indiana limestone accents. The 22 large, medieval-styled colorful glass windows were designed by Willet Studios of Philadelphia. Sculptor Corrado Parducci did much of the statuary that adorns the sanctuary. The Cathedral accommodates two pipe organs; the rebuilt and updated original Casavant Frere, with more than 3,500 pipes, and an Austin organ with 1,745 pipes.
---
RELATED ITEMS IN THE COLLECTION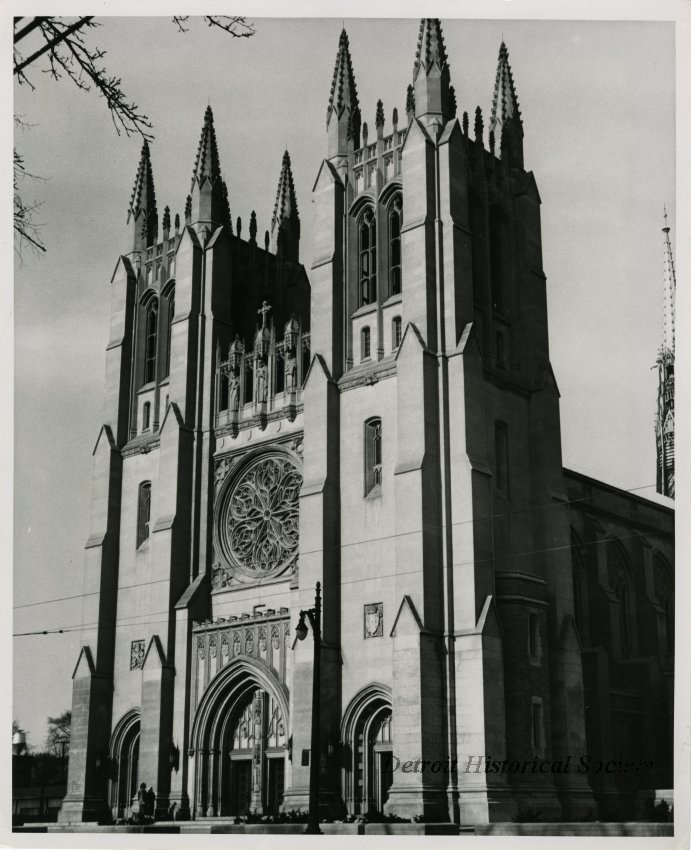 View all items related to Cathedral of the Most Blessed Sacrament