Meier's Wonderful Clock
It took Louis Meier, Sr. twelve years to build his clock.  Its hand-carved mahogany base, detailed glass clock face and intricate mechanisms made it a Detroit marvel when it debuted in his jewelry store at East Grand Boulevard and Gratiot Avenue in 1904.
The clock features a master clock and twelve smaller clocks displaying the time in major world cities. The sphere at the top shows the phases of the moon, making a full rotation every 29 days and 8 hours. The calendar at the bottom shows the day of the week, month and date. Miniature figures in the base represent different nations which march to music around the globe every five minutes. A figure of Father Time strikes chimes every hour, while smaller figures of a child, a young man, a middle-aged man and an elderly man strike the quarter hours.
Why is this clock extra special? All the different mechanisms are run by a single pendulum, making it one of the most complicated compound clocks of its time. It was displayed at the Michigan State Fair in 1906 and at the Chicago World's Fair in 1934, before returning to the jewelry store until Mr. Meier's death in 1945. His family donated the clock to the Detroit Historical Museum in 1982.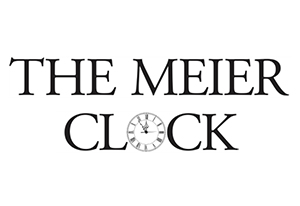 Standing more than 14 feet high and weighing more than 2,500 pounds, Meier's Wonderful Clock is one of the Detroit Historical Museum's most treasured artifacts. While still fully functional, daily operation was suspended in 2006 to preserve its delicate clockworks. The accompanying video captures the magic of its movements.
In 2013, the Meier Clock returned to the Detroit Historical Museum after a year of extensive renovations. It is currently on display on the landing between the first and second floors.