Detroit's Legends Plaza
Posted March 9, 2023 by

Sarah Murphy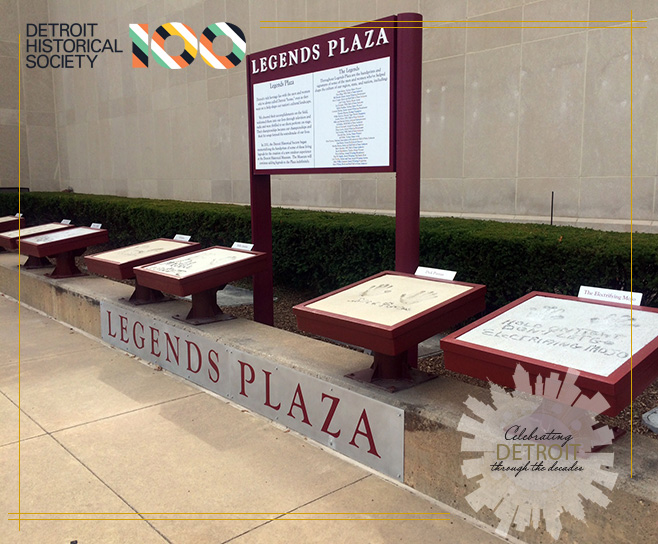 Debuted as part of the Past>Forward Campaign that transformed much of the Detroit Historical Museum in 2012, Legends Plaza is Detroit's own "Walk of Fame" and features over 30 sets of handprints and signatures from luminaries across many fields. Whether they are Detroit born or found their way to the Motor City later in life, those represented in the outdoor exhibit have had a cultural impact on a national or even international scale. 
Work on Legends Plaza had been ongoing for over a year before its unveiling, as the museum sought to highlight its outdoor space and memorialize Detroit's living legends. The exhibition's opening on September 19, 2012 was hosted by WJR's Paul W. Smith, and featured WXYZ-TV anchor Diana Lewis and Motown icon Martha Reeves – all three Plaza inductees. Since these initial handprints were installed, new sets have been introduced over the years, including Aretha Franklin, Bill Bonds, and The Electrifying Mojo. 
Those who are highlighted in the exhibit have made their mark in several fields – sports, music, media, and more. Original member of the Supremes, Mary Wilson,whose handprints are featured in the exhibit, has her own tribute this year in the Motor City Music exhibit. 
A small sampling of the more than 30 honorees include: 
• Carmen Harlan, Longtime Detroit broadcaster 
• Gordie Howe, Detroit Red Wing and all-time hockey marvel 
• Sam Raimi, Director, screenwriter, and producer 
• Barry Sanders, Detroit Lion and Pro Football Hall of Famer 
• Lily Tomlin, Comedian and actress 
Legends Plaza will soon welcome new honorees as part of the Society's 100th Anniversary Celebration! Join us on Saturday, April 29 to watch Detroit Pistons great Ben Wallace, legendary sports broadcasters George Blaha and Ken Daniels, and beloved anchorwoman Amyre Makupson cast their hands and be added to thelong list of history-makers enshrined in the exhibit. Learn more and get tickets at detroithistorical.org/celebration.