Legends Plaza
Detroit's rich heritage lies with the men and women who've always called Detroit "home," even as they went on to help shape our nation's cultural landscape.
We cheered their accomplishments on the field, welcomed them into our lives through television and radio and were thrilled to see them perform on stage. Their championships became our championships and their hit songs formed the soundtracks of our lives.
In 2011, the Detroit Historical Society began memorializing the handprints of some of these living legends for the creation of an outdoor experience at the Detroit Historical Museum. The Museum will continue adding legends to the Plaza indefinitely.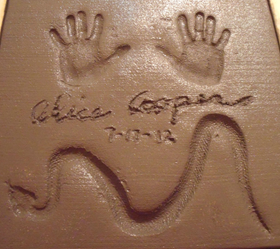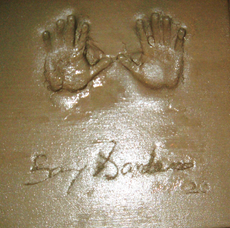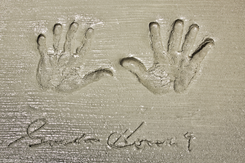 Throughout Legends Plaza are the handprints and signatures of some of the men and women who've helped shape the culture of our region, state, and nation, including:
Juan Atkins, Techno Music Pioneer
Dave Bing, NBA Hall of Fame Inductee
Bill Bonds, Legendary Broadcaster
Alice Cooper, Rock and Roll Hall of Fame Inductee
Carl Craig, Techno Music Artist
Joe Dumars, NBA Hall of Fame Inductee
The Electrifying Mojo, Visionary Detroit Radio DJ
Eddie Fowlkes, Techno Music Pioneer
Aretha Franklin, The Queen of Soul
Carmen Harlan,  Award Winning  Broadcaster
Thomas Hearns, Boxing Champion
Willie Horton, Detroit Tiger World Champion
Gordie Howe, NHL Hall of Fame Inductee
Mike and Marian Ilitch, Cultural Entrepreneurs
Al Kaline, MLB Hall of Fame Inductee
Bettye LaVette, Acclaimed Soul Singer/Songwriter
Elmore Leonard, Award Winning Author
Diana Lewis, Award Winning Broadcaster
Ted Lindsay, NHL Hall of Fame Inductee
Mickey Lolich, Detroit Tiger World Champion
Derrick May, Techno Music Pioneer
Jeff Mills, Techno Music Artist
Dick Purtan, National Association of Broadcasters Hall of Fame Inductee
Sam Raimi, Noted Hollywood Director
Martha Reeves, Rock and Roll Hall of Fame Inductee
Barry Sanders, NFL Hall of Fame Inductee
Kevin Saunderson, Techno Music Pioneer
Devin Scillian, Award Winning Broadcaster
Paul W. Smith, Award Winning Talk Radio Host
Lily Tomlin, Emmy and Tony Award Winning Actress
Allee Willis, Grammy Award Winning Songwriter
Mary Wilson, Rock and Roll Hall of Fame Inductee