Detroit's Early Industries
Posted April 4, 2022 by

Kayla Draper
Detroit has been a titan of industry for more than 200 years. Before the auto manufacturing that we recognize today became the city's most powerful industry, industries like copper smelting, railroad car manufacturing, stove-making and shipbuilding powered Detroit.    
During the 1870s, one of the largest industries in Michigan was copper smelting. Smelting — the process of removing contaminants from ore, was used to make pure metal that would be used to create other products. The smelted cooper made in Detroit was used to create wire, pipes, jewelry and more. The pure iron ore was also used to make another important Detroit-made product — stoves.

Stove Making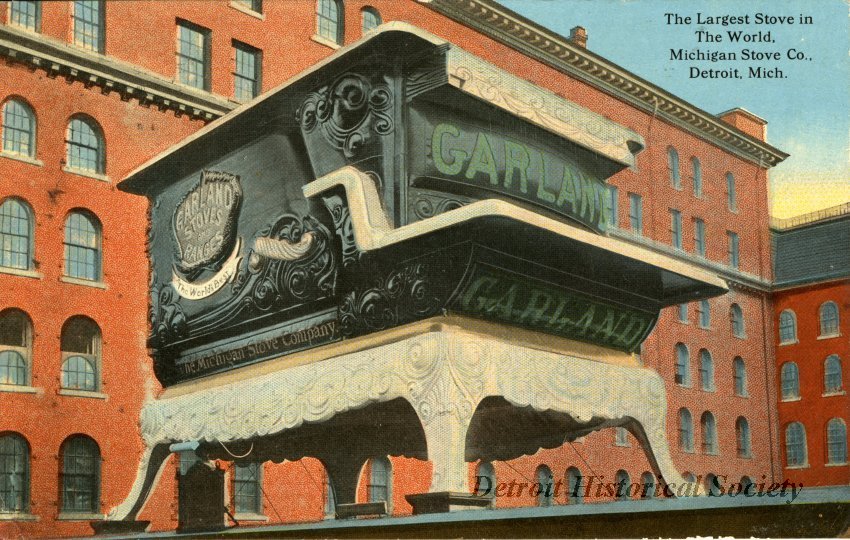 Photo: 1917, from the Detroit Historical Society collection. Color postcard depicting the large Garland Stove with the Michigan Stove Co. in the background. The stove reads "Garland Stoves and Ranges, The World's Best".
Detroit was once known as the stove manufacturing capital of the world — producing the majority of stoves purchased in the United States. Before domestic manufacturing of stoves began, shipping stoves and stove parts was expensive and time-consuming, making it inaccessible to many residents. There were three major stove manufacturers in Detroit, known as the "big three" a parallel to the automotive industry today: Detroit Stove Works, Michigan Stove Company and the Peninsular Stove Company.
But these industries wouldn't have existed without the iron ore being transported from Michigan's Upper Peninsula to be processed. This is where another important industry comes into play — ship building.
Ship Building 
Early Detroit entrepreneurs recognized the importance that shipping had on the city and built dry docks — where ships can be built and inspected. In 1879, the Detroit Dry Dock Company purchased a large shipyard in Wyandotte, Michigan and began building massive freshwater vessels. Factories that made marine engines, steam boilers, and ship parts also sprung up all over the city. By 1905, Detroit shipbuilding companies were manufacturing nearly half of all ships – both freight and passenger – on the Great Lakes, many of them transporting the important iron ore necessary for other industries.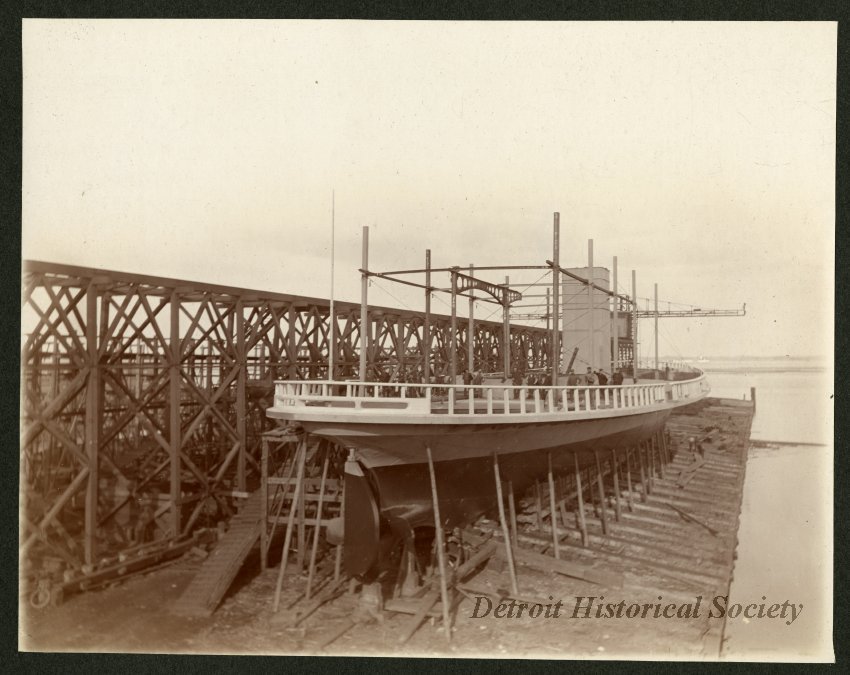 Photo: c. 1902, from the Detroit Historical Society collection. One sepia-toned photograph of the passenger ferry, SS Columbia, in dry dock at the Detroit Dry Dock Company. The view shows a starboard side stern view of the hull and main deck.
You can celebrate the history of Detroit shipping industry at the Dossin Great Lakes Museum's Museum-wide special exhibition, Maritime Miniatures: The Art of the Ship Model.
If you want to try your hand at building your own ship, you can also purchase our "Make Your Own Model" kits onsite at the Museum when you visit. Plan your visit at detroithistorical.org.