Detroit's First Maritime History Museum
Posted January 7, 2022 by

Anonymous (not verified)

Photo: c. 1950, from the Detroit Historical Society collection. Monochromatic postcard depicting the J.T. Wing in full sail.
Detroit's Maritime Heritage
For over 60 years, the Dossin Great Lakes Museum has been THE place learn about Detroit's rich maritime heritage. However, it didn't always look like this. The first museum was in a ship! 
In 1949 the Detroit Historical Commission opened the Museum of Great Lakes History aboard the schooner J.T. Wing. The J.T. Wing was moored at the same site that houses the Dossin Great Lakes Museum today. 
Before becoming a Museum, the Wing was launched in 1919 and used for transporting Mahogany wood from East Africa and rum-running in Florida during prohibition. In 1935, the Wing was given to the Detroit Historical Commission who docked her at Belle Isle, where she served as the very first Museum of the Great Lakes.   
Where once thousands of schooners worked the Great Lakes, the J.T. Wing was the very last. She served as a museum for seven years, from 1949 to 1956, welcoming more than 400,000 visitors before age and rot finally ended her career. The artifacts were taken ashore, and the J.T. Wing was burned on her mooring in the Detroit River.
The loss of the J.T. Wing created a void. A generous donation from the Dossin family was matched by the city, and a new building — the Dossin Great Lakes Museum, was constructed and dedicated on July 24, 1960. 
A 

Shipmodel Survives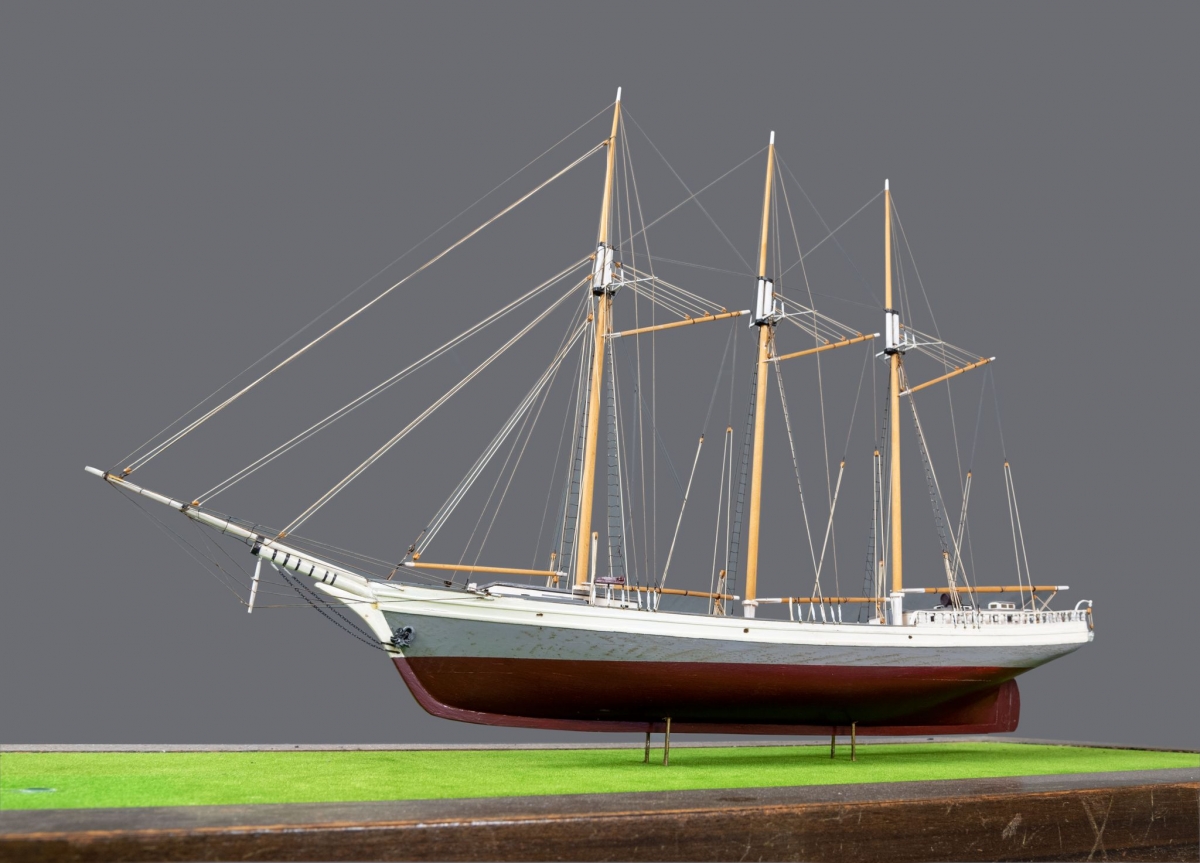 Today though, the J.T. Wing lives on in the Society's collection as one of more than 200 Great Lakes ship models.  
This ship model of the J.T. Wing was designed and created by the Kovach Brothers – John and Sam, and was accessioned, or accepted, into the collection in 1959. The model features the Wing's iconic 3 masts without sails, each mast is stained a natural color similar to what the real masts would have looked like.
The gray and white painted hull supports a forecastle deck and a quarter deck with cabins. Other details on the model include two cargo hatches, and some other details.
The Detroit Historical Society is home to a world-class collection of ship models, including this model of the J.T. Wing. See more than 150 models on display at the Dossin Great Lakes Museum during the special exhibition Maritime Miniatures: The Art of the Ship Model. Learn more about visiting the Museum at detroithistorical.org.