In-School Programs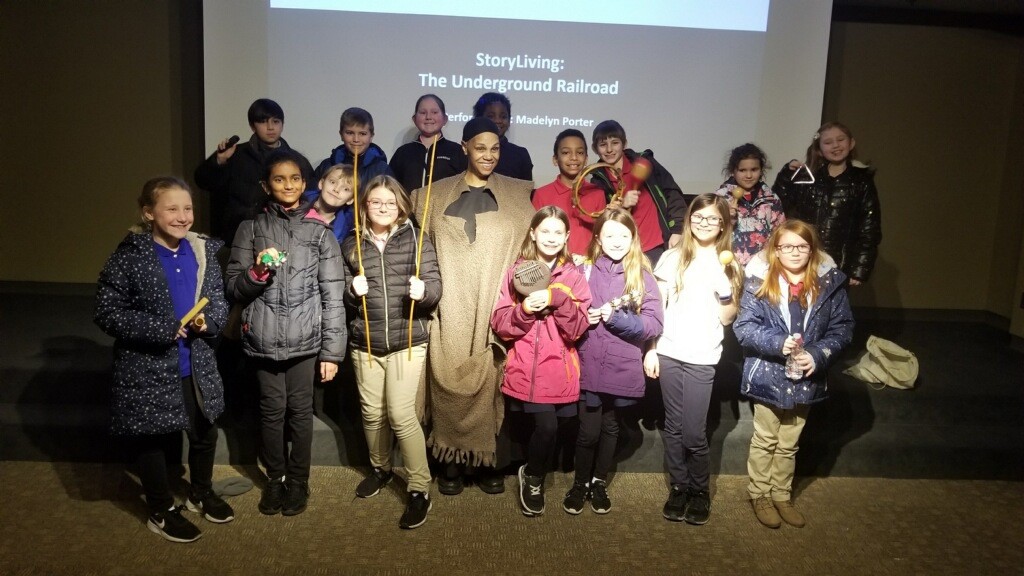 The Detroit Historical Society also provides engaging in-class experiences for students in grades 3 through 12. Aligned with state social studies standards, our in-school programs will enhance any curriculum.
Both StoryLiving and in-school programs must be booked a minimum of one month in advance. Upon registration, you will receive a confirmation letter with an invoice and other important information. 
Full payment is due two weeks prior to the program date. Your field trip is subject to cancellation if your payment is late.
Please note
If your group cancels in less than 48 hrs., or does not show up for your reservation time, a $50.00 cancellation fee will be applied to your school or group account. 
Should you need to reschedule or cancel your reservation, please contact our education team as soon as possible (313.833.1801), so we can accommodate your reservation changes.

Small Group Programs
Our in-class programs are an in-depth exploration of key historical themes and concepts. Students interact with history through a combination of inquiry-based learning games and activities.
Maximum 30 students : 60 minutes

Fur Trading Detroit
Recommended for 3rd - 5th grade
Dive deep into the world of Native Americans, Voyageurs, Trappers, and Traders on the Great Lakes with this interactive combination of workshop and bartering game. Students receive a hands-on experience, learning about the first 200 years of Native-French relations with artifacts and reproductions of materials used in the 15th century. Following the workshop, students are led through a facilitated game of trading and bartering, just as the first Detroiters did over 300 years ago.
Innovator's Alley
Recommended for 3rd - 5th grade
Detroit is a city of innovators and pioneers; explore innovators of the past and become the innovators of the future with this hands-on workshop and activity combination. Showcasing artifacts innovated and used in the city of Detroit students will then be challenged to create the inventions that will shape the 22nd century!
Getting Around the Great Lakes
Recommended for 3rd - 5th grade
All Aboard for the Gettin' around the Great Lakes program! In this fun and interactive activity, students learn all about how we used our inland seas as America's first Superhighway. They will explore the diverse geography of the Great Lakes region, navigate the waters using only the sound of buoys, and communicate using the language of the lakes all from the comfort of your classroom! 
Pricing:
Small Group Program (of 30 or less students): $250*
Bundle and Save!
Two Small Group Programs: $400
Three Small Group Programs: $550
Four Small Group Programs: $650 
*Mileage fee of $50.00 will be charged for venues located more than 30 miles from the Detroit Historical Museum.
Large Group Programs
Our programs include hands-on educational fun through music, dance, storytelling, role playing and artifact exploration. 
StoryLiving
Bring history to life by booking a StoryLiving program. In these interactive programs, a professional storyteller shares Detroit history with your students using drama, group pantomime, role playing, songs and creative problem-solving. These programs can be performed in the comfort of your classroom or school assembly.
Maximum 120 students : 60 minutes

The Underground Railroad
Recommended for 3rd grade
In the mid-1800s, thousands of African Americans escaped through Detroit on their way to freedom in Canada. Students will discover more about the Underground Railroad and the role Detroit played in it.
Block by Block
Recommended for 1st - 3rd grade
It's been over 200 years since the Great Fire set the city of Detroit ablaze displacing over 700 residents. After the destruction, Detroiters did not abandon their city. Through strength and determination, they set to work to rebuild Detroit, leaving the legacy of the city we see today. Students will become firefighters who must work together to save the community.
The Great Migration
Recommended for 4th & 5th grade
Over the course of six decades, nearly six million black southerners left the South and fanned out across the United States transforming urban America. Join us as we highlight three women of Detroit and the circumstances of how their family's migration and their experiences, shaped who they were and defined the course of their lives in the 1920s, 1940s and the 1960s.
Pricing:
Large Group Program (of 120 or less students): $450*
Bundle and Save!
Two Programs: $800
Three Programs: $1,100
*Mileage fee of $50.00 will be charged for venues located more than 30 miles from the Detroit Historical Museum.
For more information on our in-school programs or to book,
please call us at 313.833.1801 or complete the short form below.