Remembering MLK's Influence in Detroit
Posted June 12, 2023 by

Sarah Murphy
Dr. Martin Luther King was the country's most prominent Civil Rights leader and led countless marches and other nonviolent actions to protest discrimination in the 1950s and 60s. Have you ever wondered about his history in Detroit? Keep reading for a few amazing images from our collection illustrating some of Dr. King's work in the city. 
Walk to Freedom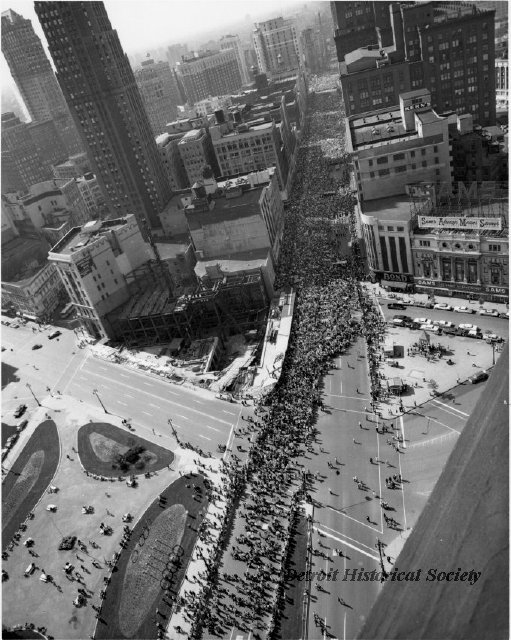 On June 23, 1963, Dr. Martin Luther King, Jr. led 125,000 people in the Walk to Freedom down Woodward Avenue in Detroit. After the march that evening, he delivered a version of his "I Have a Dream" speech for the first time at Cobo Hall. King even allowed his speech to be recorded, and it was released on Gordy Records, a Motown Records subsidiary. This aerial view shows the intersection of Woodward and Michigan Avenue at Campus Martius, likely taken from the First National Building. Looking north, 1001 Woodward can be seen in the early phases of construction, on the corner of Michigan Avenue.   
In Support of Selma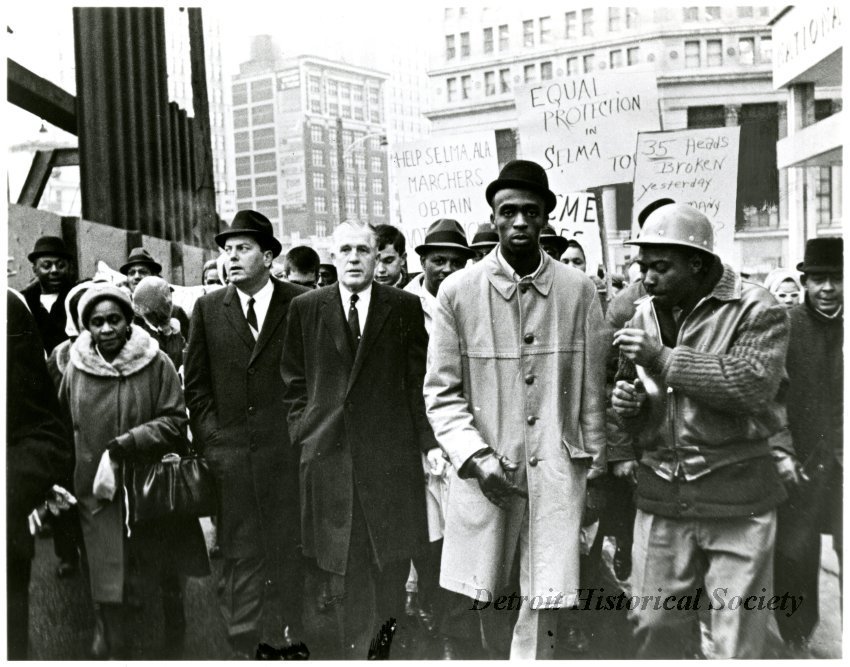 In 1965, after Dr. King helped organize and lead a series of protests in Selma, Alabama, the abuse of protestors led to further demonstrations throughout the country. Detroit was no exception.  
On March 9, 1965, the same day that Dr. King led a symbolic march to Pettus Bridge in Alabama, the Rector of Sacred Heart Seminary, Monsignor Francis X. Canfield, led 400 students several miles in a march to the Central Methodist Church on Woodward.There, they were joined by an additional 9,000 protestors, and the march proceeded to the Federal building, where leaders met with federal judge Lawrence Gubow.  
The picture above shows Governor George Romney and Mayor Jerome Cavanagh in the thick of the march at Fort Street and Woodward in front of the National Bank of Detroit, now known as the "Qube."    
We Rally for Freedom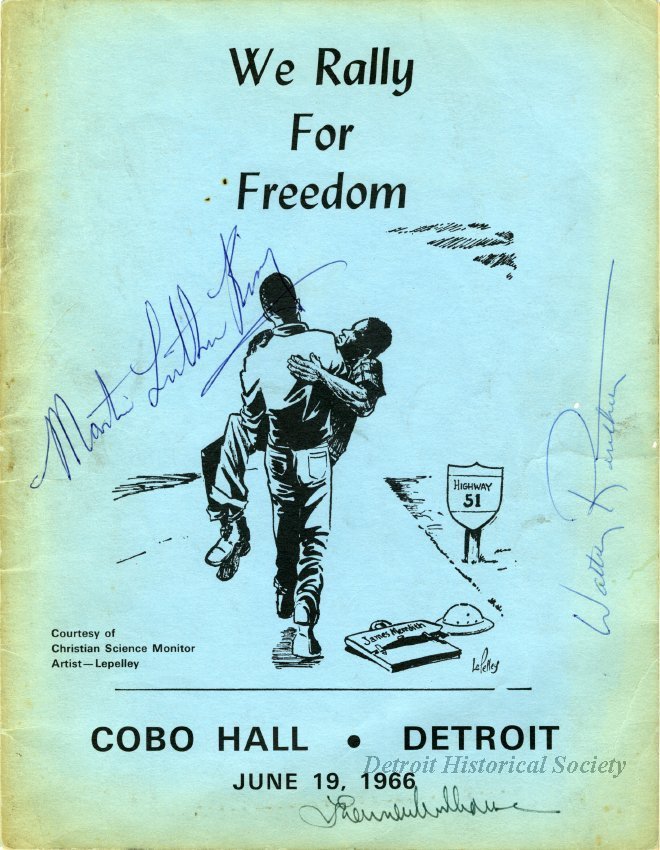 In June 1966, Dr. King appeared at the "We Rally For Freedom" event at Cobo Hall. The program below from our collection is signed by Dr. King, United Auto Workers' President Walter Reuther, and Governor G. Mennen Williams. The illustration on the program cover references James Meredith, the first African-American student admitted to the segregated University of Mississippi.
See the full lineup of speakers and entertainers who participated in the rally in this collections record.
MLK Memorial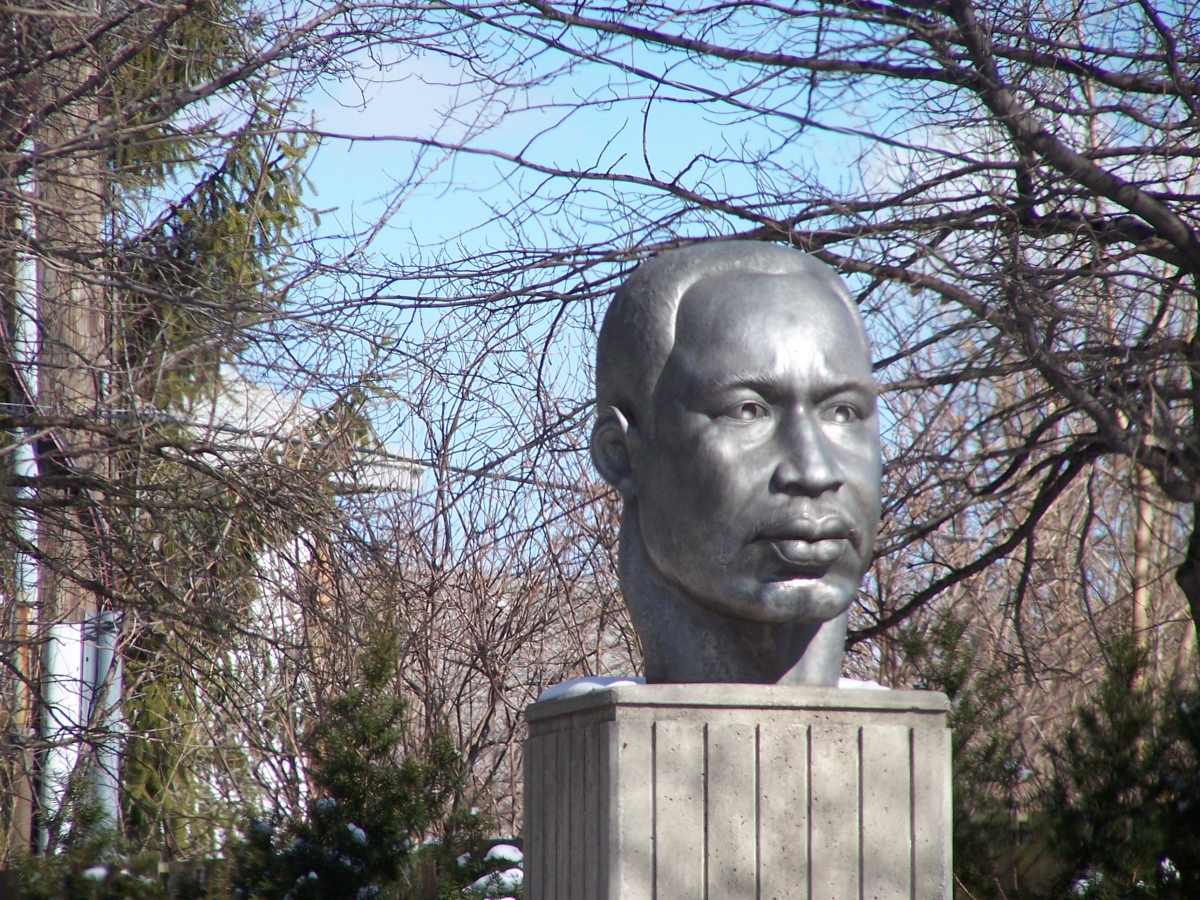 Image via waymarking.com
You may not know that since 1981, Detroit has honored Dr. King with a large aluminum bust of his likeness in Martin Luther King, Jr. Memorial Park on the corner of West Grand Boulevard and Rosa Parks Boulevard. If you haven't been there yet, now is a great time to check it out and pay your respects.  
Commemoration Events
Join us for several events this month to mark the 60th anniversary of the Detroit Walk to Freedom: