Society Member: Colleen
Posted October 21, 2022 by

Sarah Murphy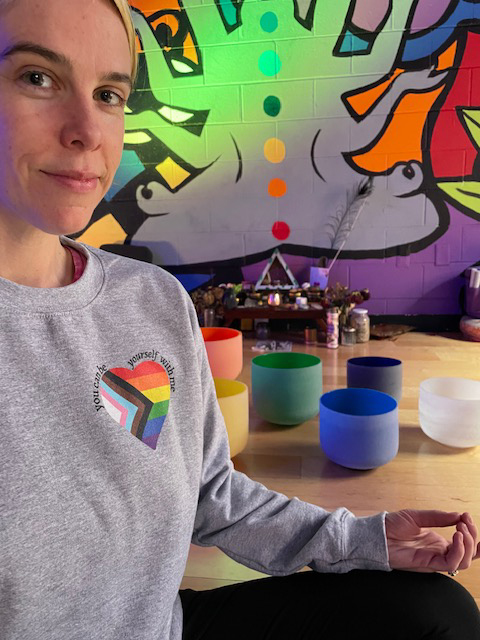 Livonia resident Colleen Badgero may be one of our newest members, but the city of Detroit has always held a special place in her heart. "I've worked as a yoga instructor in Detroit for the past year and a half," she says. "I love spending time in Detroit. I believe understanding true history is of utmost importance, now more than ever."
Some of Colleen's favorite things about Detroit are the layered history and the creativity of Detroiters, and one of her absolute favorite places is Belle Isle. "I love Belle Isle as a whole, but the Anna Scripps Whitcomb Conservatory is my favorite place on earth." It's no wonder that she chose this location four years ago to exchange wedding vows with her now husband, Alex.
With the Fall season in full swing, we asked Colleen about some of her favorite Detroit memories from this summer. She fondly recalls outdoor yoga, riverfront walks, Belle Isle exploration, dancing and events at the Michigan Squeeze Station and the Jazz Festival.
Colleen volunteers as a diversity, equity and inclusion advocate in her local school district. "I love helping to expand people's perspectives for the sake of raising a generation of kids who can show up as their authentic selves and feel a sense of belonging in their school and community" she says. In addition, Colleen has an 8-month old Golden Retriever puppy that she's training to be a therapy dog and she's a Level II Certified Usui Holy Fire Reiki practitioner.
Like many of us, Colleen has her favorite, tried-and-true restaurants. These include places like Ima Noodles and Seva. She encourages Detroiters old and new to check out new places and learn new things. "I recently learned That Marcus Belgrave was a father-like mentor to Theo Crocker. Theo shared that at his Detroit Jazz Festival performance with LOVE QUANTUM."
Colleen is excited to begin her membership journey with the Centennial! "It's an exciting time. My friend and Society member Delisha inspires courage and grace and a sense of humor in me like no other," she says. "I'm so glad she encouraged me to become an official member of the Society."
Learn more about membership here!