The Prindel-Nowlin Powder Horn
Posted October 14, 2022 by

Sarah Murphy
When you visit Origins: Life Where the River Bends, you can learn more about the city's foundational stories and see an array of fascinating artifacts. But, only one was involved in a museum heist!
Theft and Recovery
In 1952, the Prindel-Nowlin powder horn, a hollowed-out horn used by settlers to store gun powder for hunting, was loaned by the Detroit Historical Society to the Dearborn Historical Museum for an exhibition. However, the night before the exhibit opened, the powder horn was stolen from the museum and its whereabouts were unknown for decades. In 1994, the powder horn came up for auction at Christie's in New York, but made its way through two private collectors before being recovered by the FBI Art Theft Task Force in November 2018.
In early 2019, the FBI presented the powder horn back to the Detroit Historical Society in a repatriation ceremony held at the Dearborn Historical Museum. Watch the ceremony here!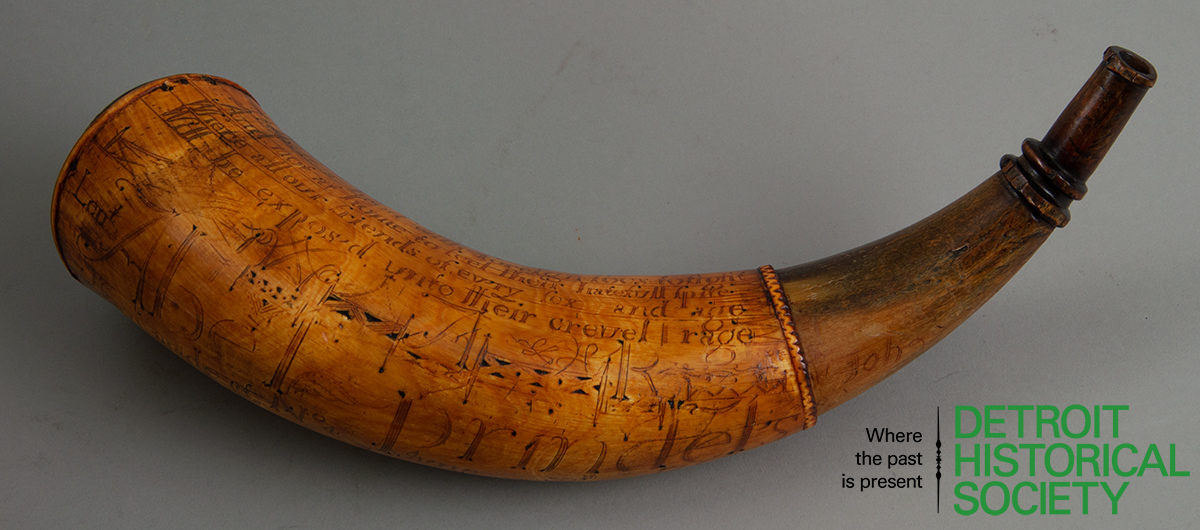 About the Powder Horn
Originally owned by Lt. Abel Prindel, the powder horn is engraved with Prindel's name, rank and June 30, 1757 – the date it was made. It was used in The French and Indian War, American Revolution, and War of 1812 before it was transported to Michigan with early Dearborn resident William Nowlin. Its distinctive carvings, which also include poetic verse, made it recognizable to investigators. See it on display now in Origins: Life Where the River Bends, where it helps show what life was like for European settlers of the area.
See more photos on the artifact record for the powder horn in our online collection.