NBA's 75th Anniversary
Posted February 5, 2022 by

Anonymous (not verified)
The NBA's 75
th
Anniversary 
This year, the National Basketball Association (NBA) is celebrating their 75th anniversary! As part of their celebrations, they've selected a team of 76 players — some still living and playing basketball and others who have become legends after they've passed. These players were selected because they were pioneers in the game of basketball – shaping, defining and redefining the sport. Out of the 76 players selected, a few of those are Detroit's very own.  
You might recognize Dave Bing as the former Mayor of Detroit, but before that, he spent 12 seasons in the NBA— and nine of those were spent as the point guard for the Detroit Pistons.
Bing was born in Washington, D.C. in 1943, and quickly became a rising star in basketball. He attended Syracuse University on an athletic scholarship before joining the Detroit Pistons in 1966 as the second overall draft pick that year.  
In his first year, he won the NBA's Rookie of the Year – and that was just the start. During his career with the Pistons, he would lead the NBA in scoring with 2,142 points in the 1967-68 season, play in seven NBA All-Star Games, and be named to the All-NBA First Team in 1968 and 1971. 
Bing left the Pistons in 1975, spending two seasons with the Washinton Bullets and then closing out his career with the Boston Celtics in 1977.
In his 12 years in the NBA, he averaged 20.3 points, 6.0 assists and 3.8 rebounds, playing a total of 901 games with 18,327 points and 5,397 assists total. The Detroit Pistons retired his jersey — number 21, in honor of his success in 1983.  
Dave DuBusschere got his start in Detroit — he attended Austin Catholic Preparatory High School before the University of Detroit, where he played basketball and baseball. After college, DuBusschere was signed by the Chicago White Sox where he was a pitcher from 1962 – 1963.
DuBusschere is only one of 13 professional athletes to play both baseball and basketball. In 1962, he was drafted by his home team, the Detroit Pistons, as a forward. During his first season with the Pistons, he was named to the NBA All-Rookie Team. But in his second season, an injury stopped him from playing the full season. But, because of his injury, at 24 years old, DuBusschere became the youngest coach in NBA history when he was named a player-coach in 1964-1965 season. He played another two seasons with the Pistons before being traded to the New York Knicks in 1968-1969 season. He retired from basketball in 1974. 
With 12 seasons of game time, Dubusschere averaged 16.1 points and 11 rebounds, playing 875 games and 14,053 total points.  
Dennis

Rodman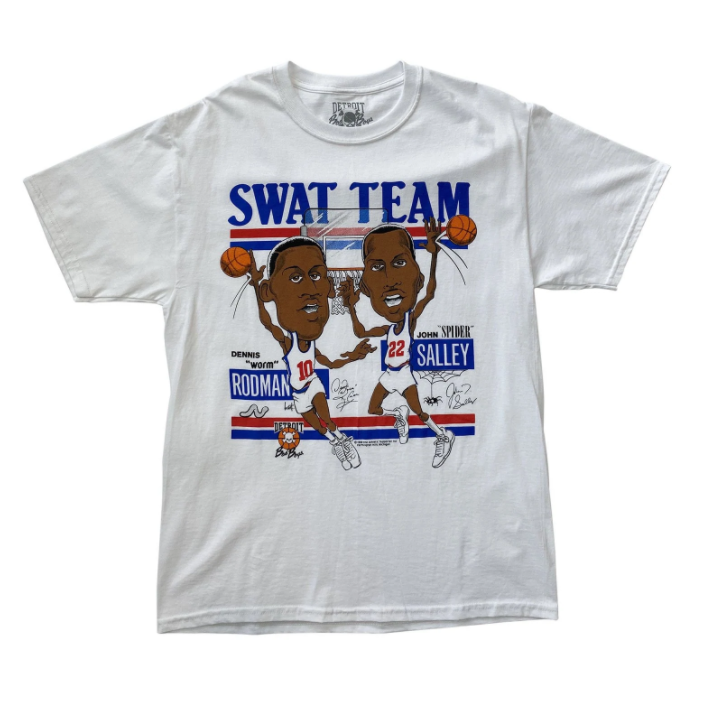 Recognizable for his style on and off the basketball court, Dennis Rodman was part of the Detroit Bad Boys.
Rodman was born in New Jersey, and played college ball for what is now North Central College Texas before transferring to Southeastern Oklahoma State University where he was a standout player.
In 1986, he was drafted by the Detroit Pistons in the second round and joined the physically defensive "Bad Boys" lead by coach Chuck Daly. Rodman would play for the Pistons until 1993, and play two seasons with the San Antonio Spurs before being traded to the Chicago Bulls, where he played until 1998. He would finish out his career playing 2 more seasons, splitting the time between the Los Angeles Lakers and Dallas Mavericks. Rodman played in a total of 911 games, averaging 7.3 points. The Detroit Pistons retired his Number 10 jersey in 2011.

Isiah Thomas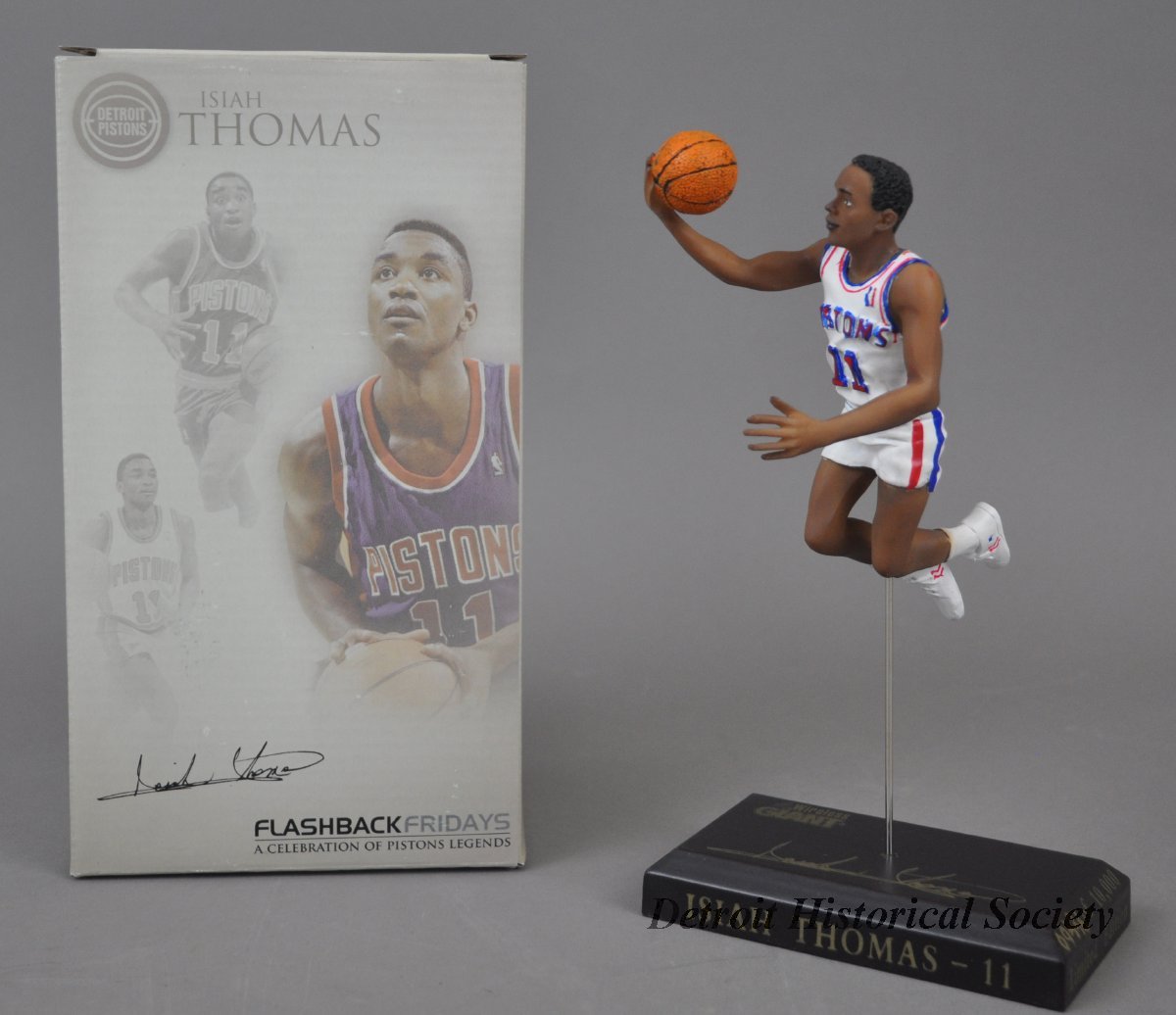 Also a part of the Detroit Bad Boys team, Isiah Thomas spent his entire career — a total of 13 seasons, with the Detroit Pistons.
Thomas was born in Chicago and played college basketball for the Indiania University Hoosiers before being drafted to the NBA in 1981. He played with the team until 1994. During his time, he was a shining start for the team – even being selected to represent the U.S. on the international stage on the 1980 Olympic team.
When Thomas retired in 1994, he played a total of 979 games, ranking third in NBA history with 9,061 assists. In 1996, the Pistons retired his jersey — number 11.  
Shop 75 Anniversary Merch at the Detroit Historical Museum Store! 
Get exclusive historic merch, like Detroit Bad Boys hoodies, hats and gifts, in our Online Store. Shop at detroithistorical.org.
You can also get 75th NBA Anniversary merchandise at the Detroit Historical Museum store and show your support for some of Detroit's legendary players.