Haunted History: The Crow
Posted October 26, 2021 by

Anonymous (not verified)
The Detroit Historical Society is famous for its collections of things like cars, model ships, and clothing, but did you know we also have a collection of comic books?  Just like any other industry or artform, comic books have a rich history, and Detroit-based creators and companies are part of that story.  An important link in that story is represented by our signed copies of all three issues of 1996's The Crow: Dead Time.  
While today's media landscape is dominated by comic book characters, it was actually an independent creator from Detroit who beat the Avengers and the Justice League to the punch on the silver screen.  In 1989, Detroit's own James O'Barr debuted his character The Crow in a locally-published comic book.  From that initial seed would spring follow-up comic series, novels, a video game, a television series, four feature films, and perpetual rumors of a modern film remake. 
A Deeply Personal Project
O'Barr, a self-taught artist, was propelled to create throughout the 1980s as a means of dealing with personal tragedy—the death of his fiancé who was killed by a drunk driver.  Out of grief, O'Barr began to shape the story of The Crow—that of a man supernaturally revived by a spirit in the form of a crow to avenge both his own road-side murder and that of his girlfriend at the hands of a criminal gang.  Although a vital lifeline, this cathartic passion project was not yet intended to pay the bills.  During this period O'Barr served in the marines, and afterward returned home to work in an auto body shop.  He also successfully submitted an appropriately car-centric short story to Marvel Comics' Savage Tales magazine.  His biggest break was yet to come however.  While working on t-shirt designs for a local comic shop, O'Barr's art caught the eye of the store's owner, Gary Reed, who was launching his own comic publishing company—Caliber Press.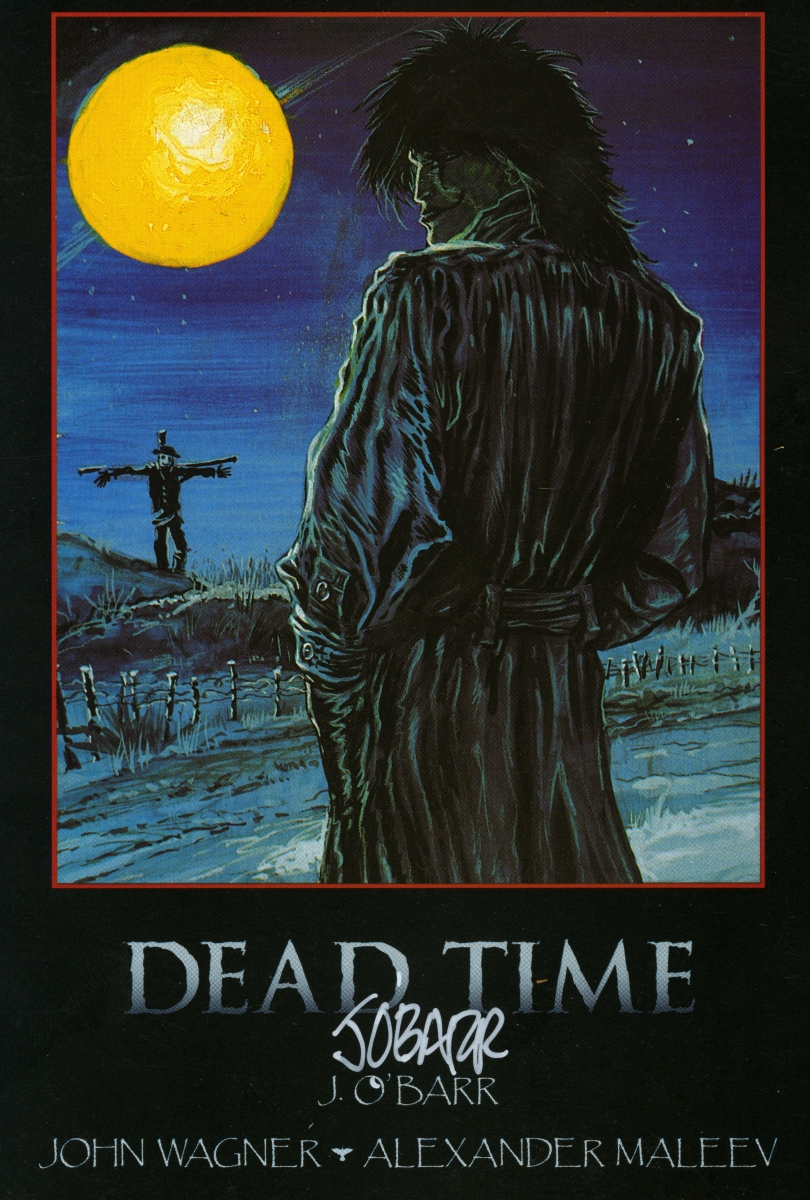 From the Underground to the Multiplex
O'Barr's The Crow first saw print in 1989, in the pages of Reed's anthology series Caliber Presents.  A four issue dedicated series, plus two more stories in anthology comics followed, across which the comic's anti-hero Eric stalked his murderers one by one through the alleys and bars of Detroit.  Unlike most comics from big publishers where teams of specialized creators collaborate, O'Barr's initial series was a one man show—he handled the pencils, inks, lettering, and of course the story.  To even further contrast against the mainstream, just as major publishers were moving into fancier paper stocks, and more vivid color processes, O'Barr and other independent creators were working in more affordable black and white—a presentation that perfectly suited the grim and gritty world of The Crow.  The expansion of boutique comic book stores during this era put independent black and white comics such as The Crow, which could never find space on a traditional news stand, on a more even footing with long established titles. 
From the shelves of these comic shops, The Crow quickly found a following, and Hollywood took notice—O'Barr was first solicited for film rights as the original series was still underway.  As O'Barr moved on to work on new science fiction and horror comics, Hollywood worked fast, and production began on the movie.  When filming started in 1993, O'Barr was on set, and even had a small cameo on screen.  The production unfortunately made major headlines that year when the film's star, Brandon Lee, was killed by an improperly prepared prop gun just days before filming was to wrap.  Digital effects and a stand-in were used to complete the film, and following some anxious shuffling between production companies, the film was released in 1994.  It became a bittersweet cult hit.  To honor Lee, O'Barr silently turned his share of the film's royalties to charity.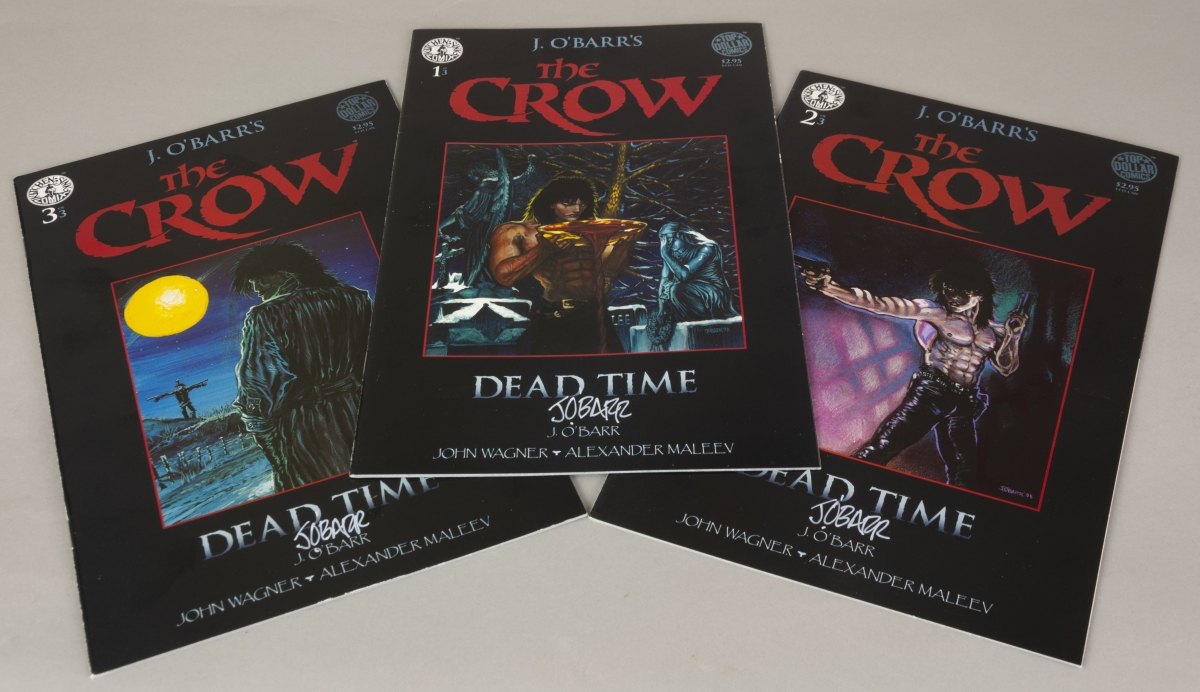 New Beginnings
In the wake of the film's success, talk of a sequel was already brewing.  However without Lee to reprise the role, rather than recasting the lead, the film series would ultimately introduce a new character who would return from the grave in the guise of the Crow in each subsequent movie.  This approach mirrored what O'Barr himself did with the comic's follow-up mini-series The Crow: Dead Time.  Released during the lead-up to the second film, but telling an entirely separate story, Dead Time represents the expansion of O'Barr's concept into an open-ended multimedia franchise.  And befitting his successes, O'Barr brought additional talent into the fold to help him achieve this.  O'Barr was still responsible for the story—this time centered around a man killed in the old west returning to battle a modern day biker gang who parallel his killers—as well as his distinctive cover art, but he worked with a dedicated interior artist, as well as an additional writer.  Several more comic series followed in this mold, with O'Barr at the helm. 
James O'Barr's journey from personal tragedy to acclaim as one of the success stories of the 1980s black and white comic book boom is just one of the stories represented through the Detroit Historical Society's comic book collection. Visit our Online Collection to see other titles we have.