The Mystery of the Missing Mausoleum
Posted November 19, 2015 by

Brendan Roney
In our previous post, "A Fitting Place of Burial" we featured a photo of the key to Lewis Cass's mausoleum. Several sharp-eyed readers have since pointed out that while Cass has an impressive sarcophagus-shaped monument in Elmwood Cemetery, the famed explorer, territorial governor, general, senator, Secretary of War, and Secretary of State is not actually entombed within it. Instead he is buried in the ground near the foot of the monument, beside his wife Eliza Spencer, and his children, with each beneath separate slabs. If there is no Cass mausoleum, then what does this key unlock?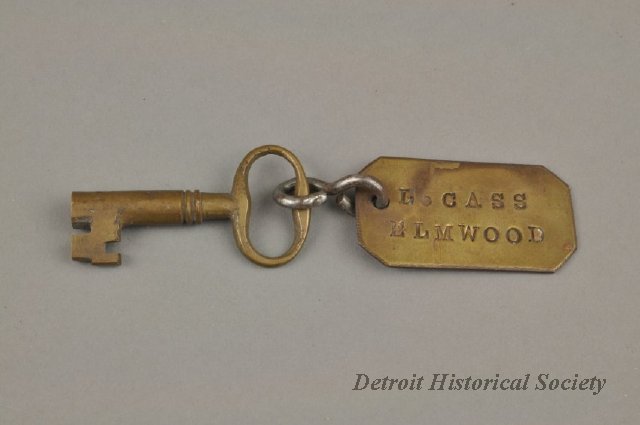 If there is no mausoleum, then what does this key unlock?
The key, which includes a tag stamped with "L. Cass, Elmwood," certainly seems like it must somehow relate to the politician's grave. It was donated to the Detroit Historical Museum in 1941—way back when the museum was located on the 23rd floor of the Barlum Tower. Our original donation record from that year even identifies the key as a "mausoleum key," thus this has been a long-standing oversight. The record states that the key was donated by Mildred Finn of Grosse Pointe along with some nails and wood, which she claimed were from the residence of Lewis Cass. Could these artifacts offer any more context for the key, and how did Finn come to possess them?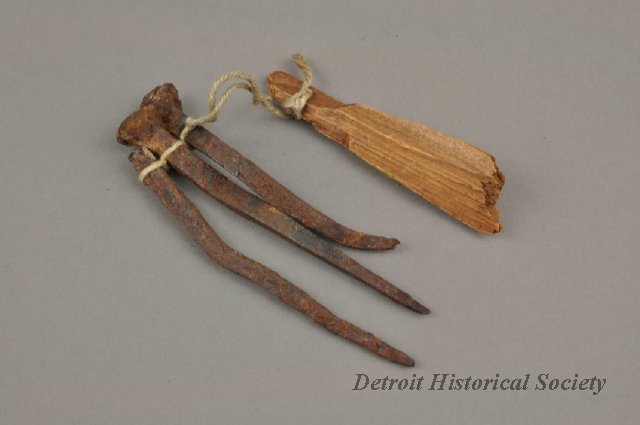 These three rustic-looking nails and this scrap of wood were donated along with the key. They were said to have been from Lewis Cass's home.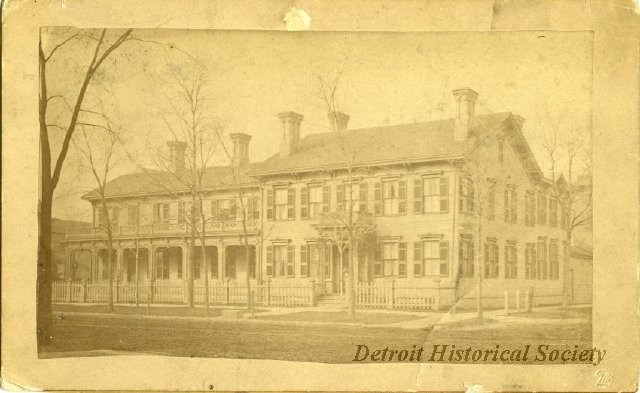 The storied Cass House was captured in this c. 1870 photograph.
The Cass House itself carries a bit of a mythic quality. We definitely know that the house—which stood on Larned Street between First and Second Streets—was demolished in 1882 after housing several notable Detroiters. Tradition maintains that the home was built in 1703, and thus was a rare survivor of the Great Fire of 1805, but had been moved and modified since. The late 19th century historian Silas Farmer suggested that the house may have been initially constructed on behalf of Antoine de la Mothe Cadillac for a Huron chief who was interested in adopting French customs. As evidence, Farmer cited an old letter which provided a congruence between the dimensions and location of the chief's house with those of the early Cass House. Cass's more immediate predecessor in the home was General Alexander Macomb, and after Cass departed for Washington D.C. to serve as Andrew Jackson's Secretary of War, the house passed to members of the elite Newberry family. The legendary residence inspired the lengthy poem "Cassina" by Judge Charles H. Campbell, and pieces of its floorboards were distributed as promotional items advertising paint made by Detroit White Lead Works. Thus relics from the Cass House were fairly common. However, Mildred Finn had a special connection to Cass. Prior to marrying Joseph V. Finn, Mildred Finn was born Mildred Foxen. Her grandfather was William Foxen. William Foxen emigrated from England at a young age, and after a stint as a hotel clerk, became coachman to Lewis Cass. While in Cass's employ, Foxen continued to gain responsibilities. Foxen became the politician's secretary and assistant. Cass retained Foxen's services through the rest of his life, including during his time in Washington. The Detroit Historical Society's collection includes several letters which demonstrate the strength of that bond. In one letter from Lewis Cass to his son, he suggests that the family "make a substantial acknowledgement, to William Foxen, for his faithful services" by deeding him a plot of land. In another letter, Lewis Cass, Jr. sends William Foxen's wife a cross blessed by Pope Pius IX, "as a token of my esteem for your husband." Even after Lewis Cass's death, Foxen remained in his service as the manager of the family's estate. It certainly stands to reason something as important as the so-called mausoleum key would eventually find its way into the possession of William Foxen's granddaughter—of course that is if there actually were a mausoleum.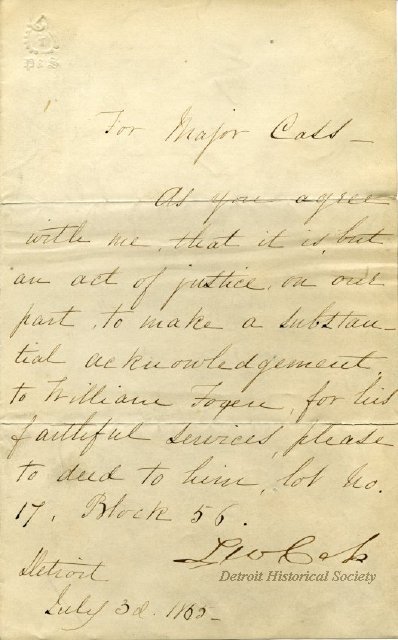 For Major Cass
As you agree with me, that it is, but an act of justice, on our part, to make a substantial acknowledgement, to William Foxen, for his faithful services, please to deed to him, lot no. 17, block 56.
Lewis Cass
Detroit
July 3d, 1865
After contacting a helpful representative of Elmwood Cemetery, we learned that first, there unfortunately is no mysterious keyhole on the Cass monument, and second, that until World War II, metal fences stood around many of the cemetery's lots. As the key was donated in 1941, it arrived months ahead of American involvement in the war and a year ahead of the first scrap metal drives that may have claimed the fences. However Mildred Finn, of course, need not have waited until the fence was removed to have placed the key into the care of the Detroit Historical Museum. The Detroit Public Library hosts a photo of the gate in front of the monument as part of its digital collection. While a keyhole is not clearly visible in the shot, this is perhaps the closest we can come to determining what the key is actually to. It certainly seems plausible that family lore or a simple clerical error would turn the key to the Cass family lot's fence into that of the Cass mausoleum. Interestingly, the fence itself warranted a mention in the annals of history. In a Detroit Free Press booklet memorializing the late politician, it is reported that the crowd gathered at the burial was so large that the fence had to be temporarily removed to accommodate them. We apologize for this error concerning the key, but we hope you enjoyed joining us in unlocking the truth behind this mysterious artifact.