Cultural Center Historic District
The Cultural Center Historic District is located in Midtown Detroit along Woodward Avenue and is formed by three monumental buildings. In the early 20th century, the City Beautiful movement aimed not only to bring parks to cities, but also to make cities more attractive by careful zoning for land use and investment in architecturally pleasing structures. In 1910, Mayor Philip Breitmeyer urged the city's planning commission to recruit well known urban planner Edward Bennett to create a plan for Detroit. His plan called for a cultural center to be built for the city along Woodward Avenue that included a library, an art museum, a school of design and a hall for music.
The Detroit Public Library, a white marble Italian Renaissance style building designed by Cass Gilbert and partially funded by a gift from Andrew Carnegie, opened in 1921. At the time it was built it was called the most beautiful building in Detroit. The next to be built was the Detroit Institute of Arts, a white marble Beaux Arts style building designed by Paul Philippe Cret and dubbed at the time the "temple of art," which opened in 1927. In 1933, the widow of Horace H. Rackham, one of the Ford Motor Company's original stockholders and a supporter of the University of Michigan, donated the funds to erect the Horace H. Rackham Education Memorial Building. Designed by the Harley, Ellington and Day firm of Detroit, the stripped classical structure, which opened in 1941, housed the Extension Service of the University of Michigan. Orchestra Hall was built before these in 1917, but outside of the historic district. The Cultural Center Historic District was listed on the National Register of Historic Places in 1983.
More people and more public cultural institutions were attracted to the area when Wayne State University began offering four-year degrees. While the District officially consists of only the Detroit Public Library, the Detroit Institute of Arts, and the Horace H. Rackham Education Memorial Building, many more cultural buildings are now located in the Cultural Center including the Merrill-Palmer Institute, the Detroit Historical Museum, the College for Creative Studies, the Charles H. Wright Museum of African American History, the Michigan Science Center, and the Museum of Contemporary Art Detroit. The 1990s ushered in a period of growth in the Midtown area with the completion of the John Dingell Veterans Administration Hospital and the Karmanos Cancer Institute, the expansion of Wayne State University and the conversion of older apartment buildings to lofts and condominiums.
---
RELATED ITEMS IN THE COLLECTION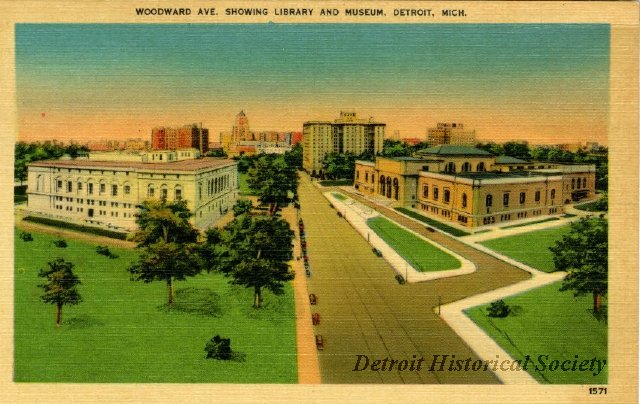 View all items related to the Cultural Center Historic District