Argonaut Building
The Albert Kahn-designed Argonaut Building is the first home of General Motors' design, engineering and research departments. The brick-clad, eleven-story building was known as the General Motors Research Laboratory when it opened in 1928 and was the genesis of the GM Tech Center in Warren, where those activities were moved in 1956.
Located in Detroit's New Center neighborhood on Milwaukee between Cass and Second Avenues, directly south of the former General Motors headquarters (now called Cadillac Place), the building was commissioned by Argonaut Realty, a GM division, though it didn't assume the Argonaut name until the departure of the design and research departments. The Art Deco, dark red brick building with limestone accents is a contrast to the adjacent stone facades of the former GM headquarters.
The top floor of the building accommodated automotive displays, including a car-sized lazy Susan that exhibited new products. Cars were even taken to the roof on freight elevators, for natural light photography. It was here that Harley Earl, head of GM's Art and Color Section (renamed the Styling Section in 1937), exercised his creative talents. The Chevrolet Corvette, introduced in 1953, was born in the Research Center, as well as all GM designs between 1936, when the building was enlarged, forming an L-shape with an added entrance on Milwaukee, to 1956. The fully automatic transmission was developed here in the early 1930s.
The first floor was home to radio station WJR prior to relocating in the nearby Fisher Building, and on the west side a Pontiac dealership resided. For a time, a skywalk on the fifth floor connected the Research Lab to the GM headquarters.
When Argonaut Realty left the building in 1999 it remained vacant until General Motors donated it to the College for Creative Studies (CCS) in 2007. After a $145 million-dollar renovation the Argonaut Building reopened as the A. Alfred Taubman Center for Design in 2009, residence of not only the CCS advertising and design programs but also to the Henry Ford Academy: School for Creative Studies, and the headquarters of Shinola, a high-end watch and bicycle factory.
---
RELATED ITEMS IN THE COLLECTION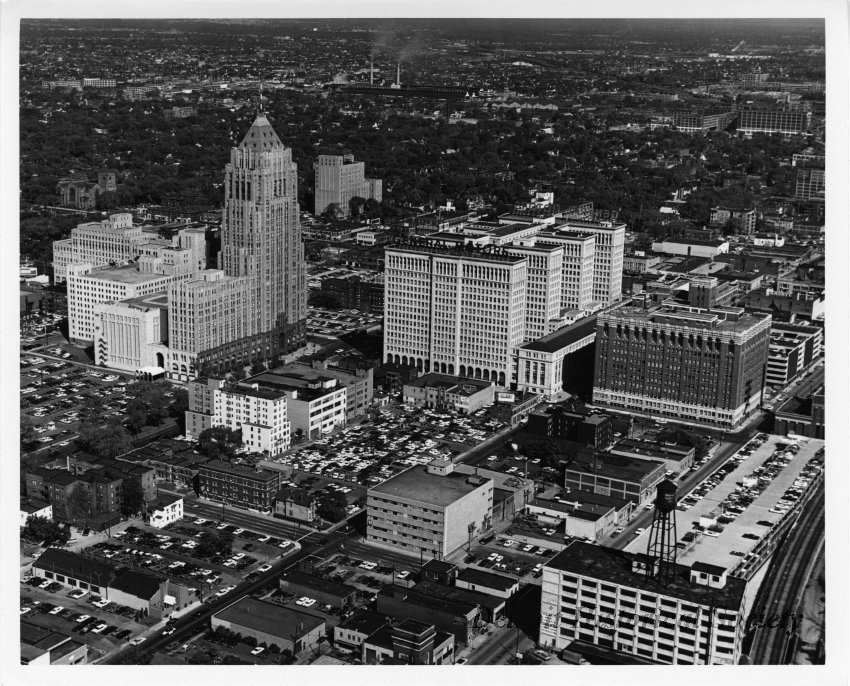 View all items related to the Argonaut Building