A Grand Collection of Posters
Posted August 8, 2023 by

Sarah Murphy
The Detroit Grand Prix has been promoted with an original poster produced each year since its inception in 1982, and the Detroit Historical Society has a set spanning from that inaugural year to 2001. Each year a different group of artists and designers find a new and imaginative way to bring together the imagery of auto racing with that of Detroit. The media for the pieces varies from paint to photography, and the styles range from pointillism to abstract computer art. Let's look at a few of the standouts. 
1980s and 90s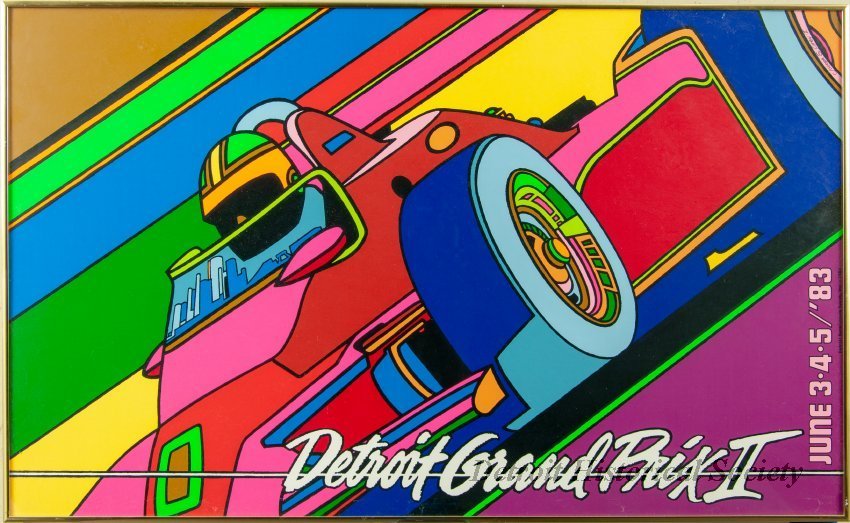 Joseph E. Grey II provided the poster for the 1983 race.  An Ohio native, Grey is perhaps best known for his Cubist watercolors which employed the same broad patches of bold color on display here. He eventually settled in Michigan, got into advertising, and by the 1980s was senior art director for Lintas: Campbell-Ewald Advertising. Look closely and you'll spot the Renaissance Center and The Horace E. Dodge and Son Memorial Fountain reflected in the car's windshield.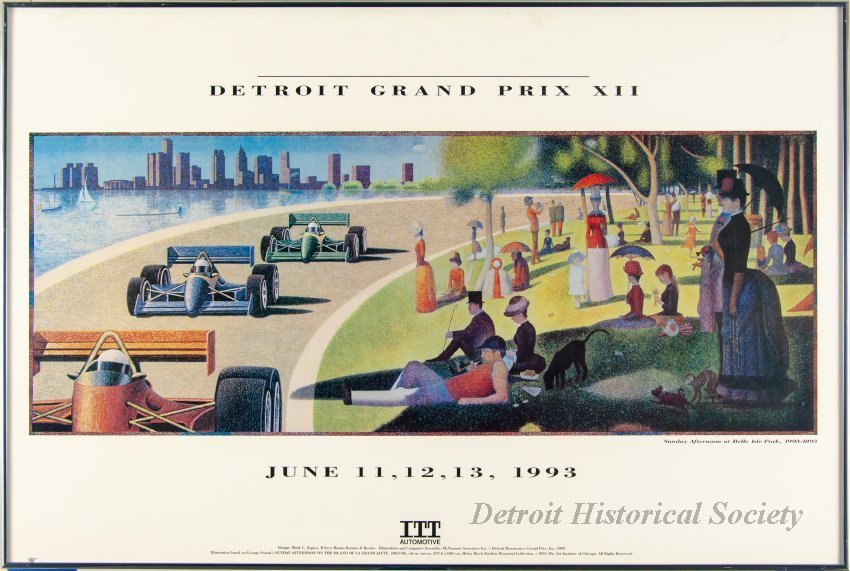 The Detroit Grand Prix made the leap from downtown to Belle Isle in 1992, and in 1993 Mark C. Zapico of D'Arcy Masius Benton & Bowles decided to have some fun highlighting this new venue. In his poster, Zapico composited Georges Seurat's 1884 painting "A Sunday Afternoon on the Island of La Grande Jatte," alongside a pack of formula cars rounding the bend in place of the banks of the Seine. Zapico was surprisingly not the only one to update a famous work of art for the Detroit Grand Prix—the 1989 poster recast the autoworkers of Diego Rivera's "Detroit Industry" murals from the Detroit Institute of Arts as a pit crew for a race car.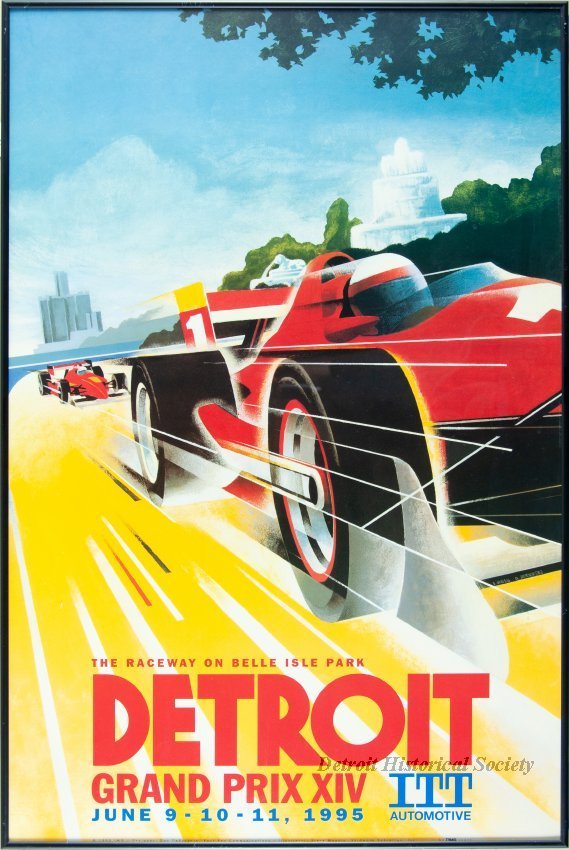 The 1995 poster is credited to artist Steve Magsig and designer Dan DeRychere. Its image of a front quarter of a car zooming past the viewer, augmented by parallel speed lines and planes, recalls both the Italian Futurist movement and technical drawing.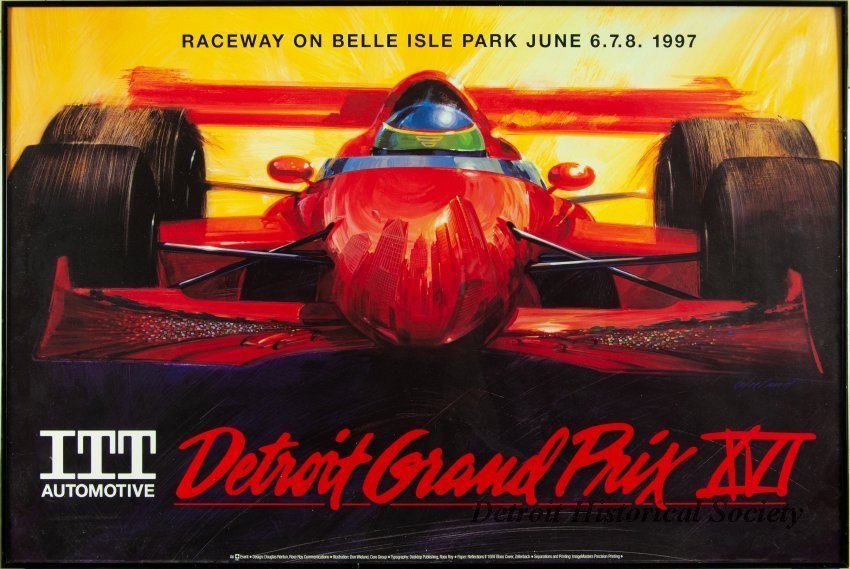 Don Wieland, the artist behind the 1997 poster, went straight from Cass Tech into the commercial automotive illustration world before pursing the fine arts later in life. His painting of the front end of an approaching car makes use of both expressive brush strokes to convey the speed of the tires as well as exquisitely detailed marks to produce the lifelike convex reflection of the Detroit skyline in the nose of the car. 
Explore More
See more of our collection of Grand Prix posters through our online collection, and visit the Detroit Historical Museum to see a 1985 Mercury Motorsport Capri Pilot Car from the 1985 Detroit Grand Prix in our Automotive Showplace. 
Have a Detroit Grand Prix poster from a race between 2007 to 2023? We'd love to add it to our permanent collection! Click here for information about donating artifacts.