Palmer Park Apartment Buildings Historic District
Detroit's Palmer Park Apartment Buildings Historic District is bounded by Pontchartrain Boulevard on the west, McNichols Road on the south, and Covington Drive on the northeast. In 2005 the District's eastern border was extended to Woodward Avenue.
The land was once part of the estate belonging to wealthy Detroiter and former U.S. Senator, Thomas W. Palmer. Palmer donated a large portion of his land to the City of Detroit to develop Palmer Park, with the remainder to be developed into a high-quality subdivision for urban middle-class families. However, Palmer passed away in 1913 before he could bring his idea to fruition. After Palmer's death, much of the area that was to become the apartments was purchased by what became the Merrill Palmer Institute. They sold land with the assistance of Henry Glover Stephens, a real estate developer in and around Highland Park. They also approached Charles Agree for advice on how to develop the land.
A small area of the estate was purchased by Walter O. Briggs, Sr., the soon-to-be owner of the Detroit Tigers, who hired Albert Kahn in 1925 to design an apartment building at 1001 Covington. Between 1925 and 1965, more than forty buildings were constructed in the district, most of which were completed in the 1920s and 1930s.
The district represents a collection of some of the finest and most varied examples of apartment building design in Michigan by multiple architects, including Albert Kahn, Weidmaier and Gay, Robert West, and William Kapp. The buildings, mostly five-to-six-story structures that were built to reflect the latest concepts and technology of residential living, were originally designed primarily for middle and upper-middle-class residents. The architectural styles of the apartment buildings in this district vary greatly, ranging from exotic Egyptian, Spanish Colonial Revival, Mediterranean, Venetian, Bauhaus, Tudor, and Moorish Revival styles, to plain styles, such as 1930s International and Art Moderne.
The Palmer Park Apartment Buildings Historic District was added to the National Register of Historic Places on May 21, 1983. Some of the most well-known buildings in this district include Temple Israel (now Word of Power Ministries), which served as the center of the District's Reformed Jewish population until 1980, and the former St. Nicholas Greek Orthodox Church.
---
RELATED ITEMS IN THE COLLECTION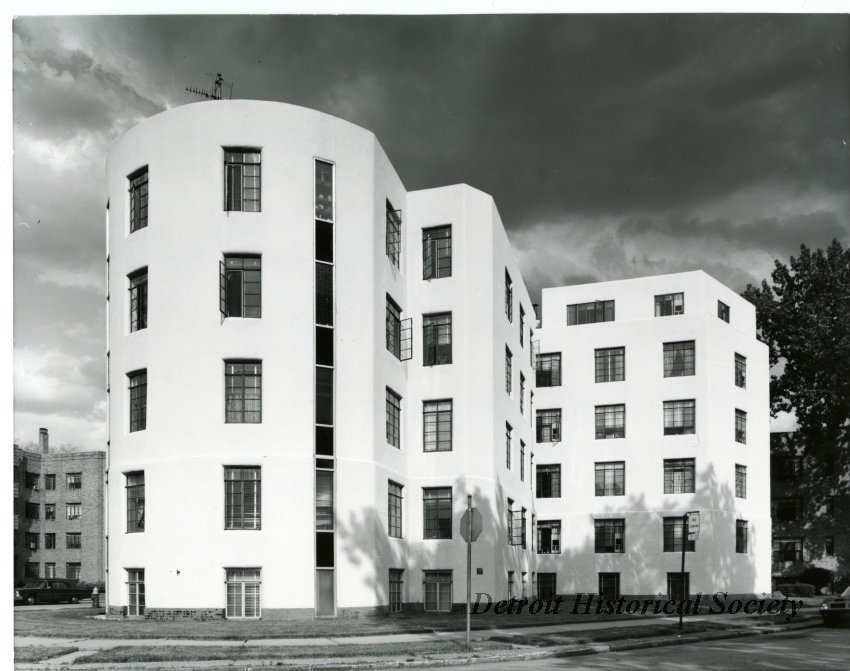 View all items related to the Palmer Park Apartment Historic District