Oakman Boulevard Historic District
Named for master land developer and realtor, Robert Oakman, Oakman Boulevard was purchased as a tract of land awaiting development in 1908. With the automobile industry growing and more vehicles being produced there weren't many roads on which the vehicles could travel safely. Oakman proposed a road similar to Grand Boulevard; it would travel in a horseshoe, allowing drivers to see opposite sides of the city as well as beautifully built homes. Oakman's wife was Mamie Moross, daughter of Joseph Moross, builder of Grand Boulevard.
Having found and sold Henry Ford the property for Ford's Highland Park plant, Oakman approached Ford with the idea that this new road would stretch from the Highland Park Ford Plant to the Ford Rouge Plant. Ford was reluctant to invest, so Oakman convinced his good friend John Dodge to contribute almost a quarter of a million dollars to the project. With funding in order, construction began, and the road was charted in 1916. The street was originally called Ford Highway, then Oakman Highway, then finally Oakman Boulevard. Oakman Boulevard extends from Hamilton Avenue in Highland Park, just west of the Ford factory, to Michigan Avenue in Dearborn. The historic district area covers both sides of Oakman from Linwood to Davison streets including Oakman Court.
Once the Boulevard was complete, Oakman decided it was still no equal to the Grand Boulevard, which was home to many single, upper-middle class families. He therefore began construction of homes in the colonial revival, early English, and Tudor architectural styles. Although Oakman took pride in building and developing this land, he took more pride in beautifying the neighborhood with attractively landscaped lawns. Oakman imported trees from around the world so that students could study botany if they desired.
The decline of some Detroit neighborhoods, exacerbated by the 1967 rebellion, unemployment, and relocation, did not seriously spread to Oakman Boulevard. Although the city was in turmoil, the neighborhood remained in good condition, earning a place on the Detroit Local Historic District list on October 6, 1989.
---
RELATED ITEMS IN THE COLLECTION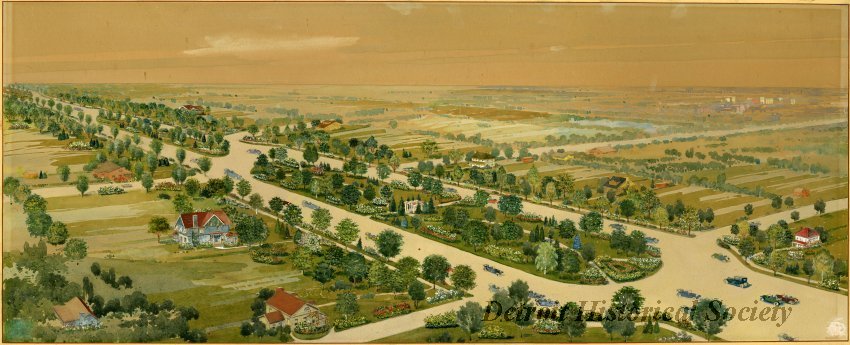 View all items related to Oakman Boulevard Historic District