Mies van der Rohe Residential District, Lafayette Park
Begun in 1956 and completed in stages through the 1960s, the Mies van der Rohe Residential District is considered one of America's most successful post-World War II urban redevelopment projects. It is located in Detroit just east of the Chrysler Freeway and roughly bounded by Rivard Street, Lafayette Avenue, Orleans Street and Antietam Street and was listed on the National Register of Historic Places on August 1, 1996. Its 46 acres encompass three distinct, but carefully connected sections: 21 multiple-unit townhomes and a high-rise apartment building on the west side; Lafayette Park, 13 acres of greenery, recreation facilities, and a school; and twin apartment towers and a shopping center to the east. Together the district comprises the world's largest collection of buildings designed by Ludwig Mies van der Rohe, widely considered one of the 20th century's greatest architects. The complex showcases Mies van der Rohe's favorite modernist themes: exposed steel, tinted glass, and aluminum.
Herbert Greenwald, Mies van der Rohe, Ludwig Hilberseimer, and Alfred Caldwell set out to create an integrated community that would "attract [people] back to the heart of the city." Caldwell and Hilberseimer designed a naturalistic landscape that subordinated Detroit's most famous product to the needs of people, in part by dropping roadways and parking lots four feet below grade.
The district's birth was not without controversy. Lafayette Park replaced the former Black Bottom neighborhood, an enclave of African-American residents in a city already beginning to lose its population to the suburbs. Mayor Albert Cobo and others believed that if they could replace the aging buildings in Black Bottom with a modern district of high-quality homes, then a racially diverse neighborhood might help the city hold on to its people. The razing of Black Bottom, considered to be the heart of Detroit's black community, and the lack of affordable housing made available to the former residents other than the public housing projects, have been cited as instigating factors in the Uprising of 1967. 
While the success of their work can be measured by the praise it has received over the years, perhaps a better recommendation comes in the low turnover and high occupancy rates the project continues to enjoy many years after its construction.
---
RELATED ITEMS IN THE COLLECTION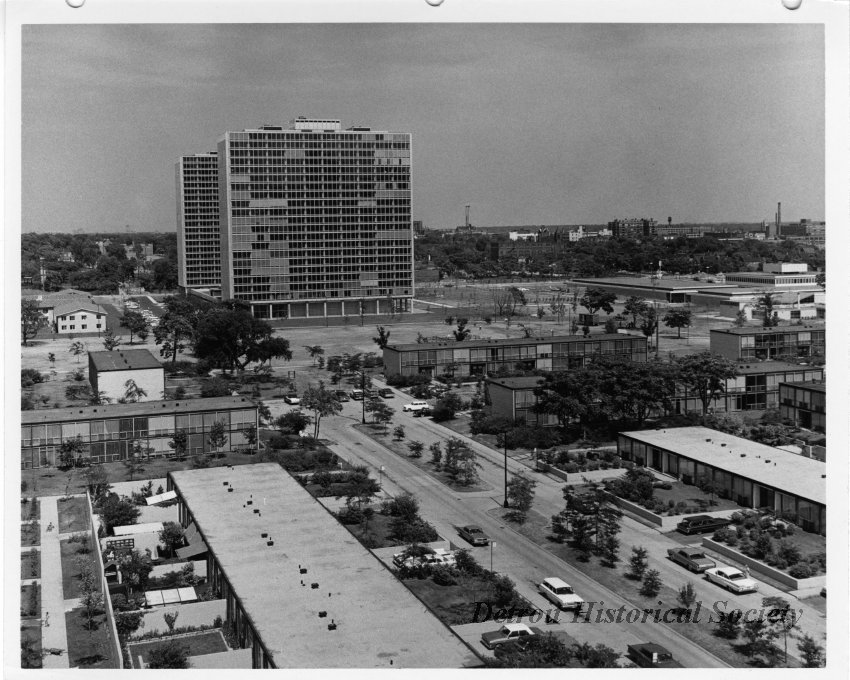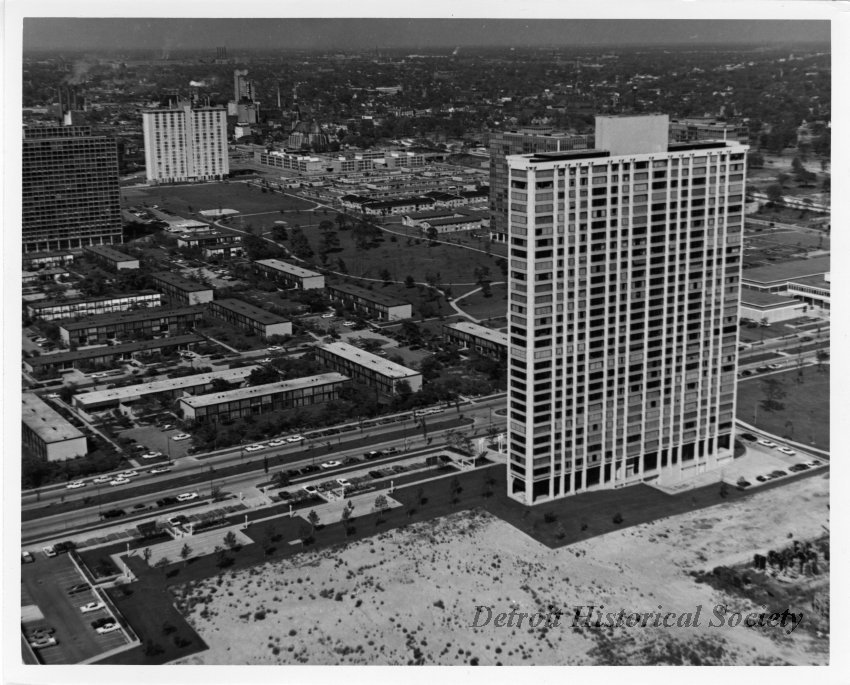 View all items related to Mies van der Rohe Residential District, Lafayette Park