Cobb, Ty
Nicknamed the "Georgia Peach," Tyrus Raymond Cobb was a baseball icon who set numerous records, some of which still stand today. Born in Narrows, Georgia in 1886, Cobb played briefly for the Augusta Tourists before joining the Detroit Tigers in 1905 as a centerfielder. He remained with the team for 22 seasons before moving to Philadelphia for an additional two seasons. He is remembered for his intimidating and intense attitude both on and off the field.
Cobb experienced a career season in 1911 when he led the league in eight categories: hitting – .420; hits – 248; doubles – 47; triples – 24; runs scored – 147; runs batted in – 127; stolen bases – 83; slugging average – .621. He excelled in batting, fielding, running, throwing and game sense. Sometimes stretching the rules where he could get away with it, Cobb would do his best to outsmart opponents. For example, he would constantly kick the bases thus moving them a few inches closer to his destination.
When Cobb retired as an active player he held 90 baseball records, some of which were considered insurmountable. The most formidable, 4,189 hits and 897 career stolen bases records were surpassed by Pete Rose in hits, and Lou Brock and Rickey Henderson in stolen bases. Cobb still holds the record for the most batting titles (12) and his .366 lifetime batting average stands as a standard of excellence.
Cobb was married twice and fathered six children. Good investments made him a millionaire and, following his retirement from baseball, he spent most of his time in Lake Tahoe, Nevada. Prior to his death in 1961, he established the Ty Cobb Health System and the Cobb Educational Fund in his native Georgia. Revered beyond just Detroit, Cobb's fame is pervasive, receiving near unanimous support in the first year of voting for the National Baseball Hall of Fame.
---
RELATED ITEMS IN THE COLLECTION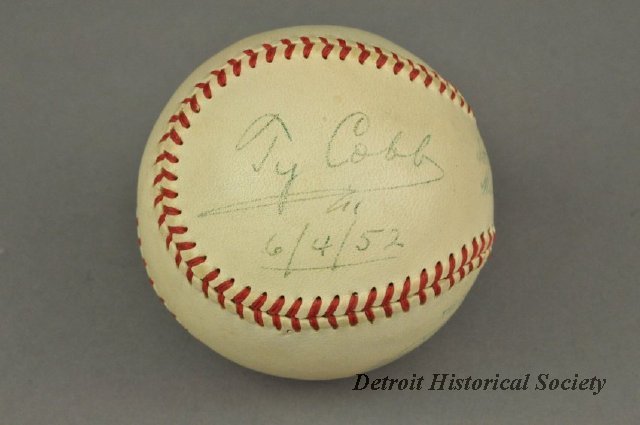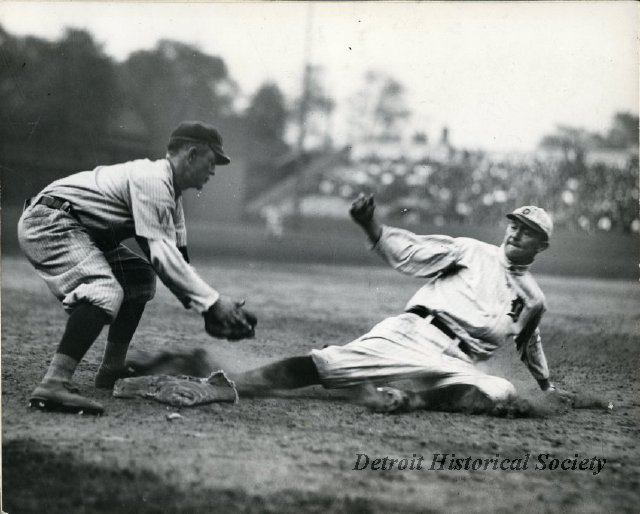 View all items related to Ty Cobb