Chrysler, Walter P.
Walter Percy Chrysler, founder of the Chrysler Corporation, was born in Wamego, Kansas on April 2, 1875, but grew up in Ellis, Kansas. As a child, he learned about locomotives from his father, who worked as an engineer for the Kansas Pacific Railroad. Chrysler apprenticed as a machinist with Union Pacific and spent the first years of his working life at various railroad companies. Foreshadowing Chrysler's automotive career, and epitomizing his intellectual curiosity, he purchased a 1908 Locomobile which he took apart and put together several times before driving it.
His reputation in the railroad business brought him to the attention of bankers in control of General Motors at the time. As a result, Charles W. Nash, president of the Buick division, hired Chrysler in 1911 as works manager (at half his current salary), tasked with solving engineering and production problems. When General Motors founder, William C. Durant, returned to the company in 1916, he made Chrysler president and general manager of Buick, offering him $500,000 a year for three years, with stock options. After putting into effect a cost accounting system and introducing assembly line production, Chrysler retired from Buick in 1919 because of differences with Durant's management style. Before his resignation, Chrysler had increased Buick's production of cars from 45 to over 200 a day, along with ensuring quality in all Buick products. He sold his GM stock to Durant for $10 million.
Chrysler was next hired by failing automotive company Willys-Overland. The company agreed that he could work from New York City, so he bought an estate on Long Island. After reducing Overland's debt, he focused on another car company with financial problems, Maxwell-Chalmers. Chrysler oversaw Maxwell's buyout of Chalmers in 1922 and Maxwell's introduction of the first Chrysler car in 1924. The Chrysler Six sold so well that Maxwell Motor Corporation was reorganized as the Chrysler Corporation on June 6, 1925, with Walter P. Chrysler as chairman of the board and president. In 1928, Chrysler Corporation acquired Plymouth and the Dodge Brothers Corporation.
Chrysler was married to his childhood sweetheart, Della Forker, with whom he had five children. As a testament to his success, he worked with architect William Van Alen to design the Chrysler Building, one of the quintessential Art Deco buildings in the U.S., which opened in New York City on May 27, 1930. At 1,048 feet, it was the tallest building in the world for several months until the Empire State Building was finished. Its decorative elements include sculptures of automobile hubcaps and hood ornaments.
Chrysler was named "Man of the Year" by Time magazine in 1929. His autobiography, first serialized in the Saturday Evening Post, was published in 1950 as Life of an American Workman. He remained president of Chrysler until 1935, succeeded by K.T. Keller, and remained chairman of the board until his death on August 18, 1940 at his home in Great Neck, New York.
---
RELATED ITEMS IN THE COLLECTION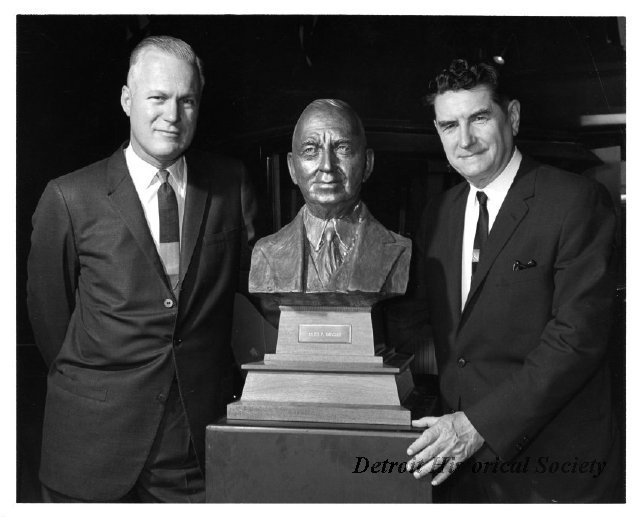 View all items related to Walter P. Chrysler