Chandler, Zachariah
Zachariah Chandler was a Detroit mayor, a U.S. Senator, and the Secretary of the Interior under President Ulysses S. Grant's administration.
Born in Bedford, New Hampshire on December 10, 1813, Chandler moved to Detroit in 1833 and opened a dry goods business. He soon developed a reputation as an anti-slavery activist and contributed money to Detroit's Underground Railroad operations.
In 1851, Chandler defeated John R. Williams and became the Mayor of Detroit. In 1852, he was the Whig Party candidate for Governor of Michigan but lost the race to incumbent Robert McClelland.
Chandler was one of the founders of the Republican Party when it was created in 1854. He identified with the Radical Republicans, a small faction in the Republican Party who opposed the Fugitive Slave Act, supported the abolition of slavery, and later advocated for civil rights for newly freed slaves. Earlier, he helped raise money to support Michigan abolitionists, and during the Civil War was instrumental in African Americans joining the Union Army. However, in later years his sincerity to the cause was questioned by some.
In 1857, Chandler replaced Lewis Cass as a U.S. Senator. Once in office, he agitated on Radical Republican issues. He attacked the Supreme Court's Dred Scott decision, which upheld the fugitive slave laws, and opposed the admission of Kansas to the Union under the Lecompton Constitution, which allowed slavery.
Zachariah Chandler served as Senator until 1875, when he was defeated by the Democratic candidate. That same year, President Ulysses S. Grant appointed Chandler as his Secretary of the Interior, a position he held until President Rutherford B. Hayes dismissed him in 1877.
After being elected to the U.S. Senate in 1879, Chandler was being considered as the Republican candidate for U.S. president in the 1880 election. However, following a speech in Chicago, Chandler died in his hotel room on November 1, 1879. He is buried in Elmwood Cemetery in Detroit.
---
RELATED ITEMS IN THE COLLECTION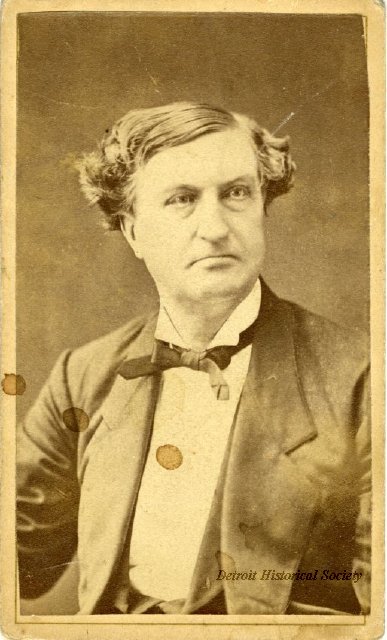 View all items related to Zachariah Chandler