New Ships are Docked in the Ship Model Showcase
Posted May 15, 2023 by

Sarah Murphy
While most of our 150+ ship model collection was recently on display as part of Maritime Miniatures: The Art of the Ship Model, that exhibit is now officially closed. We would like to thank everyone who visited and donated to the restoration and upkeep of this important Great Lakes ship model collection!  
The Ship Model Showcase at the Dossin Great Lakes Museum regularly rotates models of all sizes and ship types from the collection. Returning to the Showcase this spring are a few fan favorites from Maritime Miniatures. Here is a look at the models you can see on display now: 
Christopher Columbus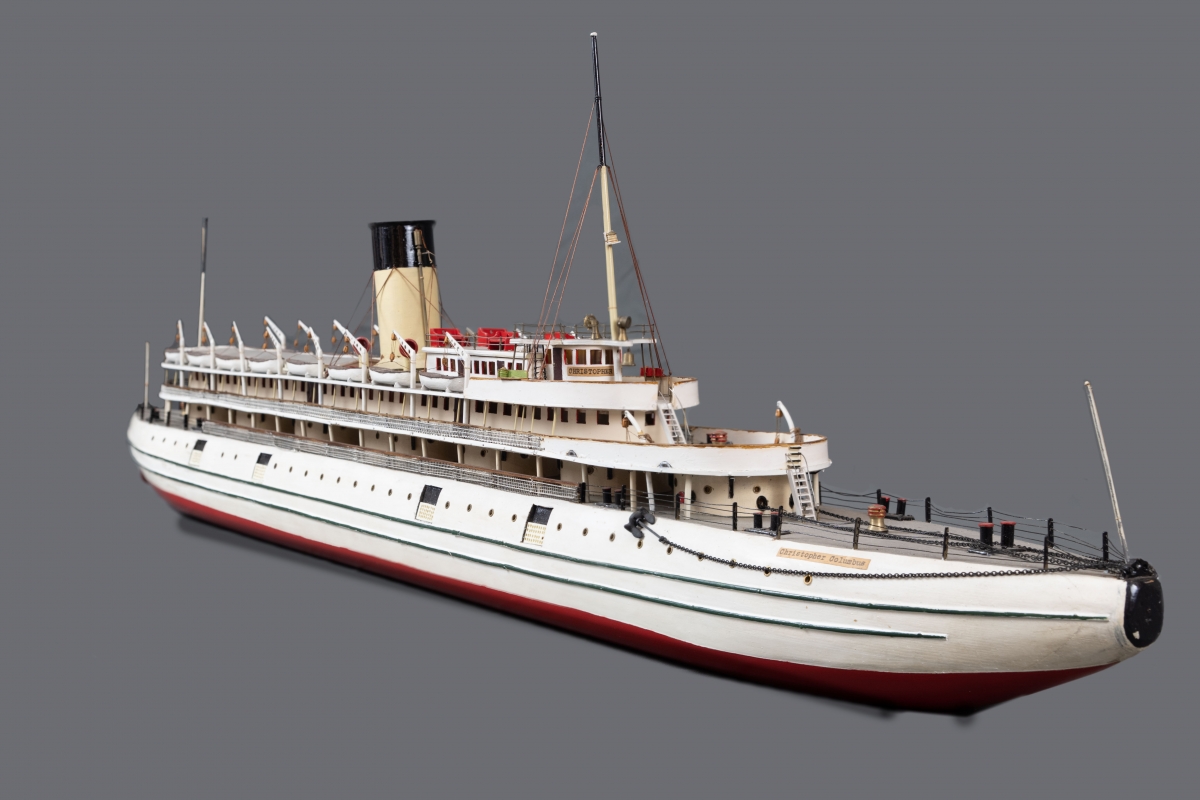 Scale model of the whaleback passenger steamship Christopher Columbus
The Christopher Columbus was the only whaleback passenger steamer. The hull style's name comes from its shape, resembling a whale's back. Built in 1892, this ship was built to carry passengers from downtown Chicago to the 1893 World Columbian Exposition, making several trips every day with a capacity of 4,000 to 5,000 passengers. Following the fair, it made passenger excursions to Milwaukee, and went out of service in 1933. Unfortunately, this model's builder is unknown.  
Philo Parsons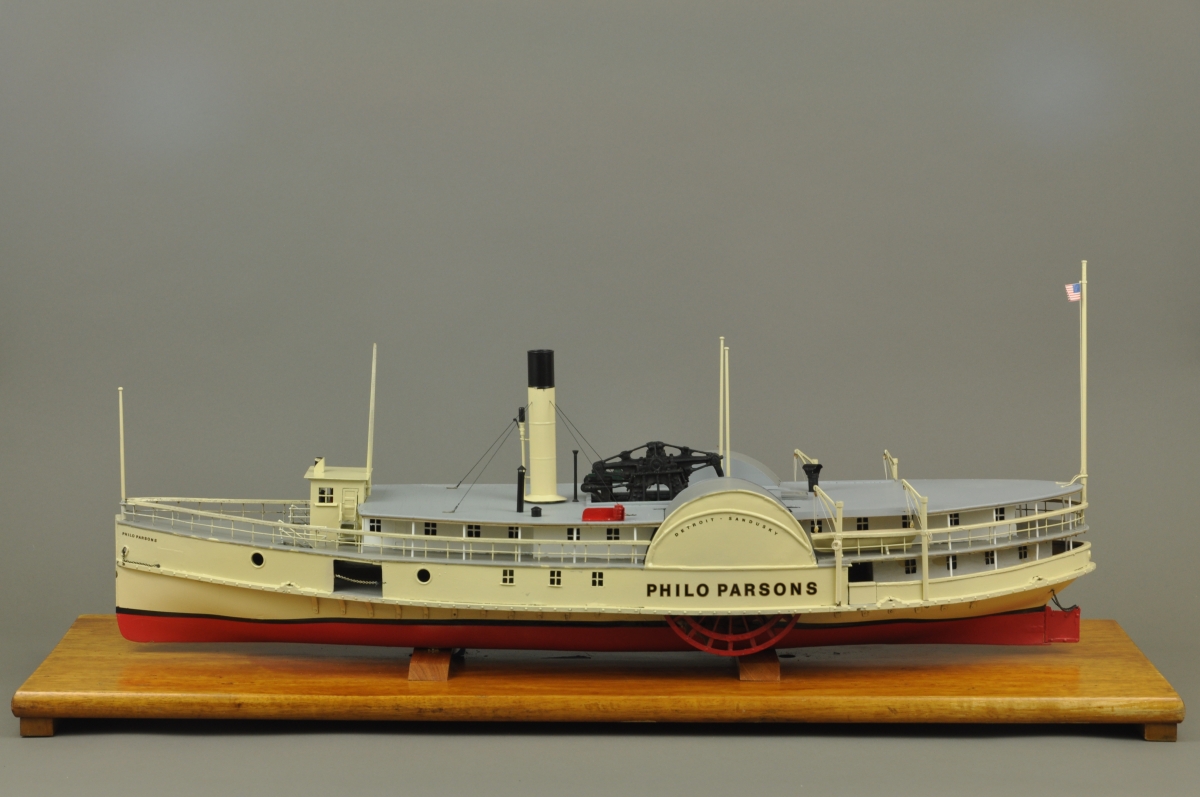 Scale operating model of the steamer Philo Parsons
Built in 1861, the steamer Philo Parsons carried both passengersand freight from Detroit to western Lake Erie. This ship was captured by Confederate agents during the Civil War, as part of a plan to capture the USS Michigan and free prisoners being held on Johnson's Island in Sandusky Bay. Their plot was abandoned, as they feared the Union Army had learned of their intentions, which they had. Following the war it operated out of Chicago, where it caught fire during the Great Fire of 1871. This model was built by Frederick W. Hyde in the 1930s and is an operating model, meaning it has a motor and can float. 
Greater Detroit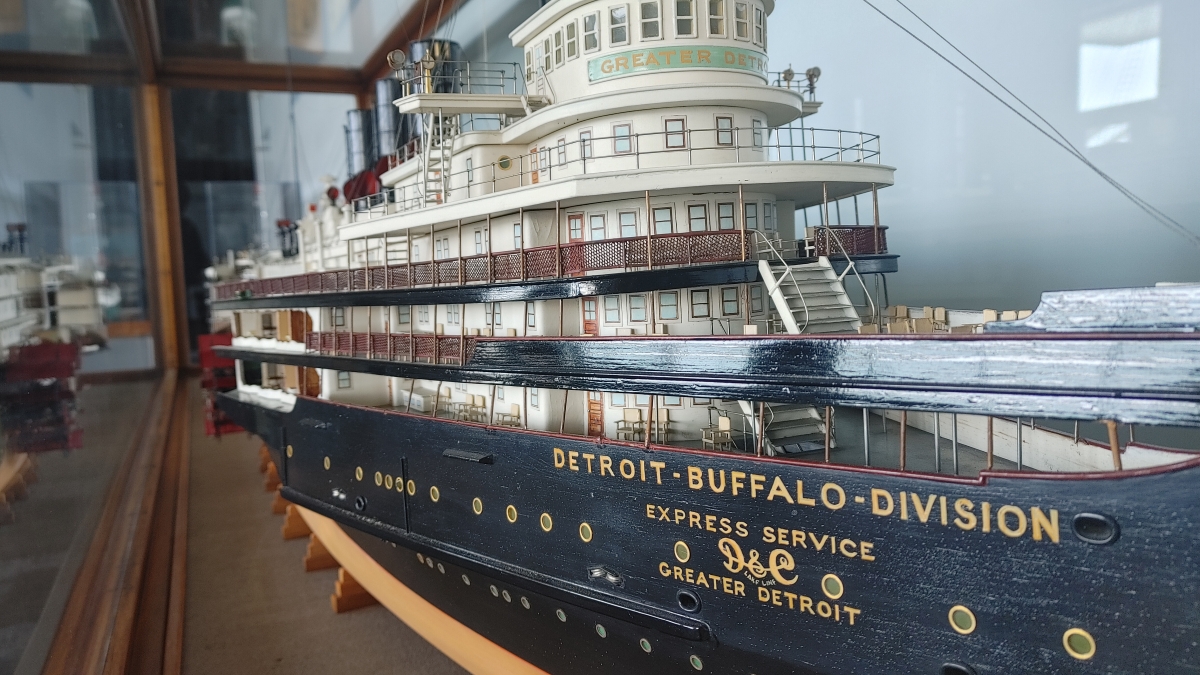 Close-up of the model Greater Detroit bow 
One of the largest models in the collection, this representation of the Greater Detroit is 10 feet long, and features a cutaway section. Among the visible areas are the ship's main salon, dining room, and engines. This model was built for the ship's line, Detroit & Cleveland Navigation Co. by professional model making firm Boucher-Lewis & Co. The actual Greater Detroit went into service in 1924 and carried many passengers before eventually being scrapped in 1956.  
T.J. McCarthy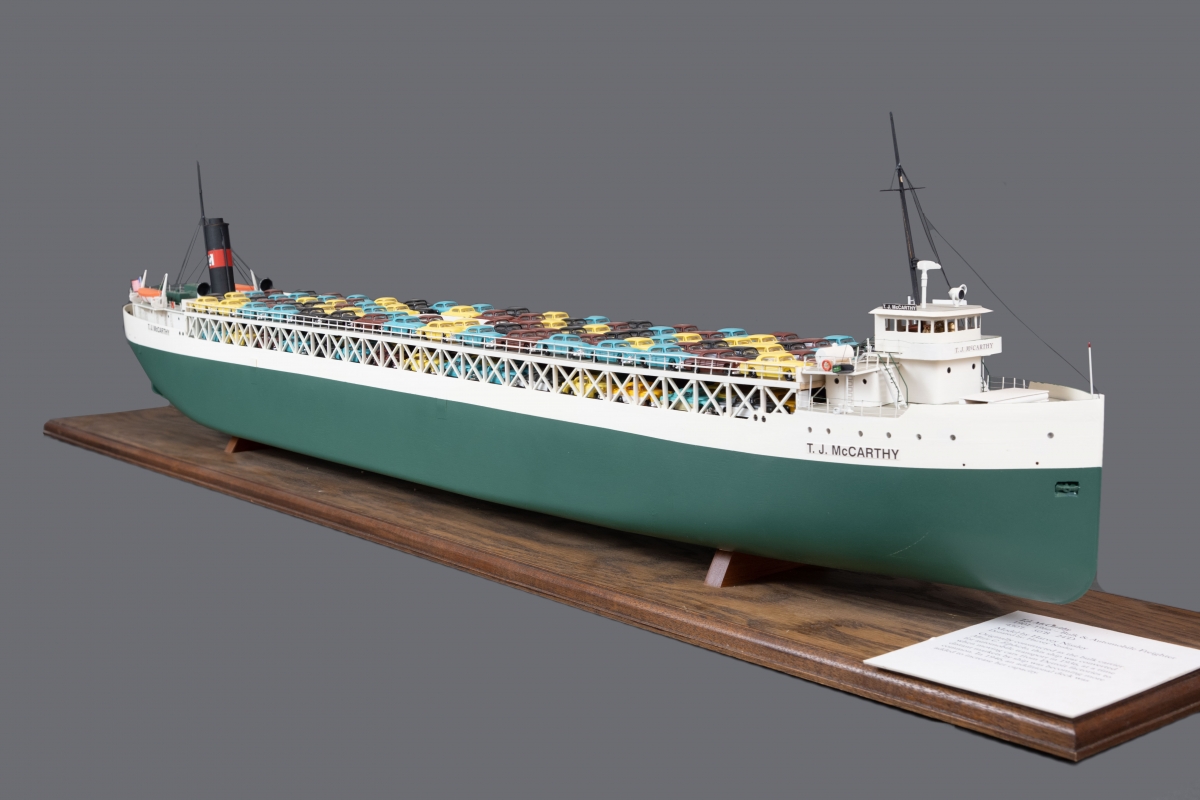 Scale model of the car-carrier T.J. McCarthy

The T.J. McCarthy began its service as the Mary C. Elphicke in 1901 as a bulk carrier. It was converted to carry automobiles in 1936, before being re-converted to bulk carrier in 1942, shortly after receiving the new name T.J. McCarthy. Following World War II in 1946, it began carrying cars again, now with the added deck as seen in this model. This ship was scrapped in 1967 after 66 years of service. This model, featuring a full load of miniature cars, was created by Harvey Nissley.  
Be sure to visitthe Dossin Great Lakes Museum to get a closer look at these wonderful model ships! And while you're there, be sure to visit the newly opened Microplastics: Here, There, Everywhere exhibit!