Abraham Lincoln in the Archive
Posted July 25, 2022 by

Sarah Murphy
In honor of the Freedom Confirmed: President Abraham Lincoln's Courage to Create Change Pop-Up Museum, which highlights President Abraham Lincoln's journey toward the Emancipation Proclamation, we are sharing a few "Honest Abe" artifacts from our collection. 
Abraham Lincoln's death was a shock to the American population. His assassination at the hands of John Wilkes Booth shortly after the conclusion of the Civil War prompted a widespread and public sort of mourning.  
His body made a tour of several states before final interment at Oak Ridge Cemetery in Springfield, Illinois. After lying in state at the White House and U.S. Capitol, the "funeral train" made a two-week journey through several cities including Philadelphia, New York City, Cleveland, and Chicago. Cities that were not visited, like Detroit, still had events honoring the late president.  
On April 25, 1865, funerary celebrations were observed in Detroit at Campus Martius, with the Detroit Free Press estimating that no less than 30,000 attendees were crowding the streets. A grand procession made its way on a circuit through downtown, delighting the enthusiastic yet somber crowd. Members of the military, injured veterans, government officials, religious orders, fraternal organizations, unions, bands, bagpipers and more stretched into an estimated two-mile-long parade. A funeral car, ornate and draped in black, carried the initials "A.L."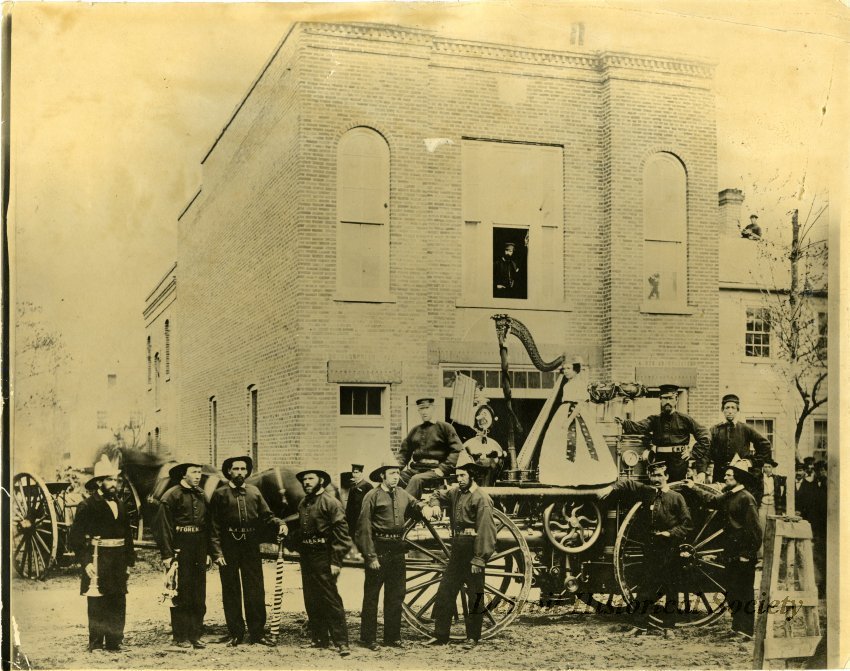 Photograph showing the K.C. Barker Company Fire Engine No. 4 decorated for Lincoln's funeral parade, 1865. Detroit Historical Society collection.
Noted for being particularly impressive were the displays of the Detroit Fire Department. All four horse-drawn steam engines were decorated for the parade. Two images in the DHS collection show examples of these engines. A color lithograph shows the Phoenix Steam Fire Engine Company No. 3 – their engine emblazoned with the national shield and other regalia. A photograph shows the company of the K.C. Barker Company No. 4 and their engine, which featured a large harp and a girl dressed in costume. On it were the words "We mourn our country's Chief."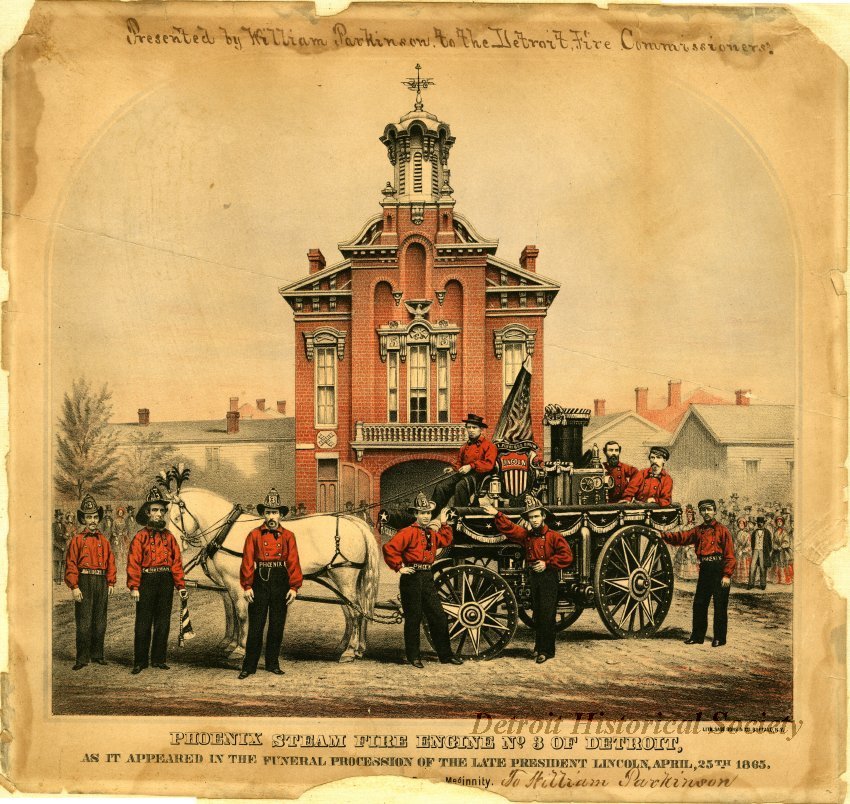 Color Lithograph showing the Phoenix Steam Fire Engine Company No. 3 decorated for Lincoln's funeral parade. Detroit Historical Society collection.
Remembering the Late President
Many of the folks in the crowd that day may have been sporting mementos or souvenirs, honoring the late president. Several examples of these are within the DHS collection. A ribbon featuring an image of Lincoln as well as the dates he was in office "1861-1865." Another souvenir takes the form of a small relief inside a case. It shows a plaster side-view relief of Lincoln, while the inside of the case notes "Abraham Lincoln, born February 12, 1809, died April 15, 1865." These sorts of memorabilia proliferated following Lincoln's assassination.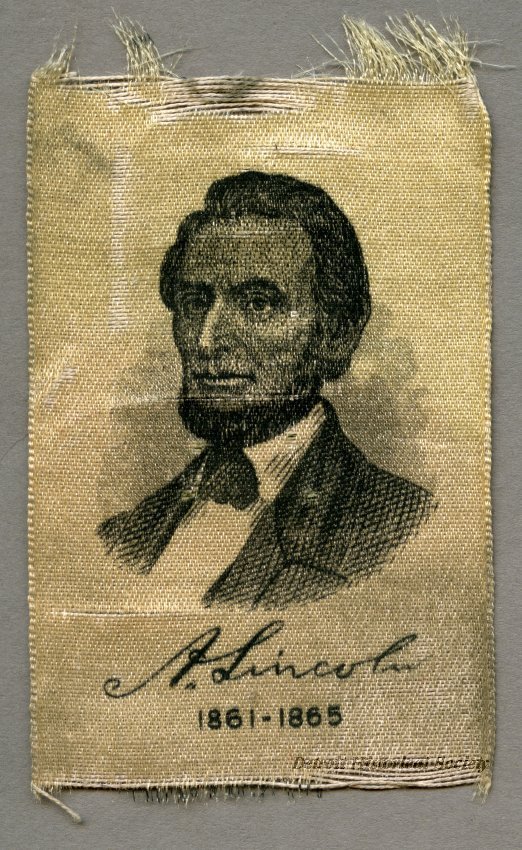 Ribbon honoring late President Abraham Lincoln, c. 1865. Detroit Historical Society collection. 
Since his time, and even still today we continue to see Lincoln used as a representation for the American presidency and America in general, with his values exemplified as true patriotism. This poster from World War I uses Abraham Lincoln to promote saving food for the war effort. It quotes him saying "With malice toward none; with charity for all; ... let us strive on to finish the work we are in; ... to bind up the nation's wounds; ... to do all which may achieve and cherish a just and lasting peace." Another from World War II succinctly states "This world cannot exist half slave and half free," with a stern-faced Lincoln.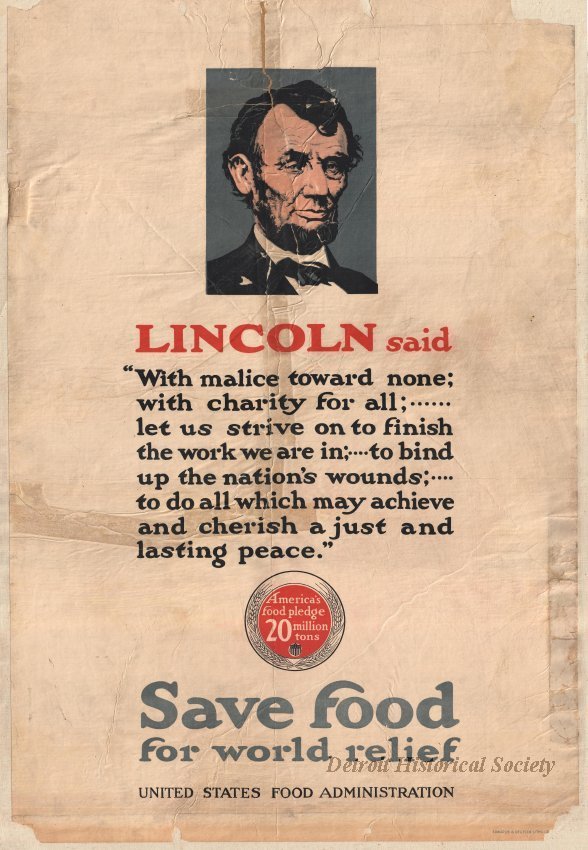 World War I poster featuring Lincoln, promoting saving food, c. 1918. Detroit Historical Society collection. 
In 1860, sculptor Leonard Volk took a plaster cast of President Lincoln's face, to assist with his sculpting of a bust. This original life mask would later be purchased by a group of sculptors, and given to the Smithsonian Institution. Bronze copies of the original mold were reproduced on several occasions after Lincoln's passing. A reproduction of Volk's mask is in the Society's collection.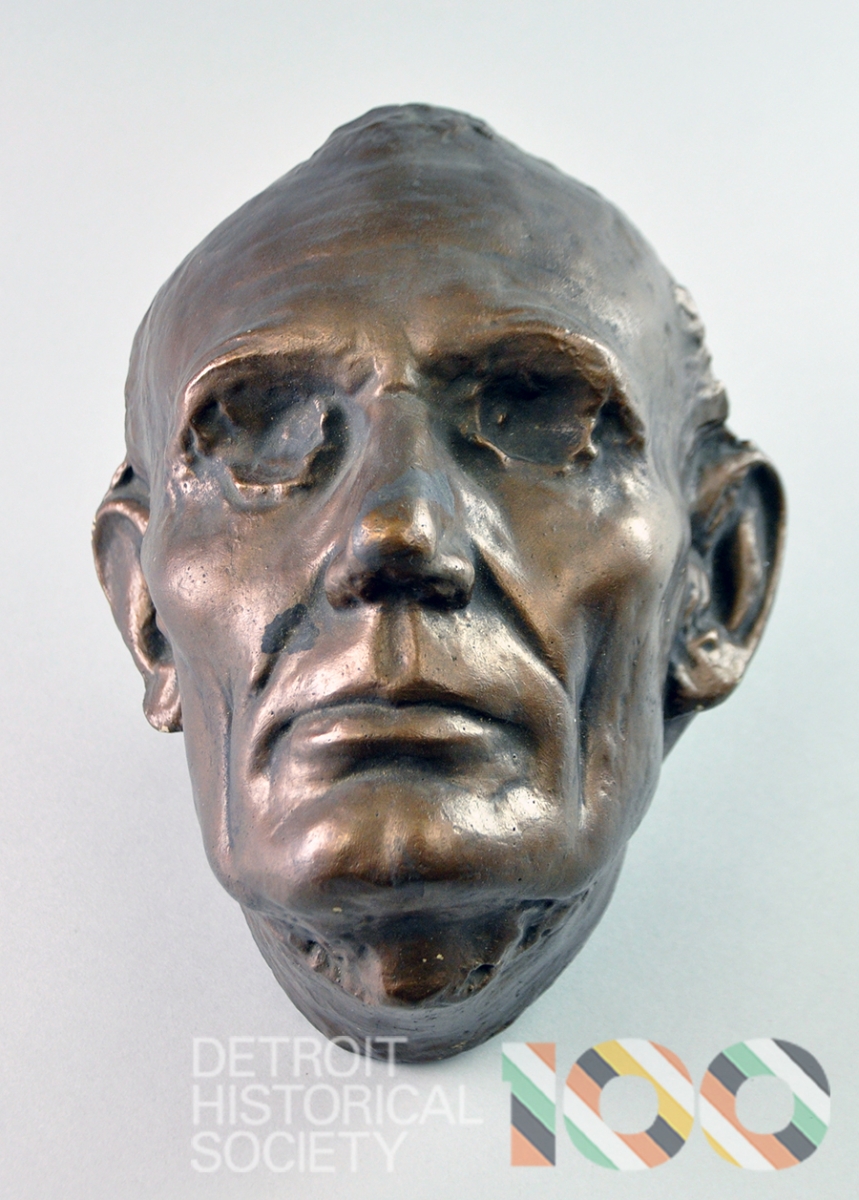 Bronze reproduction of Leonard Volk's Lincoln life mask. Detroit Historical Society collection.
A second life mask was made of Lincoln in 1865 by artist Clark Mills. This mask, now featuring a beard, shows the face of a man who had endured the stresses of piloting the United States through the Civil War.  

One of, if not the most popular presidents in American history, Abraham Lincoln's life, actions, and untimely demise are remembered in many ways. The physical record kept in the archives of the Detroit Historical Society helps show how the president was remembered just shortly after his death, and for the many years that followed.