Who Is Farmer Jack?
Posted January 7, 2022 by

Anonymous (not verified)

Who is Farmer Jack? 
Have you ever seen images of "Farmer Jack" and wondered, "who is that guy?"  Well, Farmer Jack is a popular Detroit grocery store chain!  
The grocery store chain got its start in 1924 when Tom's Quality Meats was opened by Jewish-Russian immigrants Tom Borman and Sam Burlak. The pair's first store was opened in 12th and Forest.  
Tom's brother Abrham "Al" Borman opened another store on Kercheval on the city's East Side.  
Al and Tom formed a partnership, which dissolved in 1945. After that, Tom went on to create Lucky Stores and Al developed Food Fair. In 1955, the Lucky Stores merged under the Food Fair brand which operated underneath the Borman Food Store Inc. Label.  
Under Borman's Inc. Umbrella the brothers went public and sold more than 400,000 shares of stock but maintained majority ownership of the company. The profits from the sale of stock were used to acquire other grocery store locations across the Detroit and metro area — totaling 46 stores.  
The company continued to expand, opening stores throughout Michigan, Indiana and Illinois, partnering with Detroit-founded K-Mart stores.  
In 1966, Borman opened three shopping centers that featured more than just groceries — these centers included gas stations, garden centers, and car washes. Most important though, they carried the name "Farmer Jack."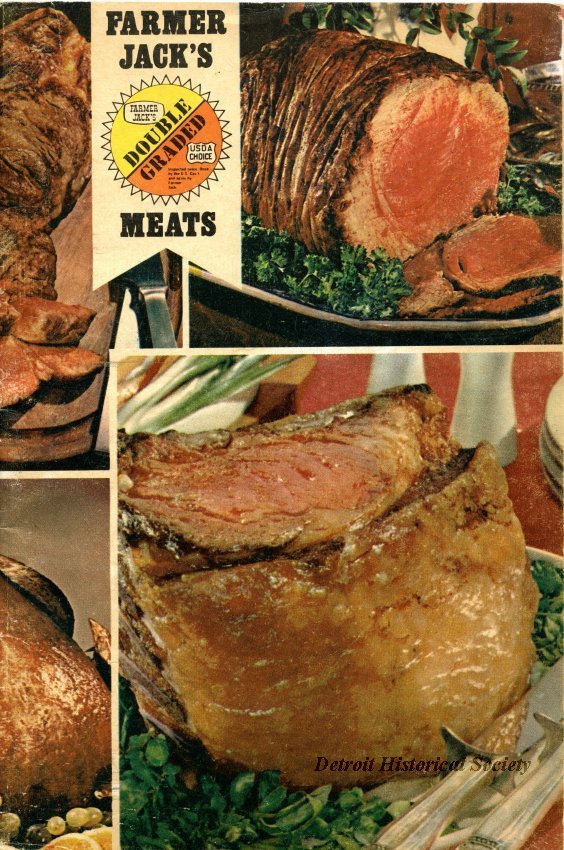 By 1967, all Borman stores were rebranded under the Farmer Jack label. The new name became synonymous with low food prices and fresh produce. The logo featured a cartoon-style depiction of a farmer highlighted with a punchy orange, which is recognizable today. 
At its peak, Farmer Jack had 100 stores under its label, courtesy of a merger with the Great Atlantic & Pacific Tea Company— also known as A&P.  
In 2003 through, due to market competition from stores like Meijer and Kroger, A&P began closing Farmer Jack stores in Metro-Detroit. By 2007, Farmer Jack was defunct, and no stores remained.  
Photo: c. 1968, from the Detroit Historical Society collection. One booklet, "Farmer Jack's Meat Manual." The softcover booklet shows color photographic images of various cooked meats on the front and back covers.
While you can't shop at a Farmer Jack's store anymore, you can still buy merch with the iconic image of Farmer Jack on it! The Detroit Shirt Company is the designer of this truly nostalgic line of merchandise. 

Check out the Museum Store's full collection of Farmer Jack merchandise online at detroithistorical.org.