The Iconic Fisher Body Carriage
Posted November 16, 2021 by

Anonymous (not verified)
The Fisher Body Company, one of the most significant auto part producers in Detroit history, had a reputation for craftsmanship, luxury, and style. To represent these qualities, the glamorous Napoleonic coach was chosen as a fitting emblem for the auto body firm. The coach made a Fisher product instantly recognizable, and it became a cultural symbol in its own right. In the Body by Fisher exhibit at the Detroit Historical Museum, you can see a full-size reproduction of the trademark coach, along with many other artifacts representing the history of the Fisher Body Company.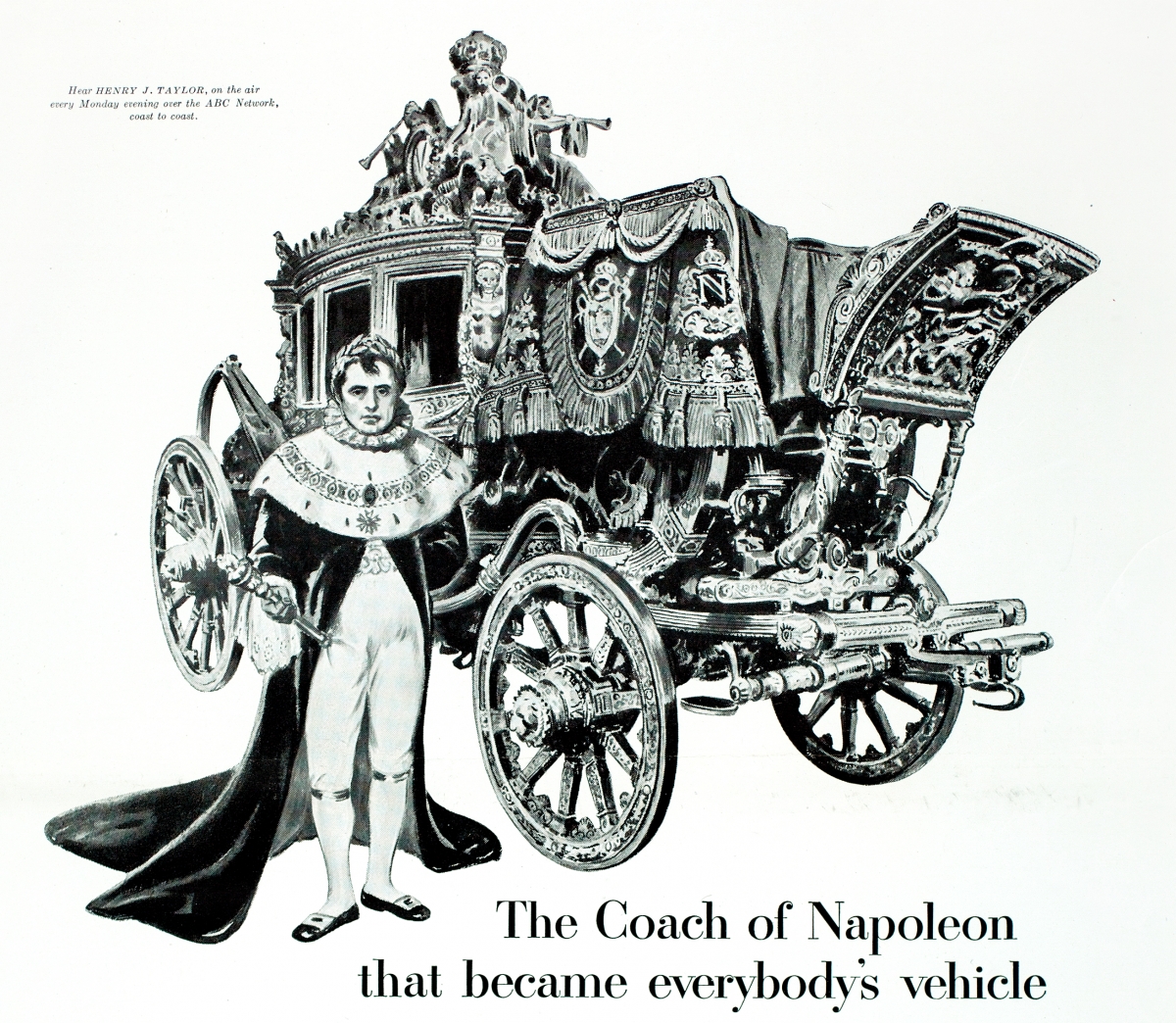 The reproduction coach was built by about 20 employees of the Lansing Fisher Body Plant in 1984. That year, it appeared in Lansing's 125th birthday parade, and afterwards was displayed in the Fisher plant's trim shop along with historic photos and tools. When Fisher Body was dissolved, the coach was donated to the R.E. Olds Transportation Museum in Lansing. Made out of wood with lavish touches like velour interior and molded trim, it is an example of the craftsmanship and care possessed by Fisher employees. 
Photo: c. 1949, courtesy of General Motors. Fisher Body Company Napoleonic Coach advertisement. 
Fisher Body 

Craftman's

 Guild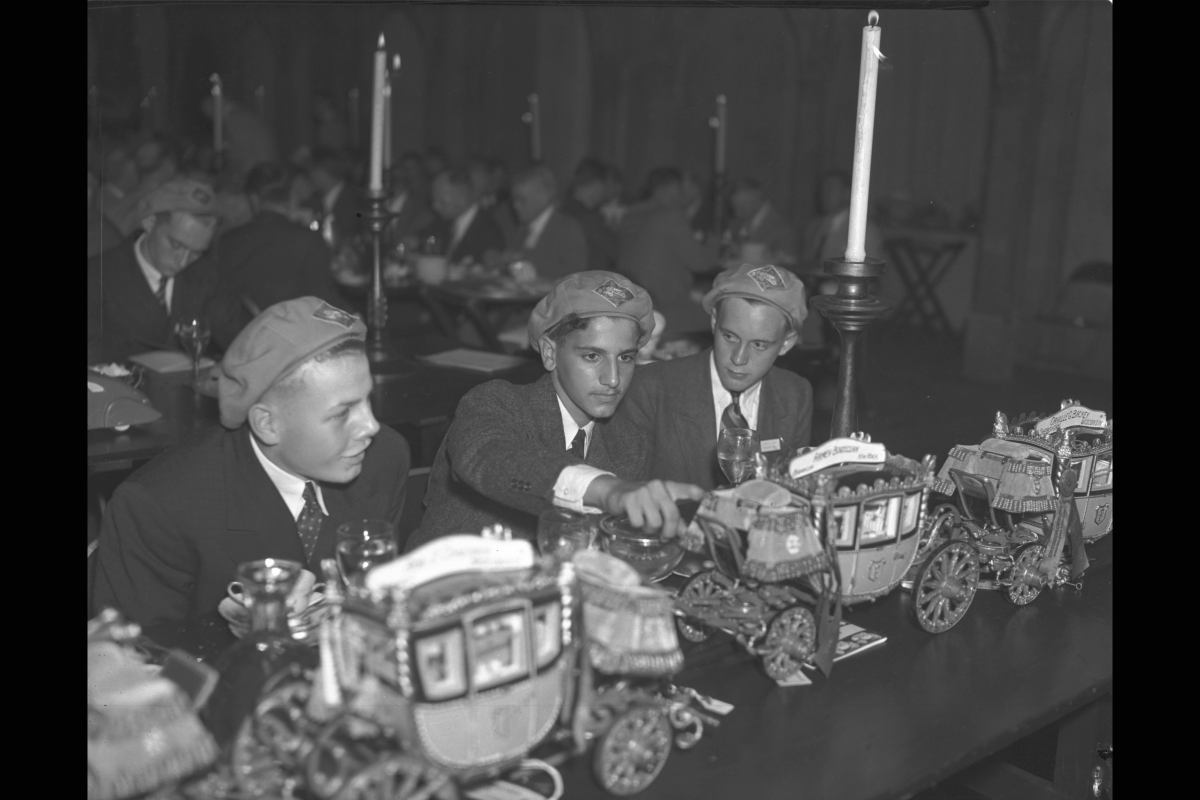 Photo: c. 1931, courtesy of General Motors. Fisher Body Craftsman's Guild finalists with their models.
For 18 years starting in 1930, students competed for scholarships and prizes by building a scale model of the Napoleonic coach by hand, with working doors and spinning wheels. This was called the Fisher Body Craftsman's Guild, and many of those who participated in the competition would go on to work at Fisher or another General Motors department. While the model coach competition rewarded technical ability, in 1937 the "Dream Car" competition started, which focused on design ability. The two competitions ran concurrently for several years until the coach contest was discontinued in 1948, with the Dream Car competition running for another 20 years.  
"His Majesty the American Motorist"
From about 1923 through Fisher's closure in the mid-eighties, the coach could be seen on their products and in their advertising – essentially acting as a mascot to let the consumer know at a glance that the product is top quality. This ad details why the coach makes for an appropriate representative of the Fisher Body brand: "It is a fitting vehicle for an emperor and his empress – but only in an age when ornate beauty came before everything else … And yet, you will find a trademark bearing a Napoleonic coach on General Motors cars. For GM cars have Body by Fisher … Fisher Body craftsmen know how to work steel into smoothly rounded GM car styles. They know how to cover it with sparkling, long-lasting colors – how to create regal interiors. In short, they know how to build bodies that are centuries ahead of the ornate Napoleonic coach – in comfort, durability, and all-around usefulness. 
… And so, GM provides His Majesty, the American motorist, with his own royal coach of steel, wrapped in beauty from bumper to bumper." 
This antique symbol of prosperity and power became an emblem that represented a certain degree of royalty for every car buyer. This notion was embraced by the consumer and GM employees. Those who are closely associated with Fisher Body remember the company fondly. A t-shirt on loan to the exhibit even states "Gone But Not Forgotten," with the coach front and center. What better representation of the care and pride of the workers of Fisher than a real-world representation of the company's promise to its consumers? As Fisher often said, "Quality is Timeless." 
Body by Fisher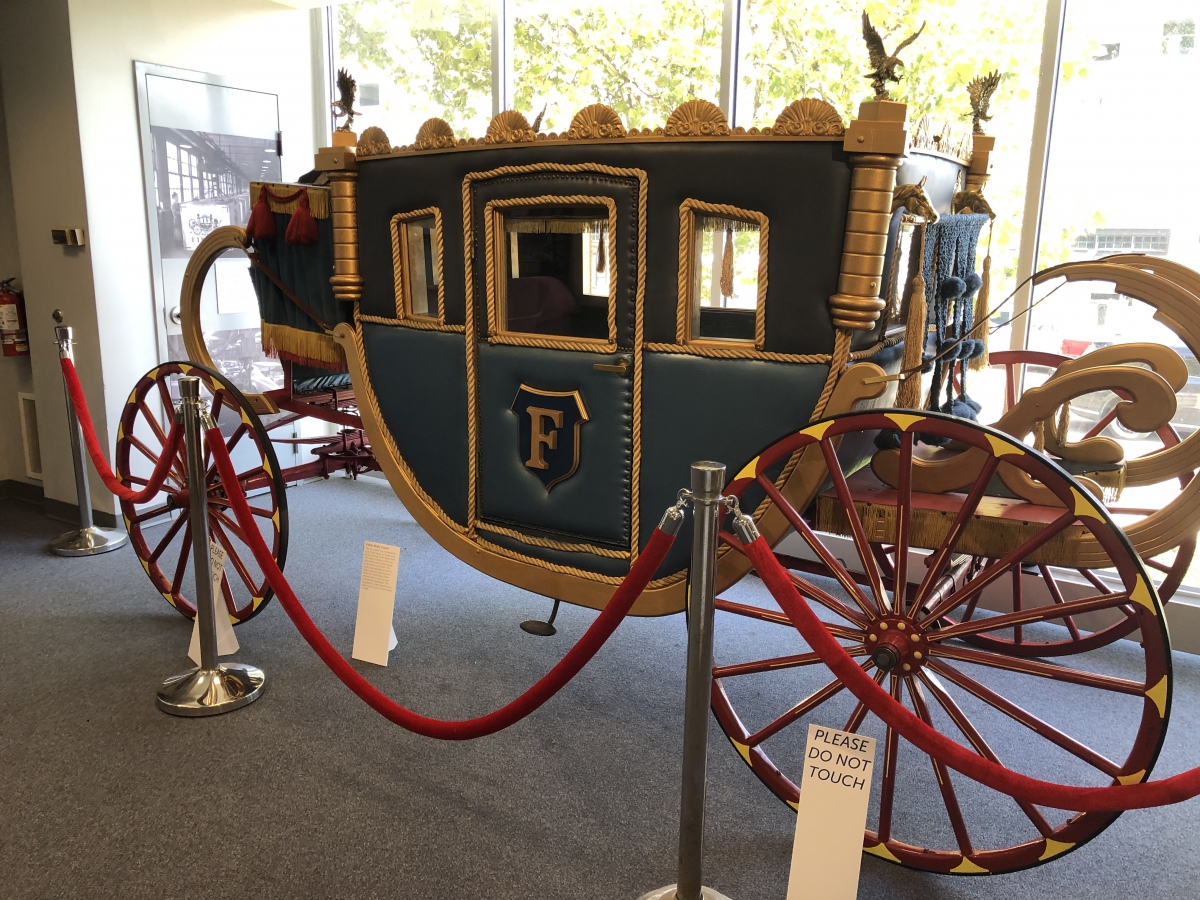 Photo: Reproduction Fisher Body coach made by Fisher Body Lansing Plant employees on display in the Body by Fisher exhibit at the Detorit Historical Museum. 
Body by Fisher is on display now through 2022 at the Detroit Historical Museum. Learn how to plan your visit at detroithistorical.org.