Detroit Suffrage Pioneer Sarah Gertrude Banks
Posted February 15, 2016 by

Jonathan Gleit
On February 15, the anniversary of Susan B. Anthony's birthday, the Detroit Historical Society is pleased to share from the collection a 107 year old postcard depicting Susan B. Anthony.  Social activist Susan B. Anthony (1820-1906) was an internationally recognized leader in the long campaign to give women the right to vote. It turns out that the postcard's addressee, Dr. Sarah Gertrude Banks, has an important place in Detroit history.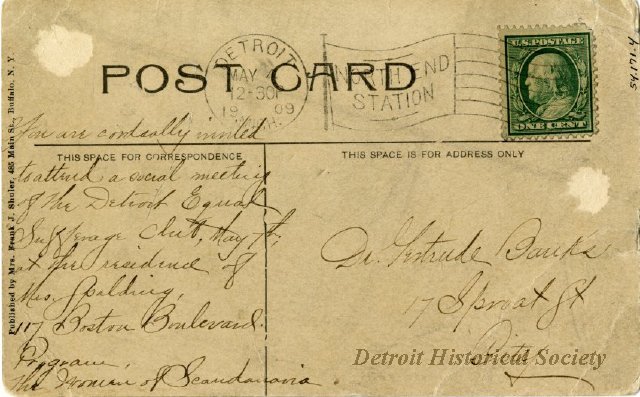 Postcard to Dr. Banks inviting her to attend a meeting of the Detroit Equality Suffrage Club (1909)
Sarah Gertrude Banks (1839-1926) was a direct descendant of Mayflower passenger Myles Standish. Raised on a farm in Walled Lake, Michigan, she attended Michigan State Normal School (later Eastern Michigan University), and at seventeen became a public school teacher in Michigan and Ohio.  She subsequently embarked upon a second career, becoming one of the first women to attend the University of Michigan Medical School.  After completing Michigan's then two-year curriculum, she graduated in 1873, and became the second female physician to practice in Detroit.  Early in her medical career, Dr. Banks traversed the country, in part by a difficult stagecoach journey, on a mission to New Mexico.  After returning to practice in Detroit, the Detroit Evening Sun in 1890 noted the "combination of professional skill, business ability and social amenities that makes Dr. Banks a truly remarkable woman, one of whom the progressive women of this country may justly be proud."  In addition to her medical work, Dr. Banks was also a friend of Susan B. Anthony and active in the women's suffrage movement, as demonstrated by the postcard in the collection.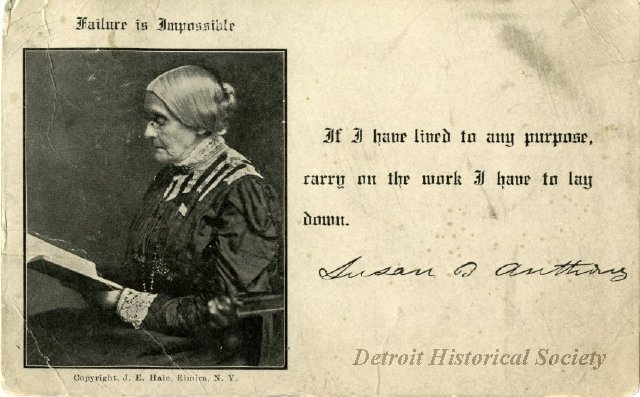 Postcard with photograph of Susan B. Anthony, with the inscription "Failure is Impossible."  (1909)