Philip K. Wrigley's 1935 Stout  Scarab
Posted November 6, 2015 by

Nathan Kelber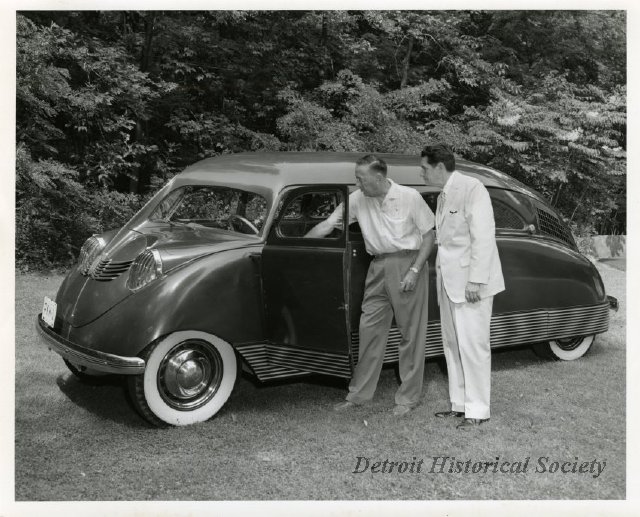 Philip K. Wrigley shows his Stout Scarab to Henry D. Brown, Director of the Detroit Historical Society (1964).
In 1945, Philip K. Wrigley's Chicago Cubs faced the Detroit Tigers in a game which went down in baseball infamy as the origin of the "Billy Goat Curse." During the game, local bar owner Billy Sianis was ejected because the smell of his goat was offending spectators. According to one version of the legend, Sianis got revenge by sending a telegram to Wrigley himself, cursing his team from ever winning the World Series again. Whether you believe the curse or not, Detroit's history is connected with Wrigley by more than baseball legend. Along with Henry Ford and Willard Dow of Dow Chemical, Wrigley was a prominent investor in Stout Motor Company, an experimental Detroit Car Company founded in 1934 by William Bushnell Stout. Today Stout is best known for designing the airplane which became the Ford Trimotor. His Stout Motor Company may have only lasted a few years, but it produced one of the most innovative vehicles of the age.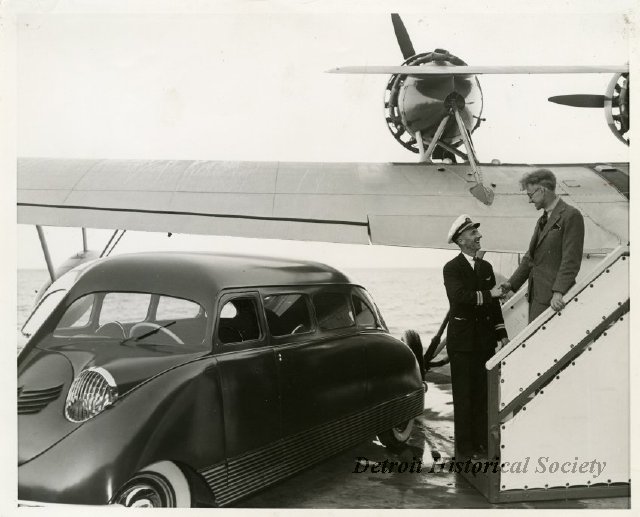 William Bushnell Stout descending the steps of an airplane to a waiting Scarab (1937).
The Stout Scarab was never more than a prototype, but it pioneered many concepts adopted by the auto industry over the next sixty years. Sometimes called the "first minivan," the Scarab is a long twinkie-like car with a large rear passenger compartment with a single door. Inside the passenger area, there is a large bench, a table, and another movable chair.  The car's retro-futuristic aesthetic  combines Art Deco styling with natural accents including aeronautical-inspired gauges, a single spoke steering wheel, and a wicker headliner. From a mechanical perspective, the Scarab's rear-engine design, independent suspension, and a unitized body were all innovative at the time. About seven scarabs were built (no one knows for sure how many) but six are known to survive. Two of them are in the Detroit Historical Society's Collection including Philip K. Wrigley's personal Scarab, which was built for the 1935 Chicago Auto Show but never shown. You can see the car on display at the Detroit Historical Museum for a limited time.  Or check out additional pictures of both our scarabs in our online collection. Lastly, be sure to watch this Free Press video with our curator Adam Lovell demonstrating some of the Scarab's unique features.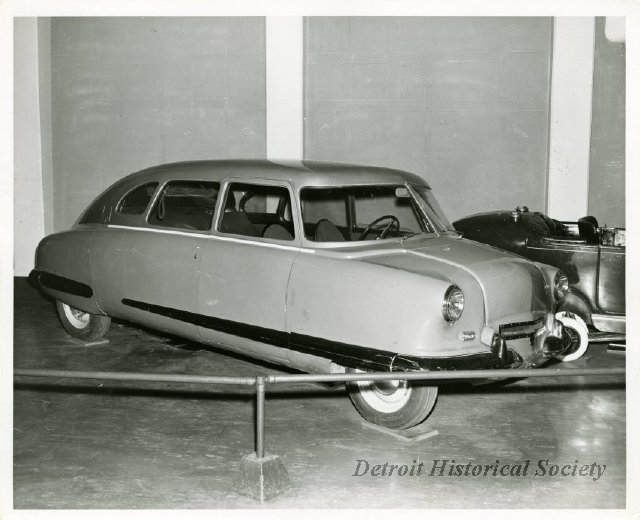 A special version of the Scarab was produced from leftover parts in 1945. It was the first car with a full fiberglass body created at a cost of $100,000 by Owens/Corning. (Detroit Historical Museum 1957)